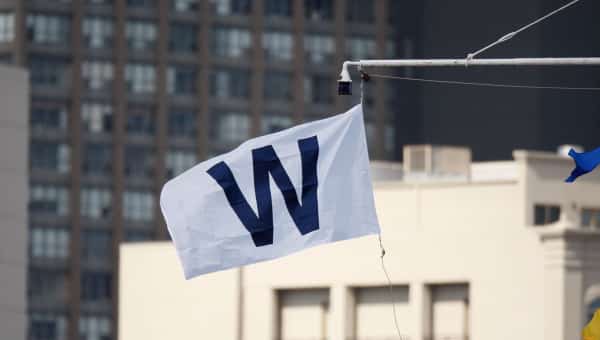 CI Recap (8/18/17) – Cubs 7, Blue Jays 4: Javy Did Some Things; Cubs Win
Timely hitting and a quality starting pitching performance had the Cubs in position for an easy win, but more bullpen issues almost derailed things. A couple of spectacular plays by the Chicago shortstop helped prevent that from happening.
The Jays put together a two-out rally against Jake Arrieta in the top of the 1st when Justin Smoak doubled into the corner in right and came home on a Steve Pearce single. Miguel Montero, who received some boos in his first game at Wrigley since he was released, grounded out to end the inning.
The Cubs responded in the bottom of the 2nd off of Jays starter J.A. Happ. Ben Zobrist opened things with a walk and moved to third on a Victor Caratini double. Jason Heyward hit a grounder to Smoak at first, but Happ didn't cover the bag so it was an RBI single that tied the game at one apiece.
Javy Baez floated a single to right to score Caratini, Arrieta flew out deep to right and both runners tagged. Albert Almora hit a lob-wedge single over Darwin Barney at second to score Heyward, but Baez was thrown out at home (the call stood after review) on a gutsy attempt. Arrieta settled in and pitched very well after the 1st inning Friday, showing good movement and velocity all day long.
Chicago expanded their lead in the 5th as Almora continued his fine work against lefties with a single to open the inning. Kris Bryant doubled to left field, moving Albert over to third. Anthony Rizzo poked a single through the vacated left side of the infield to score two more.
Kevin Pillar doubled to lead off the top of the 7th and moved to third on a Ryan Goins ground out. When pinch-hitter Ezequiel Carrera walked, Joe Maddon pulled Arrieta and went with Carl Edwards Jr. With the bullpen struggles lately, it was a tense moment, but Edwards got a fielder's choice at home and a strikeout to end the jam.
Friday it was Pedro Strop who would falter out of the pen in the 8th. Pearce floated a two-out single into right, Montero singled (his second hit on the day), and Pillar hit his second double to left, scoring Pearce and moving Miggy to third. Goins hit a seeing-eye single past Rizzo to cut the lead to 5-4. Carrera barely missed a go-ahead homer, flying to Almora at the wall.
Victor Caratini had his third hit in the 8th with Tim Mayza on the hill. Heyward hit into a force out, after which Baez went deep to left for his 20th home run to make it 7-4. Wade Davis closed out the Cubs' win in the 9th with the help of an amazing play by Javy at short.
Stats That Matter
Jake Arrieta was great again: 6.1 IP, 1 R, 6 H, 6 K, 2 BB. Despite the six hits, he didn't give up much hard contact. With Jon Lester down at least for two weeks, it was nice to see another good start from Arrieta.
Victor Caratini had a huge game with three hits and a walk in four plate appearances, and he threw out Jose Bautista trying to steal too.
Javy Baez had the big insurance home run and an RBI single. On defense he was very smooth, especially his sprawling dive and throw to get Jose Bautista in the 9th.
Bottom Line
The Cubs relievers have allowed three or more runs each of the last three games, obviously that needs to change. They were able to overcome that and win a big game, but it isn't a plan for long-term success. Also, Javy Baez is good at baseball.
On Deck
Game two of the series Saturday is also a 1:20 CT start. Jose Quintana faces journeyman Nick Tepesch in a game can be viewed on ABC-7 and MLB Network (out of market).