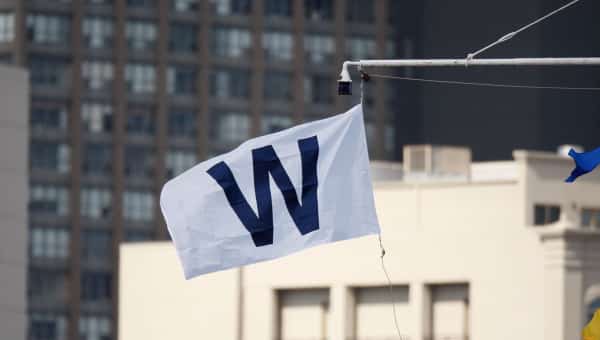 CI Recap (8/19/17) – Cubs 4, Blue Jays 3: Baseball Afternoon In Chicago, Starring Don Cherry
The Cubs got another good start against Canada's team Saturday, which, added to more heroics from their dynamic shortstop, made for a winning formula.
Chicago applied immediate pressure to Jays starter Nick Tepesch in the bottom of the 1st. Jon Jay walked, Kris Bryant was hit by a pitch, and Anthony Rizzo also took ball four to load the bases with one out. Ian Happ singled just in front of Jose Bautista's glove in right to score Jay.
Tepesch was able to get an Alex Avila double play to end the threat. After that, both he and Cubs starter Jose Quintana matched zeros the next two innings.
Quintana ran into trouble in the top of the 4th inning. Kevin Pillar singled and moved to third when former Cub Darwin Barney grounded a double past Bryant. Another ex-Chicago player, catcher Raphael Lopez, singled to left to score both runners and make it 2-1.
Happ picked up his second RBI with an opposite-field solo homer to left in the bottom of the inning to tie the score. Quintana went two more innings of scoreless baseball and finished with a quality start.
Mr. Happ continued his big day in the 6th inning with a leadoff walk off of reliever Danny Barnes. He advanced to second on an Avila groundout and Javy Baez came through again with a two-out seeing-eye single to center to give the Northsiders a 3-2 lead.
Felix Pena, back up from Iowa for the "injured" Justin Grimm, looked mighty impressive in striking out the side in the top of the 7th. Albert Almora Jr. singled against Matt Dermody in the bottom of the inning and advanced to second on a Bryant groundout. Rizzo punched a single just over Barney's head at second to extend the Chicago lead to 4-2.
Noted hockey ambassador and loud blazer wearer, Don Cherry, led the stretch, which was…uh…a treat. Harry Caray forever, please.
Hector Rondon came on in the 8th and got the first two batters he faced. Then Steve Pearce hit a grounder that bounced off the third base bag.  KB tried to get him, but the throw went into the crowd, allowing Pearce to go to second. Pillar singled to left to score a run and cut the lead to 4-3.
Rondon got pinch-hitter Kendrys Morales to end the inning and preserve the lead. Wade Davis got the Jays 1-2-3 in the 9th to save the 4-3 win, again assisted by a mind-blowing Baez play at short.
Stats That Matter
Jose Quintana looked much better Saturday than he has recently: 6 IP, 2 R, 4 H, 8 K, and 2 BB. Other than three batters in the 4th inning, he was basically untouched, which was nice to see.
Ian Happ had a very big game, reaching base three times after four strikeouts Friday. His power stroke is definitely back, as evidenced by five home runs in the last week.
Javy Baez had the go-ahead hit Saturday, but the big story was his defense. His play against Ryan Goins might have been better than Friday's stellar effort. Deep in the hole, Javy unleashed his cannon of an arm to get a fast runner by a full step.
Bottom Line
The Cubs got just enough offense to win Saturday and the bullpen only allowed one run. The big story this weekend may be the breakout performance of Javy Baez, who has again become an invaluable part of this team.
On Deck
The Northsiders go for a sweep of the Blue Jays Sunday at 1:20 CT. It's a matchup of changeups as Kyle Hendricks faces Marco Estrada on WGN.