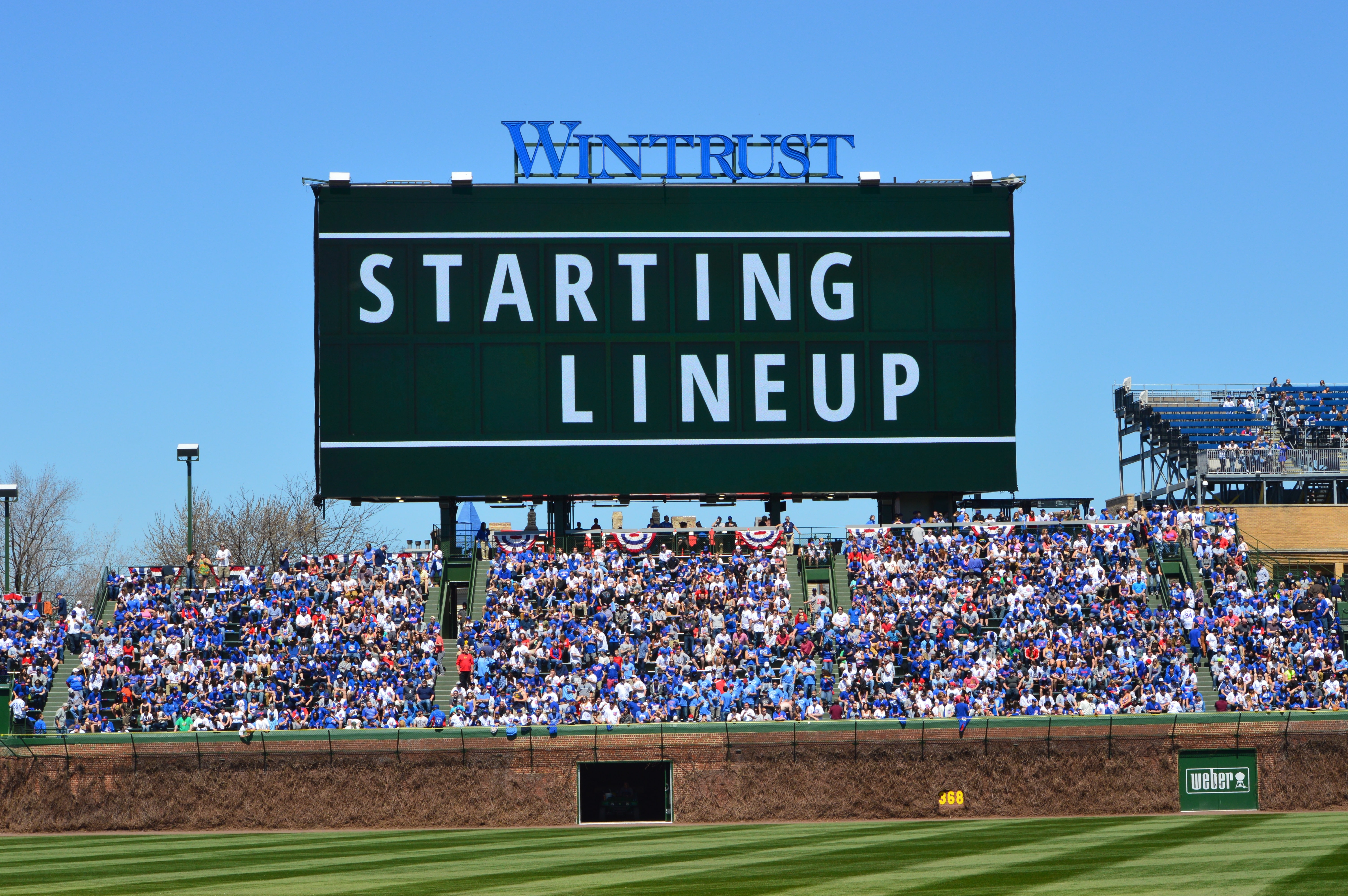 Chicago Cubs Lineup: Almora Batting Leadoff, Bryant Sits, Hendricks on Hill as Cubs Go for Sweep
Albert Almora returns to the leadoff spot today in the Cubs lineup. He'll be followed by Kyle Schwarber, Ben Zobrist and Anthony Rizzo. If you were a little thrown off by seeing Zobrist instead of Kris Bryant, that's due to Bryant getting the day off after starting 27 consecutive games.
The human highlight reel, Javy Baez, is batting sixth in the order and if you didn't see the incredible play he made yesterday, click here and make things right. He's followed by Tommy La Stella, who's filling in at third for Bryant, and René Rivera, who the Cubs acquired yesterday, catching and batting seventh.
Since moving into the regular leadoff role near the start of the month, Jon Jay is slashing .231/.333/.346 with a mere .297 wOBA. His average is about 40 points higher in his first at-bat of the game, though he strikes out one third of the time and really doesn't have better overall numbers. When you add all this up it's clear what Joe is thinking batting him eighth in the order today.
Kyle Hendricks has been throwing with even lower velocity than we've seen from him in the past, but that's somewhat intentional. Our Brendan Miller had pointed out that the soft-tossing starter — whose autograph graces the hat my son is wearing to today's game — throws slower the higher his release point gets, something Hendricks actually confirmed. That's not necessarily a bad thing, though, as proven by a 2.00 ERA across five starts since returning from the DL.
There are some inconsistencies, like the the two starts in which he didn't complete five innings, but Hendricks has largely been strong to quite strong. Even his FIP, which, at 3.32 over that recent handful of starts, is significantly higher than his ERA, is solid. You'd also like to see more grounders and less hard contact, but it's hard to be mad about only two home runs (both in the same game) in 27 innings.
Attempting to stave off the sweep will be 34-year-old righty Marco Estrada, who has a pitch repertoire similar to that of the man he's squaring off against. Like Hendricks, Estrada works mainly with a four-seam/change combo, mixing in a curve and cutter every now and again.
The fastball tends to stay to the arm side and will be up in the zone, while the change is thrown away to hitters on either side and stays low. You might think that the change would be really hard on lefties, but it's actually the fastball that has held them in check. Estrada has really limited left-handed hitters, inducing more grounders and a much lower batting average with the heater.
Here's the thing, though: All of Estrada's pitches have resulted in a wRC+ of 107 or greater, which means he's not really fooling anyone with any of them. The fastball generates a ton of fly ball contact (55.2 percent), and even the change gets a lot (42 percent), which could be a big deal for a Cubs team that has been hammering away lately.
If there's a caveat, it's that the former Brewer has pitched better on the road this season. On the other hand, he's given up six or more earned runs in five of his last 14 starts and he's walked four or more in seven of his last 11 starts (including one in which he walked seven men). And he's got zero ability to control his opponents once they've gotten a look at him. Estrada's effectiveness drops off a cliff in the second and third times through, so that's something to look for.
The Cubs should be able to jump all over the Jays in this one, keeping the rowdy Canadian contingent in check for the finale. Of course, we've seen more than one favorable matchup get sideways this season.
WGN viewers will have a chance to see me fighting people for home run balls when the action begins at 1:20 CT.
Here is today's #Cubs lineup for the homestand finale.

Game preview: https://t.co/To9jYfTTUE pic.twitter.com/utI91Khlpf

— Chicago Cubs (@Cubs) August 20, 2017