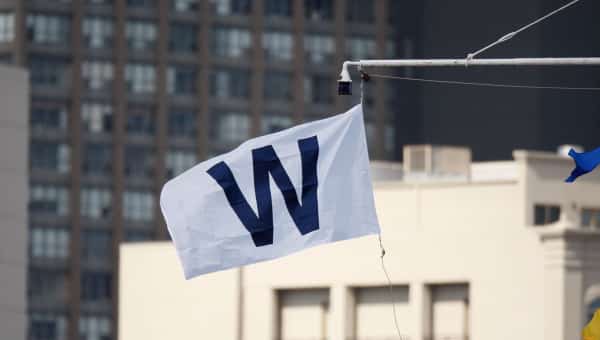 CI Recap (8/20/17) – Cubs 6, Blue Jays 5: What The Hell Was That???
In a game begging description, the Cubs rallied in their last at-bat to complete a three-game sweep of the Toronto Blue Jays.
Both Kyle Hendricks and Marco Estrada had no issues the first two innings on Sunday. Estrada in particular was near perfect, retiring the first six batters he faced.
The Cubs put something together in the bottom of the 3rd inning as new addition Rene Rivera got a hit in his initial at bat in a Chicago uniform, a liner off Estrada's leg. Jon Jay was hit by a pitch two put two on and Hendricks came up prepared to bunt. The Professor popped the bunt up in front of the plate, but it dropped and the Jays pitcher threw wide to first.
Thus, Albert Almora Jr. came to the plate with the bases loaded and none out. He immediately smashed a grounder past third and, thanks to an aggressive send by third base coach Gary Jones, all three runners scored.
The Jays quickly began to chip away at the Cubs 3-0 lead in the 4th. Justin Smoak sliced a double into left and scored when Jose Bautista singled. After a Kevin Pillar single, Hendricks got Ryan Goins to hit into a 4-6-3 double play to end the inning.
In the 5th, Nori Aoki had a leadoff double to left for Toronto. Estrada faked a bunt and swung, chopping a ball to Javy Baez at short. His only play was to third, but Aoki beat it. Ezequiel Carrera hit another 4-6-3 double play that scored Aoki, yet also ended the threat.
Almora singled in the bottom of the inning with two outs and Kyle Schwarber doubled into right to put two in scoring position for Ben Zobrist, who popped out to center to end the inning. That would hurt, as Miguel Montero did more damage against his old team by homering to left center to tie the game at three in the 6th.
Brian Duensing and Carl Edwards handled the 7th inning and Pedro Strop worked a clean 8th. Pillar made an amazing catch in the bottom of the 7th, crashing into the ivy to rob Kris Bryant of extra bases.
Wade Davis walked two in the 9th, but escaped unscathed. Jason Heyward walked and stole second to begin the bottom of the inning. Alex Avila then walked to put two on with none out. Jay bunted into a forceout, getting Heyward at third. After Bryant struck out, Joe Maddon pinch-hit Ian Happ for Almora, a move I was not a fan of. Happ struck out to end the inning.
The Blue Jays took the lead on a bizarre sequence against Koji Uehara in the 10th. With Bautista batting, shortstop Josh Donaldson singled to his counterpart, Baez, then Avila spiked the return throw to Uehara, allowing Donaldson to advance. Bautista was intentionally walked and Pillar singled to score Donaldson and give the Jays a 4-3 lead.
Justin Wilson replaced Uehara and continued his pursuit of Raphael Soriano award for worst Cubs bullpen addition. He walked Goins and Aoki to force in an insurance run.
The bottom of the 10th inning was perhaps the weirdest I've seen in my life. Schwarber struck out, but Roberto Osuna's pitch got away allowing Kyle to reach. Zobrist singled to right to push Schwarber to third and allow him to come home on a wild pitch with Anthony Rizzo batting. Rizzo then grounded out to second, advancing Zo to third.
Baez then struck out swinging and the ball again got away from catcher Raffy Lopez and Javy reached while Zobrist held at third. After Heyward was hit by a pitch, Avila ended the madness by singling to right and winning the game 6-5.
Stats That Matter
Kyle Hendricks wasn't great but was solid: 6 IP, 3 R, 6 H, 6 K, and 2 BB. It was another game with hard contact but limited damage from the Professor, who benefited from two double plays.
Albert Almora Jr. had the big blow for the Cubs offense with his bases-clearing double. He also sigled. Almora is making a strong case for more playing time with an average over .350 in the second half, yet it didn't earn him a chance to win the game in the 9th.
Alex Avila atoned for his bizarre error with the game-winning hit.
Bottom Line
So the Cubs won that game. Still not entirely sure what that was, but a win is a win.
On Deck
After an off-day, the Cubs head to Cincinnati to play the Reds for three. The first is a 6:10 CT start as John Lackey goes against Homer Bailey in a battle of veterans. WGN and MLB Network (out of market) have the broadcast.