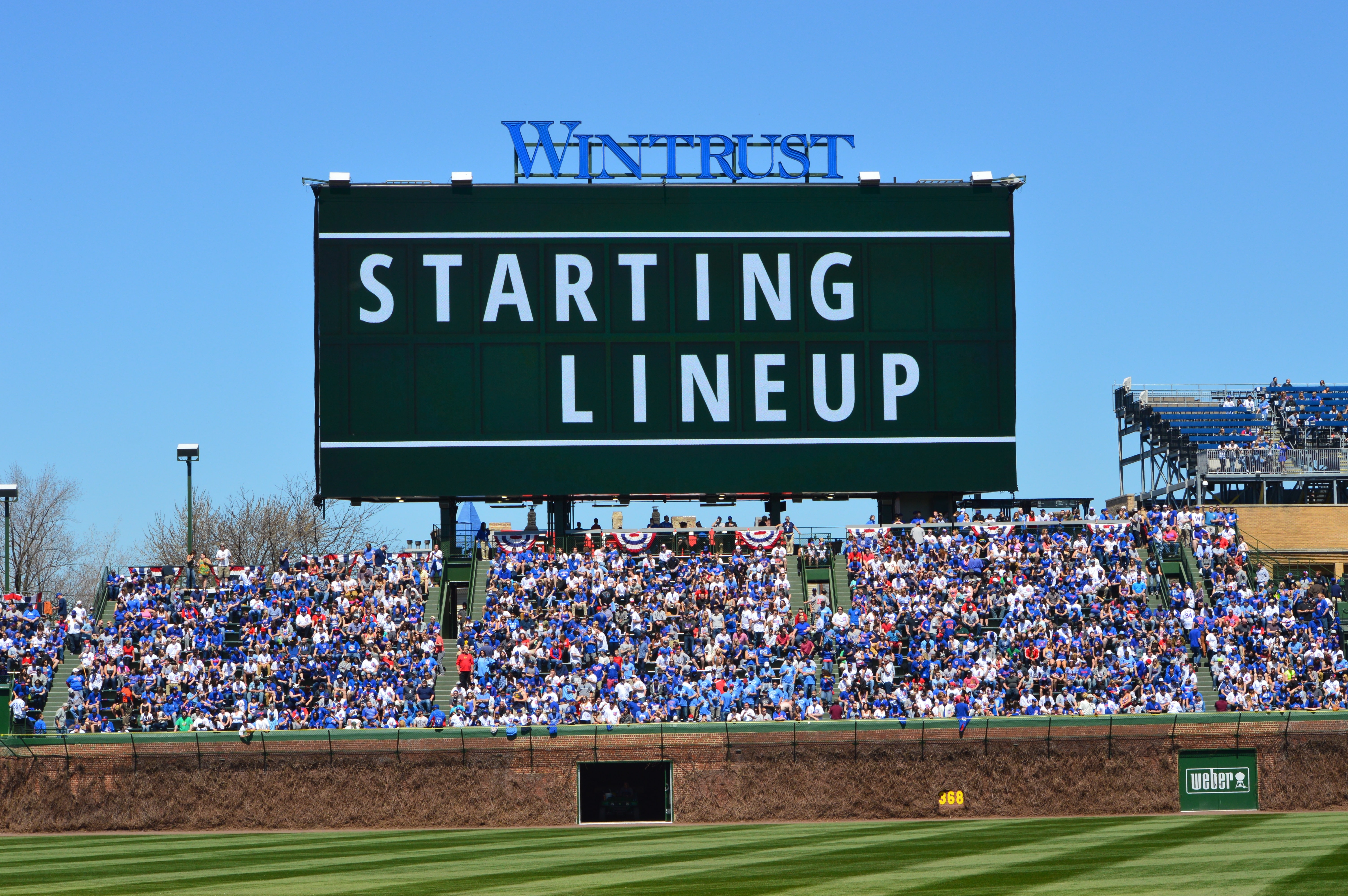 Chicago Cubs Lineup: Jay Leads Off, Schwarber Second, Zobrist Fifth As 2017 Odyssey Meets Homer Once Again
***Update***
Ben Zobrist ran into travel issues from Nashville and has been replaced by Ian Happ. Zobrist's rental car was not ready at the appointed time, but he is expected to be at the game by first pitch.
---
The opener of this Cubs/Reds series is a rematch of the game last week in which John Lackey squared off with Homer Bailey, one of several close contests the Cubs have had lately. That particular matchup is best remembered for Anthony Rizzo's 1st-inning grand slam and the Cubs' walk-off, wild-pitch win. D'oh!
These teams know each other quite well, so there's no need for Joe Maddon to roll into GABC in a Trojan Horse. Jon Jay, Kyle Schwarber, Kris Bryant, and Anthony Rizzo comprise the top half of the order once again. Jay has struggled somewhat in the leadoff role, posting a mere .562 OPS as the Cubs' first batter of the game. He's slashing .226/.309/.323 in 139 overall plate appearances from the one-hole.
Big Tony absolutely mashed Reds pitching last week at Wrigley, posting the kind of numbers that made his case for NL Player of the Week. Bryant has had some big performances in Cincy, but only boasts an .876 OPS (nearly 30 points lower than his career average) there. Schwarber's looking to boost a .973 OPS that is no doubt helped by the friendly conditions for lefty power hitters.
Ben Zobrist hasn't been hitting well this season, but Ian Happ has seen a reduction in playing time with Jay's solid play, but he's Ben hitting really well in August. He starts a bottom half of the order that also features Alex Avila, Jason Heyward, and Javy Baez. The latter three all factored in Sunday's crazy finish, with Avila and Baez capping things off.
Ever since giving up eight runs to Washington near the end of June, John Lackey has been really good. And I don't mean good relative to how he'd been pitching through the first half of the season, but legitimately solid for any pitcher. Well, in terms of the numbers. He's 5-0 with a 3.27 ERA and 32 strikeouts against 13 walks over his last seven starts. What's more, his once astronomical home run-per-fly ball rate has been a very manageable 1.17 in that stretch.
And though the excellent results mask what has been pretty pedestrian pitching for the most part — Lackey's got a 4.57 FIP over those same seven starts — the veteran isn't beating himself. He has walked two or fewer in five games and has avoided the longball in three. There's been a lot of contact in the air, most of which is medium or hard, though Lackey has worked around it.
When the big Texan is on the mound, you really just hold your breath until he makes it through the order that first time. He usually takes a bit to settle in and get a feel for his pitches, but he tends find smooth sailing after navigating around the Scylla and Charybdis of the first couple innings. The same can't really be said for Lackey's counterpart.
Outside of the first four batters he faced in that earlier game, Bailey was actually pretty good against the Cubs' lineup at Wrigley. The highly-paid righty struck out five of the next six following Rizzo's granny and ended up with 10 K's on the evening. Of course, he also walked five and allowed seven hits over his 5.2 innings of work. And he's also been much better on the road this season.
When pitching at Great American Band Box, Bailey boasts a robust 14.33 ERA across four starts. Not much of a sample, sure, but he's escaped the 4th inning only once and has been absolutely beaten to a pulp in all but one of those games. Opposing batters are slashing .416/.512/.824 (1.336 OPS) with a .544 wOBA, which is exceedingly bad no matter how few innings we're taking into account.
We could keep digging into the splits, but the fact of the matter is they all point toward the Cubs being able to make at least one Brennaman cry live on the air Tuesday night. Or perhaps you'd rather take a skeptical view and say that everything points toward Bailey experiencing a little positive regression. I mean, even as bad as he's been, you have to figure that it can't continue at this rate. Right?
Find out when the Cubs take their first at-bat at 6:10 CT on WGN.
Here is tonight's #Cubs lineup as we open a six-game road trip.

Game preview: https://t.co/0ev2lFfBL2 pic.twitter.com/bvP02LNbQr

— Chicago Cubs (@Cubs) August 22, 2017