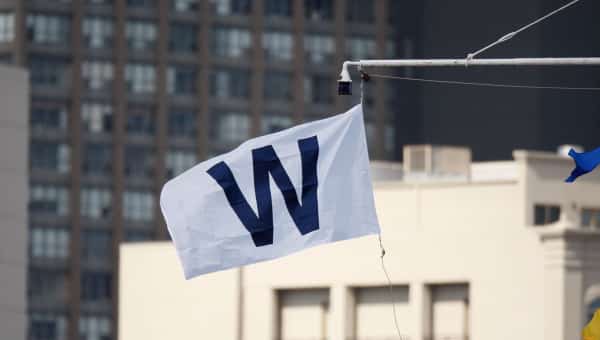 CI Recap (8/22/17) – Cubs 13, Reds 9: Zobrist Finally Got Here!
Fresh off a sweep of the Blue Jays, the Cubs looked to keep the streak going against the last-place Reds. For the first half of the game Tuesday it looked like Chicago's streak would end. Then after Cincinnati starter Homer Bailey got hurt, the Northsiders feasted on the Reds bullpen en route to an easy win (box score).
Why The Cubs Won
Chicago stranded men in scoring position in three of the first four innings. From the 5th inning on, they got eight hits with runners in scoring position and scored 13 runs.
Key Moments
With the Reds up 6-4 in the 6th inning, Hector Rondon was called on to face Adam Duvall with the bases loaded. A hit could have broken the game wide open, but a fly out ended the inning.
Javy Baez singled with two outs and the bases loaded to tie the game in the 7th. Then Ben Zobrist, finally finding the ballpark after a day-long odyssey, doubled to deep right to put the Cubs ahead for good.
Stats That Matter
John Lackey struggled on Tuesday: 5 IP, 9 H, 6 R, 3 K and 1 BB. As our own Evan Altman noted in tonight's game preview, Lackey's recent good ERA is contradicted by underlying numbers like FIP. His good luck ran out in this one.
Anthony Rizzo got on base five times, including two hits. And he also got to play third base when Kris Bryant came out after getting hit by a pitch.
Ben Zobrist was late getting to the game, literally and figuratively, but he sure had an impact. The game-winning two-run double and a RBI ground out to boot.
Bottom Line
Would the game have been different if a leg injury hadn't forced Homer Bailey to leave after three innings? Maybe, but the Cubs took advantage of their opportunity and kept their winning streak alive.
On Deck
Game two of the series is Wednesday at 6:10 CT. Mike Montgomery reenters the rotation and faces off against Asher Wojciechowski with the game airing on CSN Chicago.