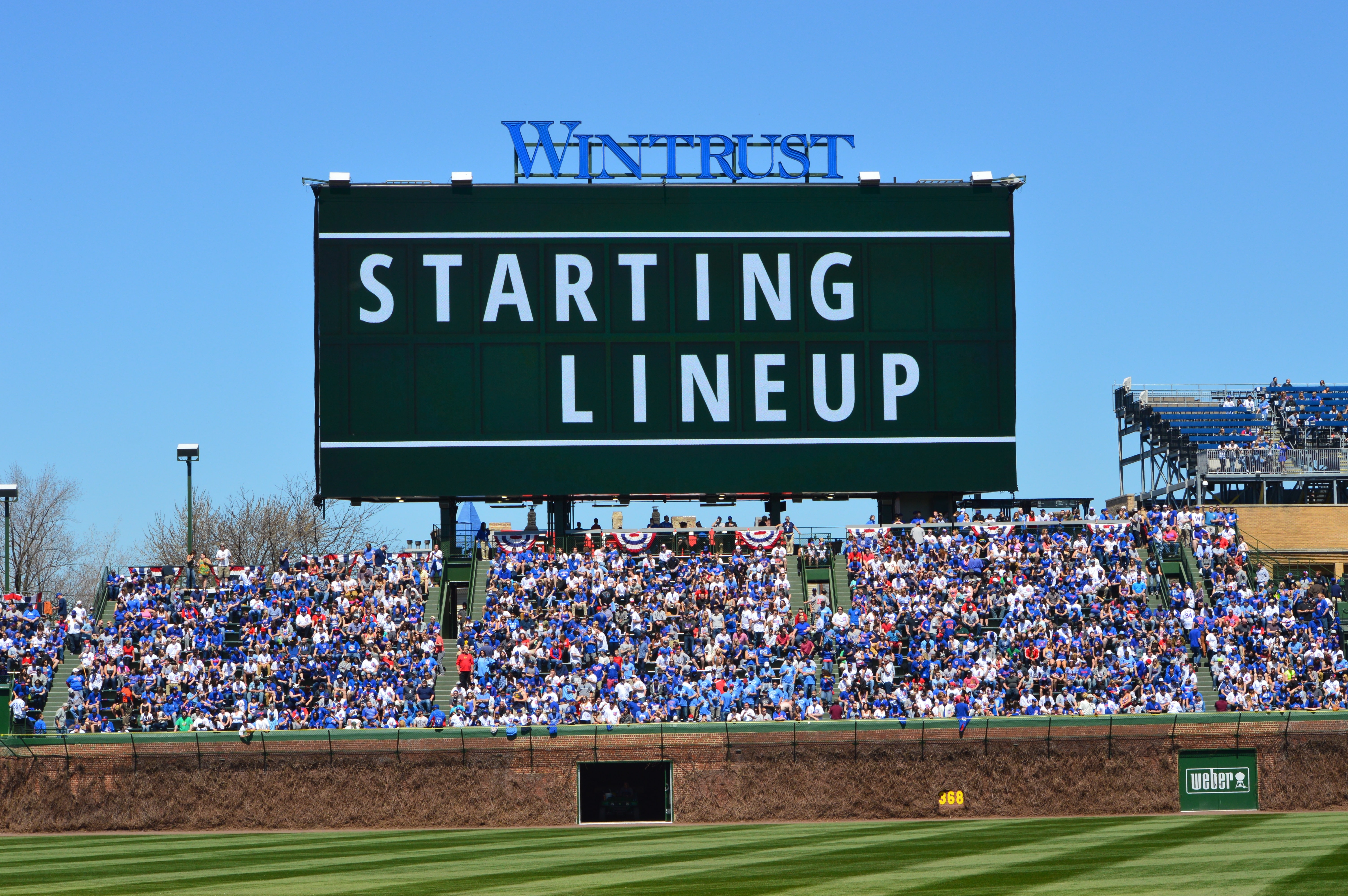 Chicago Cubs Lineup: Zobrist Bats Third, La Stella Plays Third on Asher Wednesday
Assuming he's able to make the team bus to the game, Ben Zobrist should remain in the starting lineup. With Kris Bryant out after being hit in the hand with a 3-0 fastball — thanks, Drew Storen — Zobrist slots in behind Jon Jay and Kyle Schwarber.
Though the versatile vet had been hitting about as well as he picks up rental cars, Zobrist a .314 wOB and 90 wRC+ in August. If that doesn't sound super awesome, he was at .295 and 77 through July.
Anthony Rizzo and Alex Avila combined to reach base nine times last night and they'll be looking to do more of the same. Tommy La Stella has quietly been putting up really solid offensive numbers — .374 wOBA and 129 wRC+ — and he covers the hot corner in Bryant's absence.
Jason Heyward and Javy Baez once again hold down the bottom of the order.
Mike Montgomery returns to the rotation as a fill-in for Jon Lester, who played a little catch at Great American Ball park Tuesday. Though he'll likely only make a couple starts, this could be seen as something of an audition for Montgomery. With the Cubs likely needing to fill two spots in the rotation next season, Montgomery is an obvious possibility.
But the thing is, he's never really performed all that well as a starter, which is why he was moved to the bullpen in the first place. And we're not talking about a 24-year-old who's still learning how to pitch. Monty has a 4.45 ERA and 4.61 FIP over 166 total innings as a starter and those numbers are virtually the same in 64.2 innings with the Cubs.
The bugaboo for Montgomery over the course of his career has been the inability to successfully turn over an opposing lineup. He usually comes out of the gate hot and will then struggle with hard contact as he fails to execute his pitches quite as well. That's something he's going to need to avoid against a Reds lineup that can really mash. I'd feel a lot better if the Cubs hang another baker's dozen tonight.
Asher Wojciechowski, a 28-year-old righty, will be making only his seventh start of the season, the last of which came against the Cubs in a game that saw Scooter Gennett take the mound at the end. The results from that contest inflated Malinowski's overall stats, but a 5.36 ERA and 4.90 FIP tell us that he hasn't been great otherwise.
Working with a fastball/slider/change combo, Wojciechowski (I just Ctrl+v that every time) is an extreme fly-ball pitcher (53.5 percent) who gives up 83.8 percent medium and hard contact (50.7 and 33.1 percent, respectively). And 77.7 of said batted balls are pulled or hit to center. While he does generate swings and misses with the slider and change, hitters really do damage to the latter when they make contact.
Opponents have a paltry .368 OPS against the slider, but .911 against the fastball and .910 against the change. As you might imagine from the contact stats, Wojciechowski tends to elevate the fastball, which has a little arm-side run. The changeup is thrown mainly to lefties and will ride a little bit rather than tumbling or falling off like most changes. He uses the slider against righties, burying it down and away while still keeping it close enough to the zone to avoid walks.
That last part is key, as Wojciechowski doesn't walk many batters. In fact, he has yet to throw a slider for ball four and has only issued nine free passes in 50.1 innings this season. His 1.61 BB/9 is tied with Madison Bumgarner for 10th lowest in baseball (min. 50 IP) and his 5.89 K/BB is 10th best in the game, right between Corey Kluber (6.32) and Max Scherzer (5.64). So at least there aren't too many batters on when he allows one of his 2.15 HR/9.
Wojciechowski was actually cruising along quite nicely last week at Wrigley until the bottom fell out. With the score tied at two runs apiece and with two outs after a Jason Heyward single had led off the 3rd, the Cubs went off. Jon Jay tripled to score Heyward, Tommy La Stella singled to drive home Jay, then Bryant and Rizzo went back-to-back to chase the starter.
That was the fourth time in his seven starts that Wojciechowski has allowed multiple home runs in a game. If there's a caveat in all of this for Cubs fans who might be getting a little overconfident, it's that this guy has been much better at home. He's limiting opponents to a .708 OPS in Cincy, compared to 1.122 on the road. And righties have only managed a .666 OPS against him, which means Wojo has been a real beast.
Tune in to what will soon be known as NBC Sports Chicago tonight at 6:10 CT to find out whether the Cubs can continue to slug the hell of the Reds.
Here is tonight's #Cubs starting lineup against the #Reds.

Game preview: https://t.co/IKps6pk72n pic.twitter.com/KUeFNHQ8hj

— Chicago Cubs (@Cubs) August 23, 2017