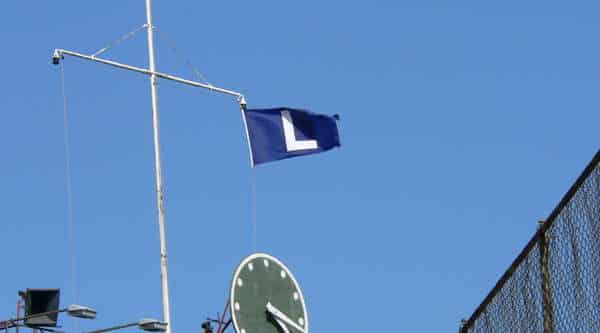 CI Recap (8/24/17) – Reds 4, Cubs 2: Late Collapse Ruins Sweep Chance
The Cubs came into Thursday's finale in Cincinnati with a chance to complete a second consecutive three-game sweep. Chicago clung to a one-run lead through most of the game, but another 8th inning bullpen meltdown, this time by Pedro Strop, ended the winning streak at five (box score).
Why The Cubs Lost
Reds rookie pitcher Sal Romano was excellent Thursday, holding the Cubs to only two runs over seven innings. The Northsiders' inability to build a bridge from their starter to closer Wade Davis continues to be an issue in 2017. This time it was Strop who struggled.
Key Moment
In the bottom of the 8th inning, Pedro Strop allowed a two-out rally. Adam Duvall singled, then Scooter Gennett doubled to left. After an intentional walk to Eugenio Suarez, pinch-hitter Jose Peraza hit a ground-rule double just out of Ian Happ's reach to give the Reds the lead.
Stats That Matter
Jake Arrieta got off to a great start getting 10 straight outs, but he ran out of gas in the 6th: 5.2 IP, 1 R, 0 ER, 4 H, 8 K, and 3 BB. Jake had very crisp stuff, but a lack of efficiency cut his night short.
Kris Bryant was back in the lineup after his hit by pitch and looked no worse for wear. He walked, doubled, and made a great diving play to rob Suarez of a hit.
Ian Happ had a nice game with a solo homer and a walk. Some people online and on the postgame show said that Albert Almora Jr. would have caught Peraza's double that Happ came up short on. I disagree, as the Cubs outfield was shallow to stop a go-ahead single. Peraza smoked the ball and Happ, the fastest player on the team, couldn't get there in time.
Bottom Line
Chicago lost a half game on their lead over the idle Brewers, who are now three back. The 8th inning troubles continue to be a theme for this team, something that must be remedied if the Cubs want success this fall.
On Deck
The Cubs head to Philadelphia to face the last-place Phillies for three. Jose Quintana duels with Jared Eickhoff at 6:05 CT in a game that airs on WGN.