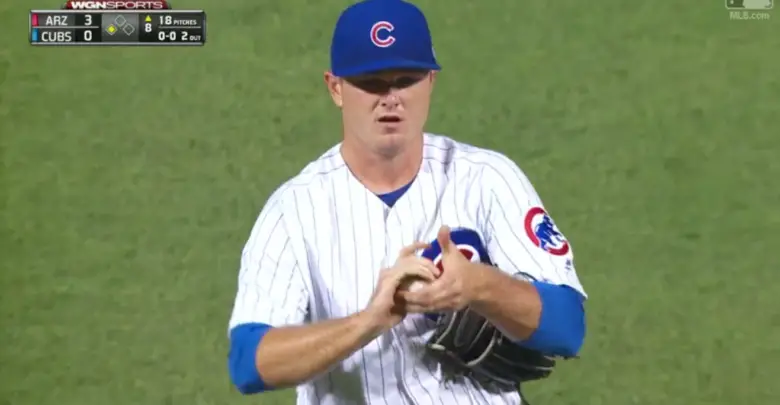 Justin Wilson's Issues Might Actually Be Mechanical
Justin Wilson entered in the 7th inning Wednesday night with a 9-0 lead and promptly threw a first pitch strike, which wouldn't be notable except that he hasn't been in the zone too often lately. He continued throwing strikes to notch his first 1-2-3 inning as a Cub, only the third time in nine outings with his new team that Wilson had avoided a walk. In fact, this was the first time he had managed to avoid allowing at least two baserunners.
So what in the world has going on with Wilson? Even though the velocity has remained in the upper 90's and the Cubs have been adamant his issues stem from a lack of confidence, some have questioned whether the poor results stem from more than just psychological issues.
"He'll get wild once in a while but not to the extent he is right now," Joe Maddon said Tuesday on 670 The Score. "I truly don't believe it's mechanical. I think if you're looking for mechanical (troubles), you're looking in the wrong spot. It's probably just coming over (to the Cubs) right now, trying a little bit too hard."
Wilson's success is dependent upon a consistent 97mph fastball. Since he throws it seven out of every 10 pitches, any aberration in the pitch essentially renders the lefty futile. Not surprisingly, Wilson's struggles coincide with a four-seamer dilemma.
In consulting the results, we find that the 30-year-old's fastball horizontal release point has drastically shifted since becoming a Cub. Wilson's release point is now roughly 30 percent more towards the first-base side compared to time spent with Detroit. In the following graph, notice how the bars (standard error of the mean) that run through the dot in August don't come close to those in previous months. This reflects a dramatic difference, one that should be considered noteworthy.
As a consequence, perhaps, Wilson is spiking more four-seamers below the zone.
Further, Wilson's horizontal release point for sliders is almost twice as inconsistent when compared to previous months, as illustrated by the huge standard error of the mean bars below.
While Maddon doesn't believe his new lefty has mechanical issues, the above data suggests the opposite. It's undeniable that Wilson is letting go of four-seamers significantly farther to the first-base side, which might be contributing to spotty command and even an inconsistent slider release point.
Maybe Wilson's problems do stem from a lack of confidence, but the release-point deviation shows us that there is a definite mechanical manifestation that is leading to the disappointing results. Though it's impossible to say exactly what is causing all of this, we can hope that small victories like we saw Wednesday evening can get Wilson pointed back in the right direction.