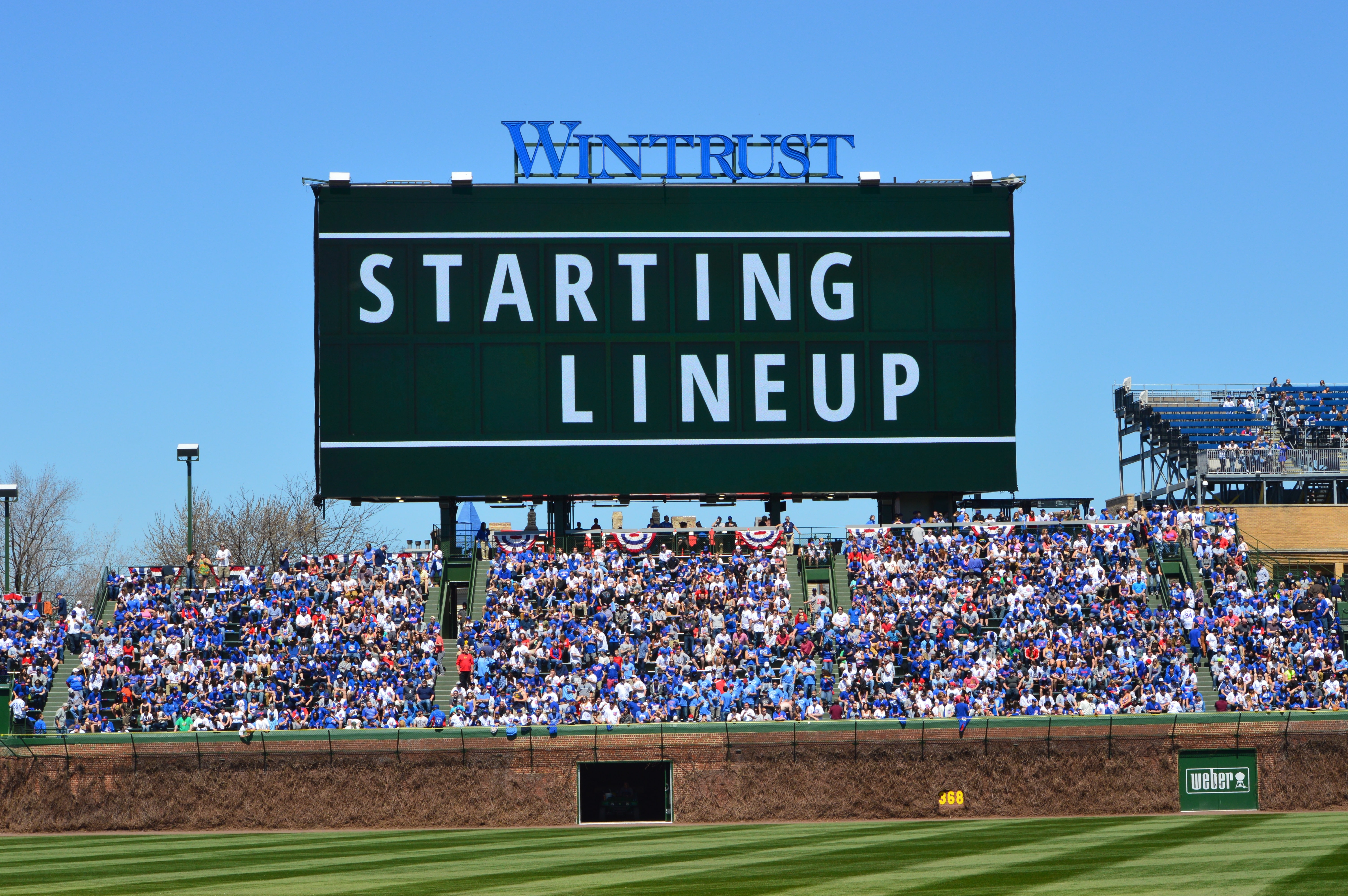 Chicago Cubs Lineup: Zorilla, Parkman, El Mago Like Eick to Open Players Weekend
Zorilla, Schwarbs, KB, and Tony occupy the top of the order once again, while Happer, Parkman, J-Hey, and El Mago make up the second half. If you hadn't already been made aware, this is Players Weekend and almost everyone is rocking his nickname on his jersey.
Most fans can probably figure those all out pretty easily, although you might not understand Alex Avila's if you're not familiar with Major League II. Fore more on why the Cubs went with their respective nicknames, click here.
And in case you're interested in any of the jerseys, shirseys or hats the players will wear this weekend, you can check them out at Fanatics.
Q has become more of a sinker-baller in his short tenure with the Cubs, and we're seeing more groundballs as a result. We're also seeing slow starts, perhaps as the lefty adjusts to a new approach. If he can just make it through the first couple innings, you get the sense that he can cruise.
That isn't a very tall order against a Phillies squad that has a mere .303 OBP and .710 OPS against lefties, both in the bottom third of the NL. Of course, those numbers were largely accumulated prior to the arrival of stud outfield Rhys Hoskins, who has already pounded eight homers in 64 at-bats and whose .472 ISO and .468 wOBA are just insane.
Phillies starter Jerad "Eick" Eickhoff has a set of peripheral stats that are just as mixed up as the spelling of his name, by which I mean they throw you off a bit when you look at them. His 4.17 FIP isn't all that bad, but it stands in contrast with his 3.64 BB/9 and 39.6 percent fly-ball rate. Then you note that he gives up very little soft contact, yet still allows well below the league average in terms of home runs per 9 innings and per fly ball.
He'll work mainly with a four-seam/curve combo, but he's got a sinker and slider that get significant usage as well. The fastball and slider rate among the worst in MLB in terms of overall value and the curve is really the only one of Eickhoff's pitches that has produced decent results. It'll come in with 12-6 or maybe 11-5 motion, generally ending up down and away to righties, or in on lefties. Hitters have only a .480 OPS against the hook, though it doesn't generate a ton of swinging strikes or groundball contact.
Look for the stout right-hander to bust lefties inside with the four-seam and outside with the sinker, and expect the opposite to righties. Lefties have been seeing him pretty well this season, slashing .294/.373/.496 with three of the four homers Eickhoff has allowed at home. Righties are 50-60 points lower in the first two categories and have not slugged nearly as well.
As with most pitchers, Eickhoff's efficacy drops off significantly as batters get more looks at him throughout the game. The Cubs will really be in business if they can jump on the fastball early and prevent him from being able to use the bender too much. Even if they don't come out of the gate mashing, though, they should be able to wait him out. To wit, he hasn't made it past the 6th inning since his second start of the season back on April 10.
WGN will have the 6:05 CT start.
Here is tonight's #Cubs lineup as we open #PlayersWeekend in Philly.

Game preview: https://t.co/1sXbGBFLmg pic.twitter.com/5KZYl1PISj

— Chicago Cubs (@Cubs) August 25, 2017