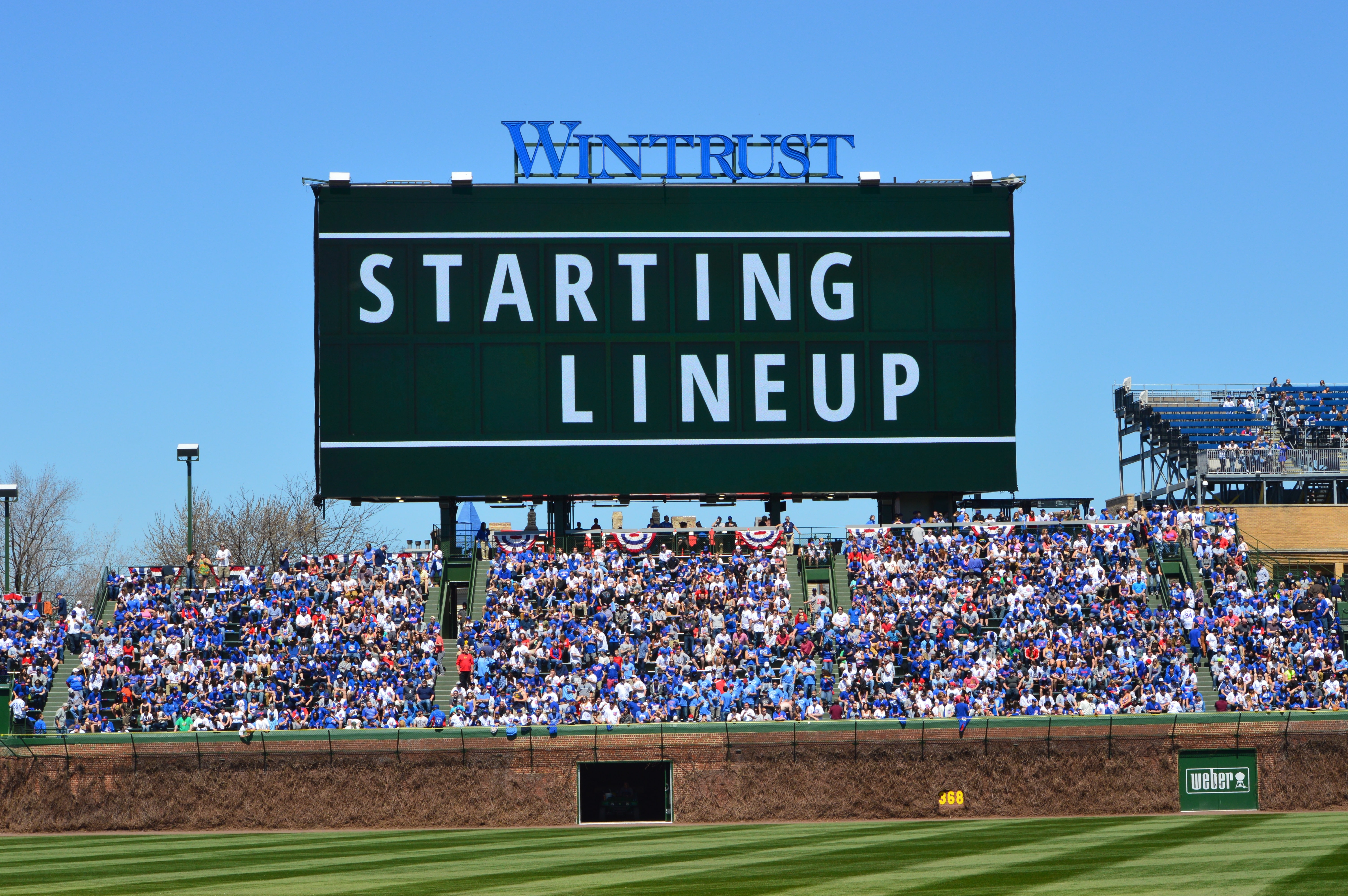 Chicago Cubs Lineup: Zobrist Leads Off, Heyward in CF, La Stella at 2B Trying to Stay Hot Against Kuhl
Ben Zobrist is slowly climbing back to the realm of being a productive hitter, posting a 98 wRC+ in August that means he been almost average. He'll be trying to elevate that tonight as he leads off in right. Kyle Schwarber, who has an .842 OPS in the second half, is back in the two-hole.
Kris Bryant and Anthony Rizzo remain the only locks in the lineup, but right there behind them is mighty-mite Tommy La Stella making his fourth consecutive start at second base. He's got a 1.208 OPS with a .394 ISO and four homers against right-handed pitchers since July 19.
Alex Avila is behind the plate and a guy not named Jon Jay, Ian Happ, or Albert Almora Jr. is in center. That means Jason Heyward gets his second start there in the last three games, which is downright baffling to me. He did manage to collect his first extra-base hit in 64 plate appearances when he doubled last night, though, so there's that.
Resuming his role at short is the Great and Powerful Javy Baez, who once again got down with some magical craziness when he made a diving play in the outfield grass Monday night. What will he do for an encore?
Jake Arrieta has a 1.78 ERA and is holding opponents to a .195/.264/.330 slash line in eight second-half starts. He has yet to allow more than two earned runs in any of those starts and has allowed as many as six hits only twice. What's more, he's walked only 15 batters and has allowed only four home runs over the last 50.2 innings (2.66 BB/9; 0.71 HR/9).
He's continuing to lean very heavily on the sinker, but the cutter, curve, and change have betting getting a little more usage over the last four or five starts. And his performance against right-handed hitters has been other-worldly, holding them to a .405 OPS and .186 wOBA in the second half.
While lefties have continued to get over on Arrieta, they're not doing so at quite the same level as we saw in the first half. After posting an .807 OPS and .346 wOBA against him through July 8, lefties are at .786 and .329 since. Baby steps, y'all.
Perhaps the biggest challenge facing Arrieta tonight is Josh Bell, who has tagged the hirsute hurler for a 1.643 OPS with a homer, two doubles, and three walks in 14 plate appearances. Most of the other Bucs regulars, however, have pretty paltry numbers against Arrieta.
Pirates starter Chad Kuhl is 6-9 with a 4.52 ERA, but his performance has been a little nicer than those numbers indicate. His 3.99 FIP tells us that he may be the recipient of some bad luck, though his 0.77 HR/9 is a clear indicator that he's not being stung by the longball. Kuhl's biggest issue this season seems to be consistency.
While his 4.04 BB/9 is more inflated than you'd like to see from a starter, he's only walked four or more batters in six of his 26 starts. In contrast, he's walked none or one in 12 starts. What does that tell you? Correct, he's had a hard time going deep into games. Kuhl has only pitched into the 7th inning three times and has failed to clear the 5th inning seven times.
To that end, he's only accumulated 4.2 innings in two starts against the Cubs this season, surrendering 10 earned runs. Most of that damage came from a very abbreviated start back on April 24. Kuhl only gave up a single run in three innings on July 9, but that was the game in which Jon Lester gave up a 10-spot in the 1st and allowed the Pirates to cruise. Fun times, huh?
Kuhl works mainly with a sinker that sits around 96 mph, working in a power slider and hard change behind it. He'll throw in a curve now and then, but those first three offerings account for about 95 percent of his throws. And when I say "power" and "hard," I'm talking about offspeed and breaking pitches that sit 89/90 mph. So, yeah, this guy isn't going to be soft-tossing.
The slider is easily Kuhl's best pitch, generating a nearly 21 percent swinging-strike rate and limiting batters to a .511 OPS. That's good enough to earn him 1.78 wSL/C, tied for seventh in MLB when it comes to the relative value of the pitch. His slider has a little less sweep than most, following a little more of a 12-6 path, and he's perfectly comfortable throwing it to righties and lefties. The key for the Cubs tonight is going to be jumping on the fastball (.835 OPS) and change (1.179 OPS) in order to avoid seeing the slide-piece in two-strike counts.
The change, as you might imagine, is used mainly against lefties and he'll work it to the outside against them with some arm-side fade. It may not do him much good, though, as left-handed hitters boast an .872 OPS and .367 wOBA against Kuhl this season. That number jumps to .925 with a .395 wOBA when he's pitching on the road.
Cubs left-handed batters have a .784 OPS and 104 wRC+ this season against righties, and that's taking into account Schwarber's early struggles. Given how he, Rizzo, and Tommy La Stella are hitting lately, this matchup with Kuhl could be a lot of fun.
I'm less confident about how El Mago is going to fare against that slider, but maybe he's got another trick up his sleeve. And if all goes according to plan, he won't have to face Kuhl that many times anyway.
First pitch is set for 7:05 CT on CSN Chicago Plus.
Here is tonight's #Cubs starting lineup against the #Pirates.

Game preview: https://t.co/yTdkE64c4e pic.twitter.com/DxSxqBcXRx

— Chicago Cubs (@Cubs) August 29, 2017