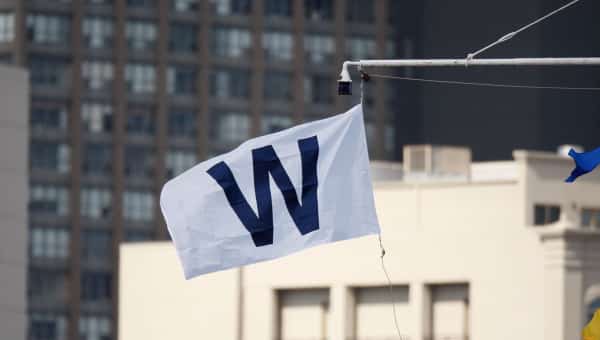 CI Recap (8/31/17) – Cubs 6, Braves 2: Cubs Close August in Style
Fresh off the heels of a three-game demolition of division foe Pittsburgh, Chicago took on Atlanta in the opener of a four-game set. The Cubs wasted little time getting out in front, scoring two runs in the bottom of the 1st to take an early lead. They would tack on additional runs throughout the night and while they didn't end up with another double-digit scoring outburst, it was more than enough to hold off the fading Braves (box score).
Why the Cubs Won
Since returning from a six-week stay on the disabled list, Kyle Hendricks has started to look more like the pitcher we are used to seeing. He struggled in his first couple of outings off the DL, but since the calendar turned from July, the right-hander has rounded into form. Hendricks has not allowed more than three runs and has gone at least six innings in all but one of his six August starts. He also saw a slow but steady increase in his average fastball velocity. His command hasn't been as sharp as it has been in the past, but he's been able to effectively work around that thus far.
While Hendricks was the standout on the mound, the offense deserves some recognition as well. The Cubs tagged Atlanta starter Sean Newcomb for eight hits and three walks in five innings. Although that only translated to three runs (two earned) against the left-hander, Chicago absolutely crushed several balls that would have been out on almost any other night in which the wind wasn't blowing straight in at 17 mph.
Key Moments
With runners at second and third and one in the bottom of the 1st, Anthony Rizzo hit an RBI groundout to give the Cubs a quick 1-0 lead. Javy Baez followed that up two batters later with a run-scoring single to right to make it 2-0, putting a struggling Braves team in an early hole.
Atlanta scored an unearned run in the 5th to cut the lead to 3-1, but Kris Bryant made sure that advantage didn't sit at a two runs for long. In the bottom of the 6th, Bryant stepped to the plate with a man on first and crushed a two-run shot to left, overcoming the wind and pushing the margin to a more comfortable four-run lead.
Stats That Matter
Hendricks lasted into the 7th inning, getting the hook only after allowing a solo home run to Lane Adams. His final line is probably one the Cubs would take every time: 6 2/3 IP, 5 H, 2 R (1 ER), 3 BB, 5 K and, perhaps more important to Hendricks' success, an 11-1 GO/AO.
Bryant's home run was impressive in and of itself, but it was also an historic one. The two-run shot was the 25th home run of the year for the Chicago third baseman, making him the first player in franchise history and the 12th player in MLB history to hit at least 25 home runs in each of his first three seasons. I think the Cubs may have a keeper in this Bryant guy.
Despite facing a lefty, Jon Jay was inserted back at the top of the lineup and it paid immediate dividends as he singled to lead off the Cubs' half of the 1st. Jay eventually came around to score the first run of the game and finished the night 4-for-5 with a triple and two runs scored.
It was a performance that may go unnoticed since it happened with the Cubs up four runs, but Justin Wilson had another solid appearance out of the bullpen. He closed out the 9th by striking out the side without allowing a baserunner. Don't look now, but Chicago's trade-deadline acquisition may be making a move. In his last five outings, Wilson has thrown 5 1/3 scoreless innings, allowing one hit and, more importantly, no walks while striking out seven. No, these have not exactly been pressure-packed innings, but it is an encouraging sign nonetheless considering his problems since coming to the North Side.
Bottom Line
Hendricks was solid and the offense did its thing, leading to a relatively easy win over a hapless Braves team. Chicago is now a season-high 13 games over .500 and owns a 3.5-game lead over Milwaukee in the NL Central.
On Deck
The Cubs' streak of home night games ends at four, with first pitch for game two against the Braves set for 1:20 p.m. CT Friday afternoon. John Lackey will take the ball for Chicago, while Atlanta will turn to right-hander Mike Foltynewicz.