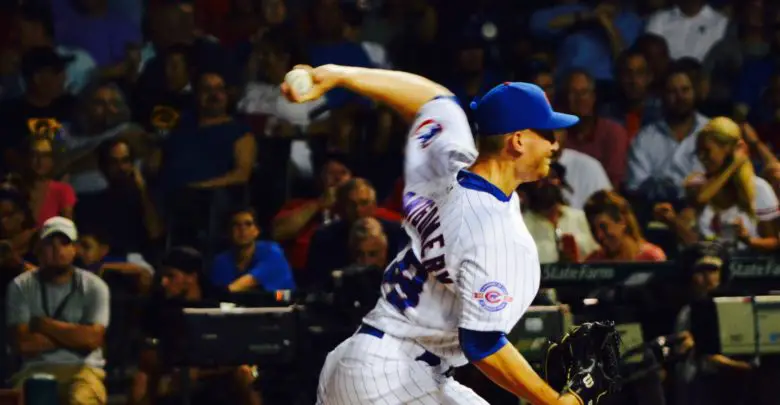 Ryan Says: Montgomery Auditions for 2018 Rotation, Former Cubs Pitchers Having Success
While the Cubs were busy sweeping the Pirates, the Brewers and Cardinals were splitting a short two-game series. Now with the Cards comfortably six games behind the Cubs, Milwaukee has to face the Washington Nationals in a four-game set while the Cubs get four at home with the Braves. At a season-high 12 games over .500, it's starting to feel like the Cubs are finally going to put their division rivals away.
•It's hard to believe the Cubs got Mike Montgomery for Dan Vogelbach. At the time of the trade, Vogelbach was crushing the ball at Triple-A Iowa to the tune of a .972 OPS and 16 home runs in 365 plate appearances. The former second-round pick was professional about his situation, but frustrated that he was blocked and wouldn't be afforded a real chance to prove himself with the Cubs. The trade to the Seattle Mariners, a team with no long-term first baseman, was a godsend.
Finally, a chance for Vogelbach to prove himself. Except…he hasn't. In a mere 33-plate-appearance sample size in the big leagues, he is 4-for-29 with zero home runs and 11 strikeouts. At Triple-A Tacoma this season, he has a cool .290/.389/.460 slash with 17 homers, but doesn't appear to yet be the guy the Mariners expected when they acquired him.
All Montgomery has been, by the way, is everything the Cubs have asked for and more. We all know about Monty being the man on the mound for the first Cubs World Series celebration since 1908, but he has continued to thrive in a swing role in 2017. Since Jon Lester pulled himself from a start against the Cincinnati Reds on August 17, Montgomery has thrown 17 1/3 innings in three appearances – in relief of Lester in that game, and two starts in his place since – with 13 hits allowed, two walks, 12 strikeouts, and one earned run.
With Lester set to return to the rotation, the Cubs will go with six starters for now — and probably until the end of the season. Montgomery has earned a rotation spot with his two excellent starts in Lester's absence, and you can expect that his performance the rest of the season will help the Cubs' front office gauge whether or not they want to rely on him as a starter going into 2018.
•Speaking of pitchers, there was one involved in that trade who you may have forgotten about. Paul Blackburn went from the Cubs to the Mariners, and later from Seattle to the Oakland A's. He has started 10 games with the A's this year, posting a 3.22 ERA in 58 2/3 innings despite a weird 3.4 K/9. It's good to see that Blackburn is having success – despite landing on the DL with a bruised right hand – but seeing former Cubs pitchers do so elsewhere has been kind of a theme.
Many of the large handful of pitchers that have been cast away by the Theo Epstein regime — Zack Godley, Dan Straily, Trevor Cahill, Scott Feldman, Adam Warren, Joe Smith, Clayton Richard, Tommy Hunter, Blake Parker, and Chris Rusin — have had bright spots for their respective teams this year. Cahill has been hurt in the second half while Richard and Feldman has fallen off a bit, but the point remains. The Cubs have been phenomenal at developing and keeping positional talent, but the pitching side has been a slightly different story.
The only Cubs pitching prospects to appear on more than a single top-100 prospect list since 2012 are Carl Edwards Jr., Pierce Johnson, and Dylan Cease. Edwards has turned into a nice reliever and Cease was a solid trade piece for the Jose Quintana deal, but Johnson is still a total unknown. The Cubs' first draft in the Theo era was six years ago, and they've failed to produce a single pitching prospect that is close to the majors and possesses top-of-the-rotation potential.
Still, there are a few intriguing arms down on the farm, with guys like Adbert Alzolay, Trevor Clifton, Oscar De La Cruz, and Jen-Ho Tseng stirring various levels of interest. But don't expect any of them to be stepping into the starting rotation in 2018, when the Cubs' top overall performer from the last four seasons (Jake Arrieta) will almost certainly be pitching in a new uniform.