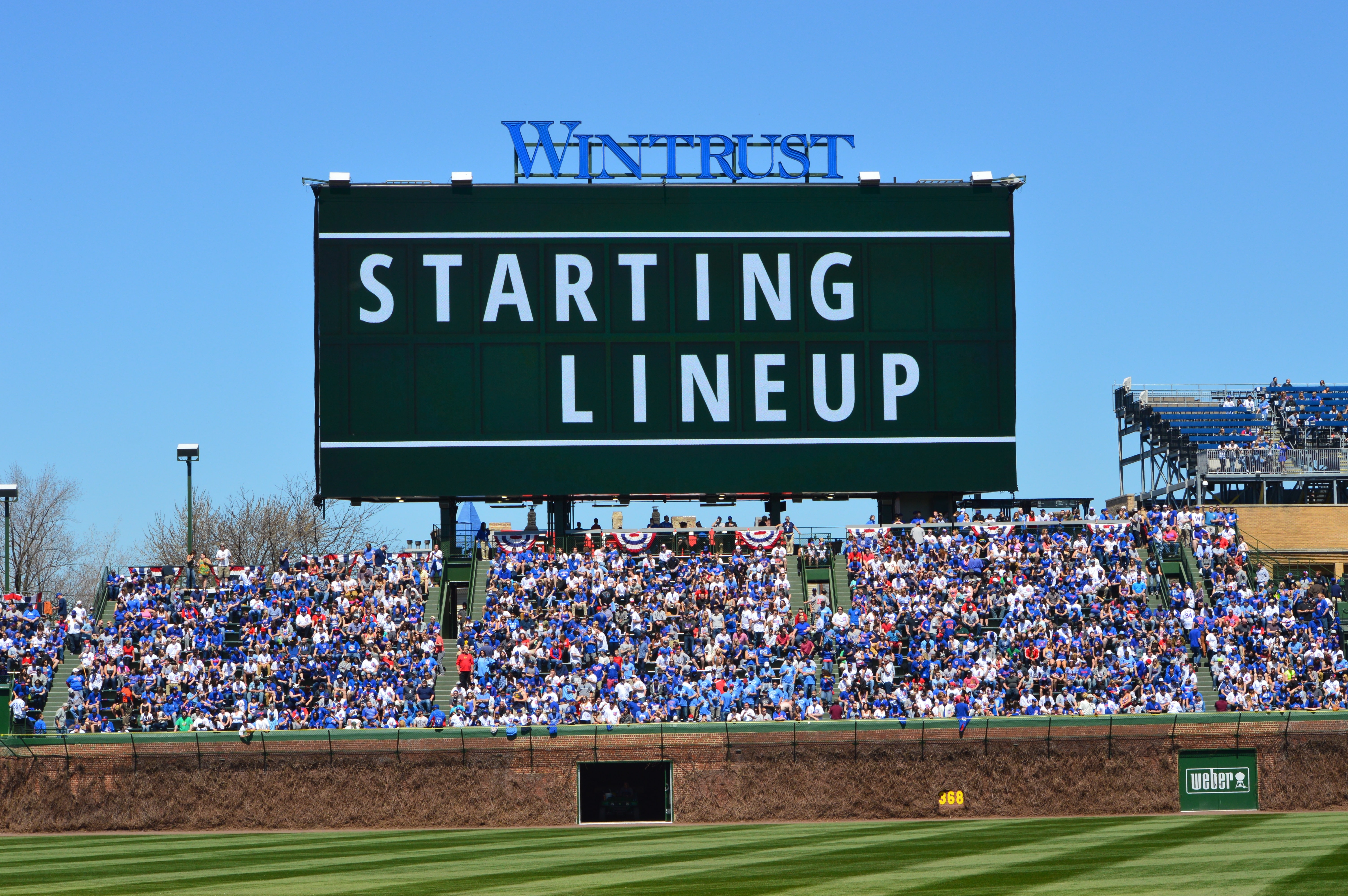 Chicago Cubs Lineup: Jay Leads Off, Schwarber Second, Zobrist Fifth as Lester Returns
Jon Jay is leading off and playing center this afternoon, followed by Kyle Schwarber in left. Kris Bryant and Anthony Rizzo follow, with Ben Zobrist batting fifth and playing second. The switch-hitting veteran has really been coming around, though I'm not sure how much I like him batting fifth.
Javy Baez moves back up to sixth, ahead of Jason Heyward and Rene Rivera. This is the standard configuration when Rivera plays, as he slots into the eighth spot Javy otherwise occupies. A lot of that is due to Rivera's lack of offensive prowess, but it's also a matter of giving him that much more time to work with his pitchers. The veteran backstop has been drawing rave reviews so far and it'll be interesting to see how he works with a new battery configuration.
There was nothing good about Jon Lester's last start. After falling apart on the mound and allowing nine runs in less than two innings of work, there was a fear that Lester's body was falling apart as well. But then we learned that it wasn't so much a lat issue as it was a matter of the shoulder being fatigued.
You have to wonder how much of that was Lester being mentally fatigued as well. There's too much of a stigma attached to that for any pitcher to admit it, let alone a guy known for coming up big in pressure-packed situations. Can you imagine the reaction from fans if Lester came out and said he was just worn down and needed a break? Woof.
And maybe it was just that carrying the weight of championship seasons on that left shoulder for the last several seasons finally took its toll. Whatever the case, Lester is back on the mound for the first time in just over two weeks and is looking to repeat his performance from back in July against the Braves. Pitching near his offseason home, Lester went seven innings, allowing only one run on three hits and a walk.
Unless we're talking about a child star or a serial killer, you don't normally use someone's middle name when introducing them. But I couldn't help myself when I saw that Lucas Sundberg Sims would be opposing the Cubs. My very limited research revealed no obvious ties to the former Cubs catcher, but it's not really a name you see all the time.
The 12th overall pick of the 2012 draft, Sims will be making his seventh career start this afternoon. He's been understandably up and down over his first six, but the 23-year-old righty is equipped with some serious stuff. Though he racked up 10+ K/9 in the minors, Sims hasn't missed as many bats at MLB level. He hasn't walked as many, either, which would lead you to believe that he's perhaps missing his spots in the zone too often.
Working off of a low-90's fastball, Sims features a slider, curve, and change as well. He'll try to bury the fastball down and away against righties, but has a tendency to run it back over the plate and up in the zone. The curve and slider will go down and away to righties, though he'll often miss up against lefties.
It's hard to take much away from three road starts, but Sims has been pretty bad away from Sun Trust Park. Opposing hitters have a .947 OPS against him and have 11 extra-base hits in 16.2 innings, with lefties and righties alike doing damage. Don't let the past results weigh too heavily, though, this young man can really pitch.
But the Cubs can really hit and I think they do exactly that in a big game this afternoon.
First pitch is 1:20 CT on CSN Chicago
Here is this afternoon's #Cubs lineup against the #Braves.

Game preview: https://t.co/NpNIhxo3Gt pic.twitter.com/RIY6L8g03s

— Chicago Cubs (@Cubs) September 2, 2017