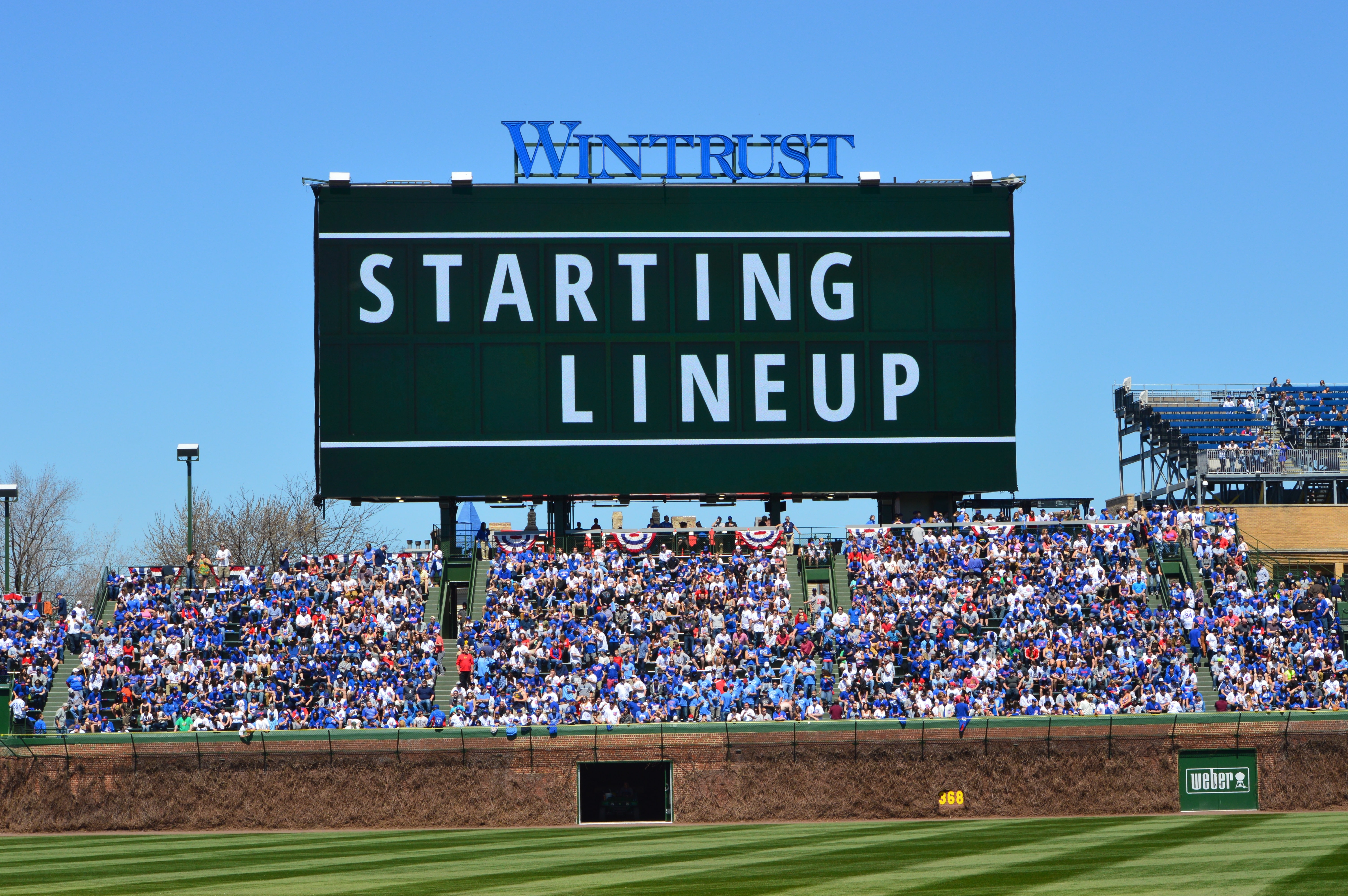 Chicago Cubs Lineup: Javy's Back for Real This Time, Caratini at First as Cubs Try to Tattoo Brault
Joe Maddon's rolling a lineup with some of that authentic September feel as the Cubs try to get off the mini-schneid in Pittsburgh. Jon Jay leads off in left, followed by Albert Almora Jr. in center and Kris Bryant at third. Okay, nothing too crazy yet.
But then you've got Ben Zobrist playing right and batting cleanup with Ian Happ hitting fifth and playing second base. Javy Baez, who was in yesterday's lineup prior to being scratched with a sore thumb, is batting sixth and playing short. This third of the order is definitely different, though not way out of the ordinary.
With Anthony Rizzo getting a little rest, Victor Caratini steps in to play first. Rene Rivera has been swinging a really hot bat and has worked with Kyle Hendricks a couple times already, so he'll be in there against a right-handed pitcher. Not exactly the eight guys I'd have picked to jump-start the offense, but the matchup says they may not need much help.
Kyle Hendricks has been solid since returning from the DL, though he's had some moments here and there in which it looks like his control might fail him. He's done of good job of limited the damage from walks and homers, neither of which have been troubling yet, and has been his typical steady self for the most part.
One key has been reducing hard contact, which Hendricks was allowing at a 36.3 percent rate through the start of June. That has dropped by nearly eight points since he's come back, which is very important given a reduction in grounders and increase in flies. As he continues to get better at missing barrels, Hendricks is looking more and more like the pitcher who led the NL in ERA last season.
Known more for the "futuristic" sleeve tattoos on his arms than what he's done with them on the mound at the MLB level, Steven Brault will be making his first start of the season in place of a fading Ivan Nova. Brault is the Bucs' first lefty starter this season, so file that bit of trivia away for future use.
This will be the 25-year-old southpaw's second career start against the Cubs and the fifth time he's faced them overall (third this year). In 8.2 total innings, Brault has allowed 17 runs (9 earned) on 18 hits and six walks with 10 strikeouts. The lone bright spot for the Pirates is that he only allowed one home run (to Bryant on September 26 last season), though I suppose the K numbers are pretty decent.
Sure enough, Brault has yet to allow a home run in 13.2 innings pitched this season despite given up a lot of hard contact, much of which has been in the air. He's got a fastball-heavy repertoire, using a four-seam/sinker combo for about three-quarters of his pitches. His sinker usage has more than doubled from last season's 13 percent, though his grounder and fly-ball percentages indicate that he's not done a great job of keeping it down in the zone.
Brault will also throw a slider and change, though the latter has disappeared at times. And I don't mean that is tumbles out of the zone, rather that he hasn't thrown it at all. His pitch mix could change a bit tonight as he moves back into the rotation, but expect him to stick with that low-90's heater for the most part. The slider could determine how long he remains in the game, as he has a tendency to lose feel for it and hang it up in the zone.
Limited big-league time this season doesn't really provide enough data from which to draw conclusions, but I do find it interesting that Brault has faced far fewer left-handed (26) batters than he has righties (44). He's allowed a .684 OPS to lefties and a .980 to righties, so it's not as though we're talking about a reverse-split guy or anything. And he's only faced seven lefty batters at home this season, allowing no hits and walking two with no strikeouts.
I'm gonna go way out on a limb here and predict that the Cubs lefties do something about that .286 OPS allowed tonight (though I guess I've just put a lot of pressure on Jay). Even if he's on his game, Brault isn't likely to last very long in this one. He hasn't gone more than 4 innings this season and has only completed 6 innings once in his MLB career. And that was in his second appearance, which is also the only time he's faced more than 22 batters in a game.
Coming off of two anemic efforts, this has all the earmarks of a big game for the Cubs. Tune in to CSN Chicago at 6:05 CT to find out if that will indeed be the case.
Here is tonight's #Cubs starting lineup against the #Pirates.

Game preview: https://t.co/n0kgS2GijF pic.twitter.com/lRA1OqQPxR

— Chicago Cubs (@Cubs) September 5, 2017