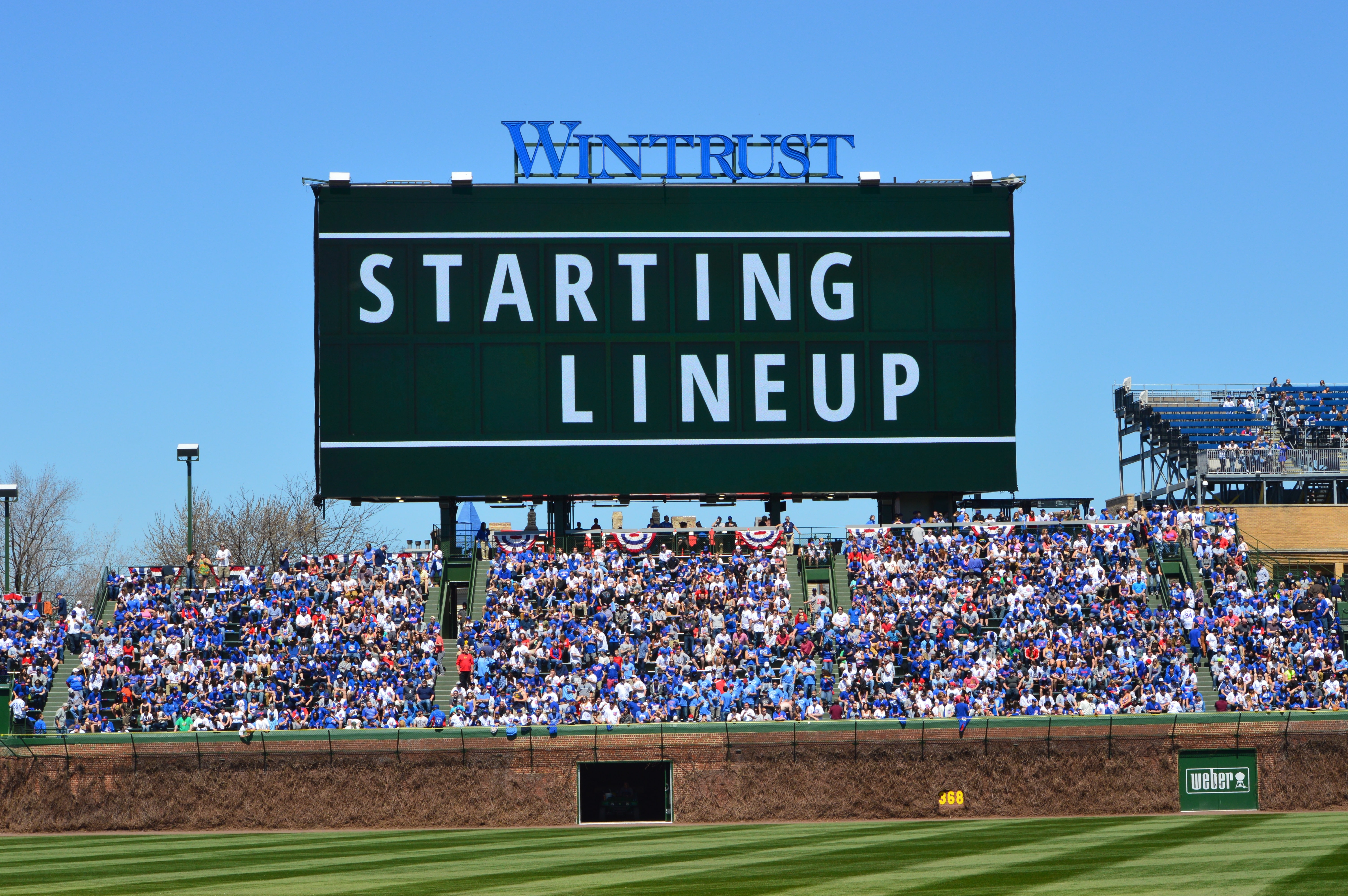 Chicago Cubs Lineup: Jay Leads Off, Zobrist Cleans Up in Wrigley's First-Ever Friday Night Game
There'll be no fear of sunburn when the Brewers and Cubs take the field, though the visitors may still be a little hot and bothered by the notion of being forced to play a night game. As you may recall, the Brewers took serious issue with the Cubs getting a one-time exception from Mayor Rahm Emanuel and local alderman Tom Tunney to push back the scheduled start due to Thursday night's finale in Pittsburgh.
With the two teams locked in a tight division race for much of the season, the Cubs making the move purely for competitive purposes just rubbed Milwaukee the wrong way. Then again, what doesn't? This isn't the first time the Brewers have gotten upset about a decision the Cubs have made, though I'd be upset too if my home park turned into Wrigley North 10 times a year.
Jon Jay will get things started in left, after which we'll see Kris Bryant back in the two-hole and Anthony Rizzo batting third. That means Ben Zobrist is hitting fourth, which I'm sure a lot of folks won't like.
But against a right-handed starter, the switch-hitting Zobrist makes a lot more sense than you might think. Zobrist has a 116 wRC+ as a lefty over the last month-plus and he's even showing a little more pop.
Alex Avila brings his insane BABIP to the fifth spot, with Ian Happ batting sixth and playing center. Jason Heyward and Javy Baez round out the order and combine with Happ to give the Cubs one of the fastest baserunning trios in the game. Heyward's another whose presence draws questions, but he's actually looked better of late and might even look more so had some would-be hits not been robbed. Let's just hope he sees some fastballs.
Notably absent yet again is Kyle Schwarber, who sits despite a righty on the bump for Milwaukee. Schwarber's been slumping lately and we've seen him get back into the habit of resting his bat on his shoulder, a practice he'd more or less abandoned during his stint in AAA. This could also be a matter of defense behind John Lackey, a pitcher known to give up a fly ball or 20 facing a lineup that can pound a little.
Coming off of his best start of the season, Lackey is facing the Brewers for the third time here in 2017. The first effort was a forgettable one in which Lackey gave up more home runs (3) than he had strikeouts (2), but the most recent was significantly better as Big John struck out seven and allowed only two runs (one HR) in a win on July 30 in Milwaukee.
The 38-year-old righty has been really erratic over his last few starts, which followed a run in which his results covered up for what had largely been mediocre performances. It's going to be all about establishing the fastball early and staying ahead of hitters so he can use the slider to get swinging strikes. We should know right from the jump whether Lackey's got it or not in this one.
Going for the Brewers will be hulking righty Jimmy Nelson, who's facing the Cubs for the first time since mid-April. In two starts against them during that opening month, Nelson had very different results. After a sterling start in which he allowed a single run on four hits (solo HR), he gave up seven earned on nine hits (two HRs).
As you'd guess from his 6-foot-6, 250-pound frame, Nelson is a power pitcher in every sense of the word. From his mid-90's four-seam and sinker to a mid-80's curve to a slider and change that sit near 90, there's not much subtlety in his repertoire.
Nelson's been dialing back the fastball usage of late, opting for more breaking stuff instead as he presumably gets a better feel for those pitches. He's really gone to the curveball a lot more, though the slider has also had an uptick over the last 10 or 11 starts. It makes sense that he's using the bender more, as it has been Nelson's best pitch this season. In fact, it's one of the best curves in the game, raking up there with Stephen Strasburg and Zack Greinke in terms of both overall and incremental value.
Though his overall platoon splits are pretty similar, Nelson has gotten better results against right-handed hitters on the road. Of course, that also means he hasn't been quite as good against lefties away from Miller Park. Of the 16 home runs he has allowed this season, seven have been hit by lefties when Nelson is pitching in the bottom of the inning. Three of those came from Zobrist, Schwarber, and Miguel Montero in those two games I mentioned earlier.
Nelson will use the sinker and curve to generate a lot of groundball contact, though he does have a tendency to leave the sinker up the in zone to righties. That pitch has arm-side run and will work inside to righties/outside to lefties, which results in a great deal of contact and an .825 OPS against. The curve gets a lot more swinging strikes and opponents have only a .455 OPS against that offering.
The curve and slider have similar break, both diving down and in on lefties, though the velocity gap presents pretty obvious differences between the two. As is the case with many pitchers of his ilk, Nelson's effectiveness can drop off as the game wears on and his pitches lose both velocity and bite. However, some of that could be mitigated by pitching at night in the cool September air.
Based on past results, I'm inclined to feel good about what the Cubs can do tonight against Nelson. Don't be surprised if it takes them a little while to feel him out, though, particularly if his stuff is really jumping early.
First pitch of the first — and last, at least for a while — Friday night game in Wrigley Field history is set for 7:05 CT on WGN.
Here is tonight's #Cubs lineup as we open a nine-game homestand.

Game preview: https://t.co/XgMGT8ph5l pic.twitter.com/Y5MbNr1ite

— Chicago Cubs (@Cubs) September 8, 2017