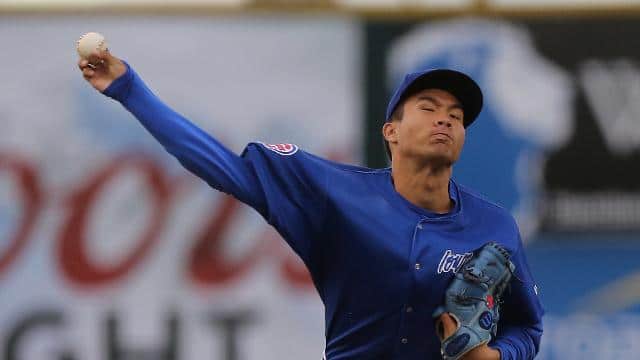 Cubs Name Jen-Ho Tseng MiLB Pitcher of Year, Thursday Starter
Not long after the Cubs named righty Jen-Ho Tseng the organization's Minor League Pitcher of the Year for the second time, it was announced that he'd make his MLB debut Thursday in a start originally scheduled for Mike Montgomery. The lefty swingman will return to the bullpen, which is certainly an interesting development and perhaps signals the imminent return of Jake Arrieta, who played catch on the field Tuesday and could (maybe) be ready to take his next turn when it comes up next week.
This was actually the 22-year-old Tseng's second Pitcher of the Year honor, as he also took the award home following his first professional season with low-A Kane County in 2014. The Cubs signed Tseng as an undrafted free agent out of Taiwan and that initial campaign, in which he went 6-1 with a 2.40 ERA as a 19-year-old, really set the bar high for him.
He displayed a really nice curveball and great feel for the changeup, particularly considering his youth, though trying to add velo to the fastball may have led to some mixed results over the next two seasons. He spent 2015 at high-A Myrtle Beach, going 7-7 with a 3.55 ERA over 22 starts as he struggled with location and left a few too many pitches over the plate. That continued the following season at AA Tennessee, where he posted a 4.29 ERA and a 1.50 WHIP in another 22 starts.
Tseng really started to put it together this season, opening at Tennessee and putting up a 2.99 ERA in 15 starts. Focused more on simply pitching and trusting his stuff than trying to throw harder, he racked up 83 strikeouts in 90.1 innings before earning a promotion to AAA Iowa. Tseng posted a 1.80 ERA and struck out 39 while walking only 14 over 55 innings in Des Moines.
He's got something of a Kyle Hendricks-ian repertoire, but with a little more velocity, and could be a legitimate option for the back end of the rotation next season. It's hard to imagine the Cubs leaning on Tseng for more than a single start for now, though, and Montgomery could even work in piggyback capacity should the rookie struggle. Tseng hasn't pitched since September 2 and you have to wonder how sharp he'll be out there in his debut, though he's not one to beat himself. My main fear would be that he leaves some pitches out over the plate, but I'm excited to see what he can do.