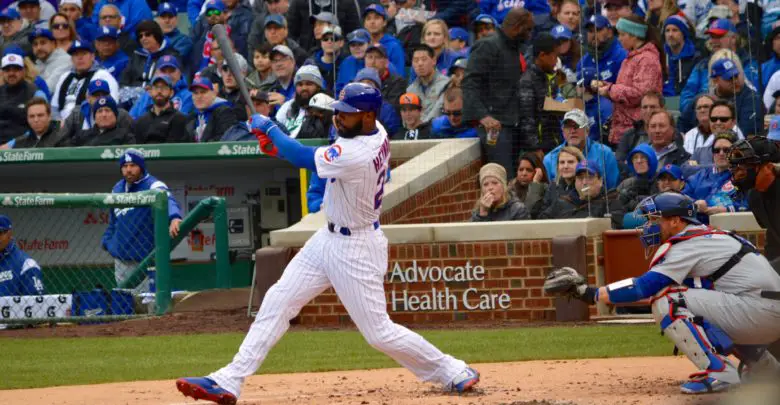 Some of Jason Heyward's Numbers This Year Are Worse Than Last Year
Jason Heyward spent much of the winter on the backfields of Sloan Park in Mesa working on a new swing. Attempting to get in a comfortable hitting position prior to the pitch, the athletic outfielder lowered his hands to a level akin to Anthony Rizzo's batting stance. All that hard work, unfortunately, has led to zero results.
Jason Heyward's 2017 campaign is virtually identical to his appalling 2016 season. Going into Tuesday's contest against the Mets, the right fielder owns a .292 xOBA (expected weight on base average) that is basically the same as the .290 mark he recorded in 2016.
But we can actually make an argument that Heyward has been…worse.
The UZR champion's batted-ball portfolio is sort of disgusting. He's hit 41 percent fewer high drives (the batted-ball type correlated with most runs) this season compared to last year. Those high drives have become line drives and fly balls, which would normally be an acceptable outcome. However, Heyward's line-drive exit velocity has been 1 mph slower in 2016. Even worse, his fly-ball exit velocity has been an abysmal 83 mph, nearly 7 ticks below the league average and 3 mph slower than his 2016 average.
The Heyward enigma is a frustrating one. Defense, he owns. Leadership, he begets. But the offensive aptitude he showed prior to joining the Cubs, even while displaying some faulty mechanics, has disintegrated as quickly as Joe Maddon's confidence in Kyle Schwarber.
We're talking about a 1,021 plate appearance sample in which Heyward has only produced 2.3 fWAR. As a comparison, Tommy La Stella, who wishes he had an arm with half the strength of Heyward's cannon, has produced 1.3 fWAR in merely 300 PA over the same period of time.
I love Heyward's attitude and, admittedly, I wish I could be more like him in life. I'll be pulling for him to turn it around even after this tumultuous start to his Cubs career. But just like last year when the pennant run approached, now is not the time for him to figure it out.
I'm not sure how the Cubs can justify giving consistent starts to a guy with whose 76 wRC+ is fourth-worst among all MLB hitters over the last two seasons (min. 1000 plate appearances). And given the expectations that come with his contract and past performance, there's reason to believe he's been even worse. Sigh.