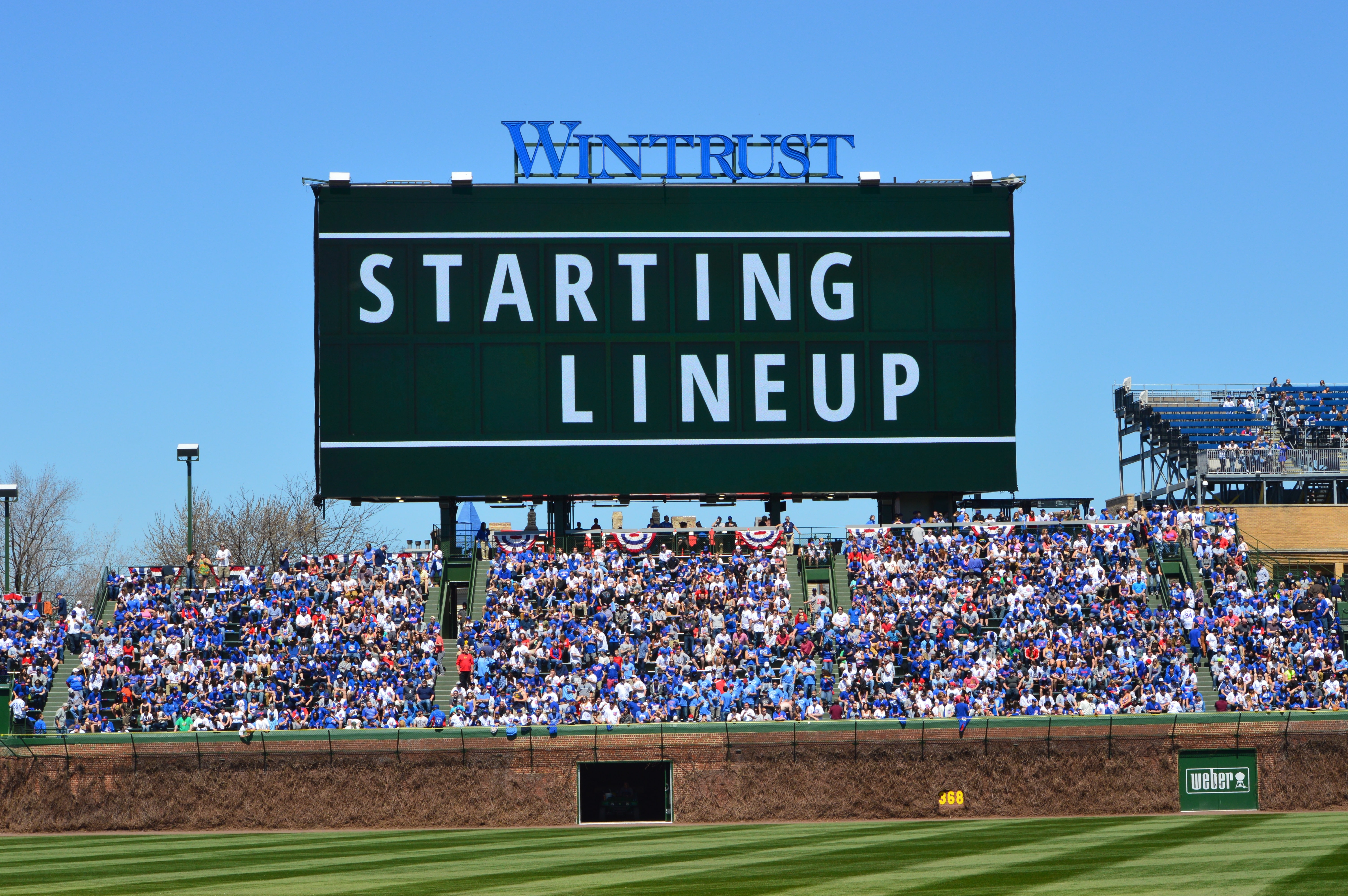 Chicago Cubs Lineup: Happ Cleans Up, Schwarber Fifth, Davis Catching Tseng's MLB Debut
Jon Jay is leading off in center again, followed by Kris Bryant and Anthony Rizzo, while Ian Happ handles second base duties and cleans up. Willson Contreras had been batting fourth, but he gets a day off after consecutive starts.
Kyle Schwarber, who is still actually hitting really well since coming back yes, even after three strikeouts Wednesday), will bat fifth and play left. Javy Baez is in there at short and Jason Heyward is yet again patrolling right field. Folks, I'm just not sure what to say about that.
Albert Almora Jr. hit a home run and a triple last night against two different right-handed pitchers and has been crushing righties at home this season. Despite that and the fact that the Cubs are facing a guy who right-handed batters have killed this season, Almora sits again in favor of a pair of outfielders who aren't doing as well at the plate. I don't get it.
I'm feeling some warm fuzzies seeing Taylor Davis in there for the first time as a starter, though. He formed a batter with Jen-Ho Tseng each time the righty took the mound at Iowa, so it'll provide a nice level of comfort for both players as they make their first starts.
After being named the organization's Minor League Pitcher of the Year for the second time (first followed his pro debut in 2014), righty Tseng will be making his MLB debut Thursday evening. He's no stranger to the big stage, having pitched for Taiwan in the 2013 WBC as an 18-year-old.
Still a few weeks shy of his 23rd birthday, the 6-foot-1, 210 righty has had an excellent season across AA and AAA after struggling to find his way in between his award-winning seasons. Tseng has a low-90's fastball that can touch 95, but working to increase that velocity may have led to some inconsistency following his initial success.
He's also got a knuckle curve, sinker, change, and cutter, all of which he can throw for strikes. The key for him will be working both sides of the plate with those pitches and not missing over the middle. I suppose that goes without saying, but you always worry about how a guy will react when he steps out there for the first time.
Joe Maddon praised the youngster's demeanor, saying that Tseng "didn't even blanch" when told that he'd be starting today's game. Taylor Davis, who caught every one of Tseng's Iowa starts, though his batterymate pitched with more confidence once he arrived at AAA.
"He was really effective with all of his pitches this year, and his fastball worked well at the end of the year," Davis said. "It was impressive. He has a really good tempo, really good pace."
All told, we're talking about a guy who's somewhat reminiscent of Kyle Hendricks in terms of repertoire and demeanor. If Tseng can keep his nerves in check out there, he could earn himself another start as Jake Arrieta works his way back. What's more, the rookie could put himself firmly in the mix for a rotation spot next season.
But let's not get ahead of ourselves just yet, the Mets are all that matters for now.
Leading the charge for Ron Santo's least favorite team will be righty Seth Lugo, who — stop me if you've heard this one — has missed a big chunk of the season due to injuries. A partial UCL tear kept him out until June and an impingement in his pitching shoulder shelved him for a couple weeks in mid-August. No biggie, just the two most important joints he has (which could be another way of telling Christopher Wallace that he can't smoke a guy's weed).
Lugo has gotten pretty mediocre results on the whole when he's actually been out there, though his last start was a six-inning shutout of the Reds. He'll work in the zone a little more than average with a four-seam/sinker/slider/curve/change combo, leading to more contact than most pitchers give up. The fastball is Lugo's only pitch with positive value, though he frequently misses over the plate with the sinker.
Even with a little arm-side run, Lugo has made a lot of mistakes right at the belt to righties in particular with that pitch. The curve generates a lot of groundball contact with sharp bit, breaking in sort of a 1-7 direction, but it doesn't generate many whiffs. And though Lugo's slider gets more swings and misses by comparison, it can hang and lead to a lot of line drive and flies.
He's also struggled mightily away from Citi Field, allowing an .814 OPS on the road that is 114 points higher than he gives up at home. Hitters from both sides have absolutely clubbed Lugo on the road, but righties have hit five of the six homers he's allowed in those situations.
In short, this is not a scary pitcher and he's someone the Cubs should be able to jump all over. They will need to attack the fastball out of the gate and keep him from getting comfortable using the breaking stuff. The Mets will probably have to lean heavily on the bullpen too, as Lugo has only completed seven innings once, and that was in his first start of the season.
First pitch is at 7:05 CT on ABC-7.
Here is tonight's #Cubs starting lineup.

Game preview: https://t.co/J3oZeJQDra pic.twitter.com/bRVDPxwK3Y

— Chicago Cubs (@Cubs) September 14, 2017