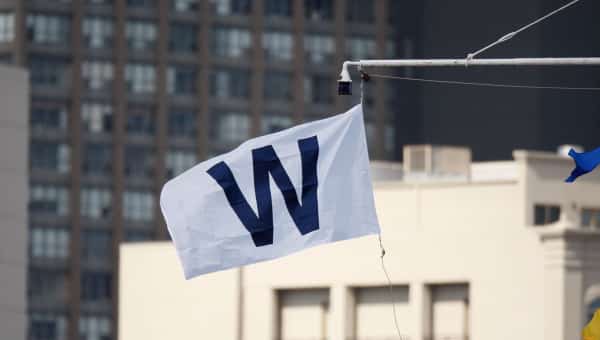 CI Recap (9/13/17) – Cubs 17, Mets 5: Welcome to Blowout City, Population Cubs
Things got started somewhat slowly and the Cubs squandered a few early chances to crack the game open. Neither starting pitcher was sharp, though Jon Lester was able to grind through his outing with much more success than Matt Harvey. Even so, the score remained knotted at 2-2 until the Cubs opened up a lead in the 4th inning.
Willson Contreras made up for an egregious baserunning error with a two-run single and the Cubs never looked back. They scored a dozen runs in their last three innings to really pad the lead and ensure that not even Justin Grimm could make it a close game.
Why The Cubs Won
They scored all the runz. They collected 16 hits (only two homers) and walked 11 times to keep the bases clogged all night long, eventually busting things open by stringing everything together. Believe it or not, the score could have been even more lopsided.
Five of the six Mets pitchers allowed at least one run in the game, same goes for walks. It was one of those in which the Cubs were just relentless. The top half of the order did a ton of damage and the replacements even announced their presence with authority.
Lester wasn't anywhere near his best, needing 114 pitches to get through 6 innings as he struggled to put hitters away. Not that he really needed to with what his offense was able to do behind him.
Key Moment
After singling with one out in the 3rd inning, Contreras advanced to second when Ian Happ walked. Kyle Schwarber struck out and Jason Heyward singled to drive home a run, except…what? Ian Happ was thrown out at third as he pulled up awkwardly without sliding, but Contreras had virtually stopped on his way home to watch the play behind him and he failed to cross the plate before the third out was recorded.
Contreras came up the next inning with the bases loaded and delivered a two-run single that put the Cubs in front for good. From outhouse to penthouse, or something like that.
Albert Almora Jr. collected a career-high 6 RBI on a three-run homer and three-run triple after entering the game in the 7th inning. Both hits came against right-handed hitters, thereby putting that particular narrative on life support.
Stats That Matter
The Cubs' top four batters reached base 16 times, which I think is good
The bottom half of the order and replacements drove in 12 of the Cubs' 17 runs
Justin Grimm gave up 3 runs on as many hits in his inning of work
With a 2-for-3 night that included three walks, Ben Zobrist is batting .343 with a .444 OBP in September
Bottom Line
This was a plain ol' butt-whoopin' and there's really not much you can take from it other than the fact that the Cubs are actually capable of hitting. A lot. Now they just need to keep doing so.
On Deck
The Cubs go for the sweep behind newly-promoted rookie Jen-Ho Tseng. He'll debut against Seth Lugo and a dragging Mets team at 7:05 CT on ABC-7