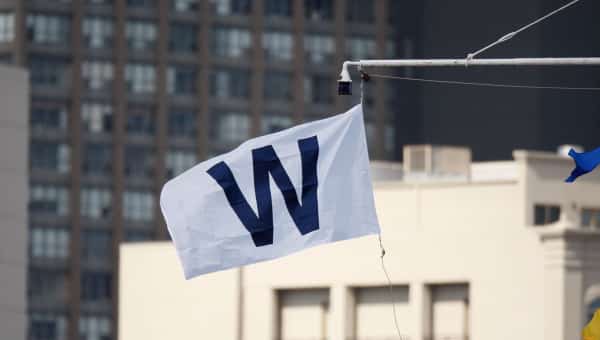 CI Recap (9/14/17) – Cubs 14, Mets 6: Cubs Change Batteries, Sweep Mets
The Cubs started an all-rookie battery of Jen-Ho Tseng and Taylor Davis and it did not go well. Luckily, the Chicago bats pummeled the horrible Mets pitching staff en route to another blowout victory and an easy sweep. (Box Score)
Why the Cubs Won
The Cubs feasted on a combination of starter Seth Lugo and New York's beleaguered bullpen. They scored a total of 14 runs, giving them a staggering total of 39 over the three-game sweep.
Chicago's pen was very good Thursday night, which was nice to see. A combination of Mike Montgomery and Brian Duensing threw four scoreless innings to keep the Mets at 5 runs while the offense exploded.
Key Moment
Alex Avila and Montgomery singled to open the 4th inning with the Cubs down 5-4. Jon Jay doubled to score Avila and tie the score at 5-5 and Kris Bryant followed with a double of his own to put the home team up 7-5. Anthony Rizzo doubled in KB, stole third, and scored on an Ian Happ sacrifice fly to make it 9-5.
Stats That Matter
Jen-Ho Tseng was clearly nervous and it showed in his stats: 3 IP, 5 R, 5 H, 6 K, and 1 BB. His catcher, Taylor Davis, was equally shaky, dropping a throw home that looked like an out in the 2nd. Davis did collect his first MLB hit in the bottom of the inning.
Anthony Rizzo singled, doubled, and homered in his first three at bats driving in two. Oh, he stole two bases. A patented hot-streak would really help against St. Louis this weekend.
It might have come in garbage time, but it was still nice to see Jason Heyward go deep for a three-run shot. His power has basically evaporated down the stretch, so anything like that sure would help.
Bottom Line
The Cubs did what they had to do, sweeping the reeling Mets to maintain their grip on first place. Runs will not come as easily against the Cardinals, but even a fraction of the offense displayed in this series would be more than fine. The Northsiders lead both their rivals by three games with 16 left to play.
On Deck
The Cubs begin a crucial three-gamer with St. Louis Friday at 1:20 CT. John Lackey faces Carlos Martinez in a game that airs on MLB Network (out of market) and ABC-7.