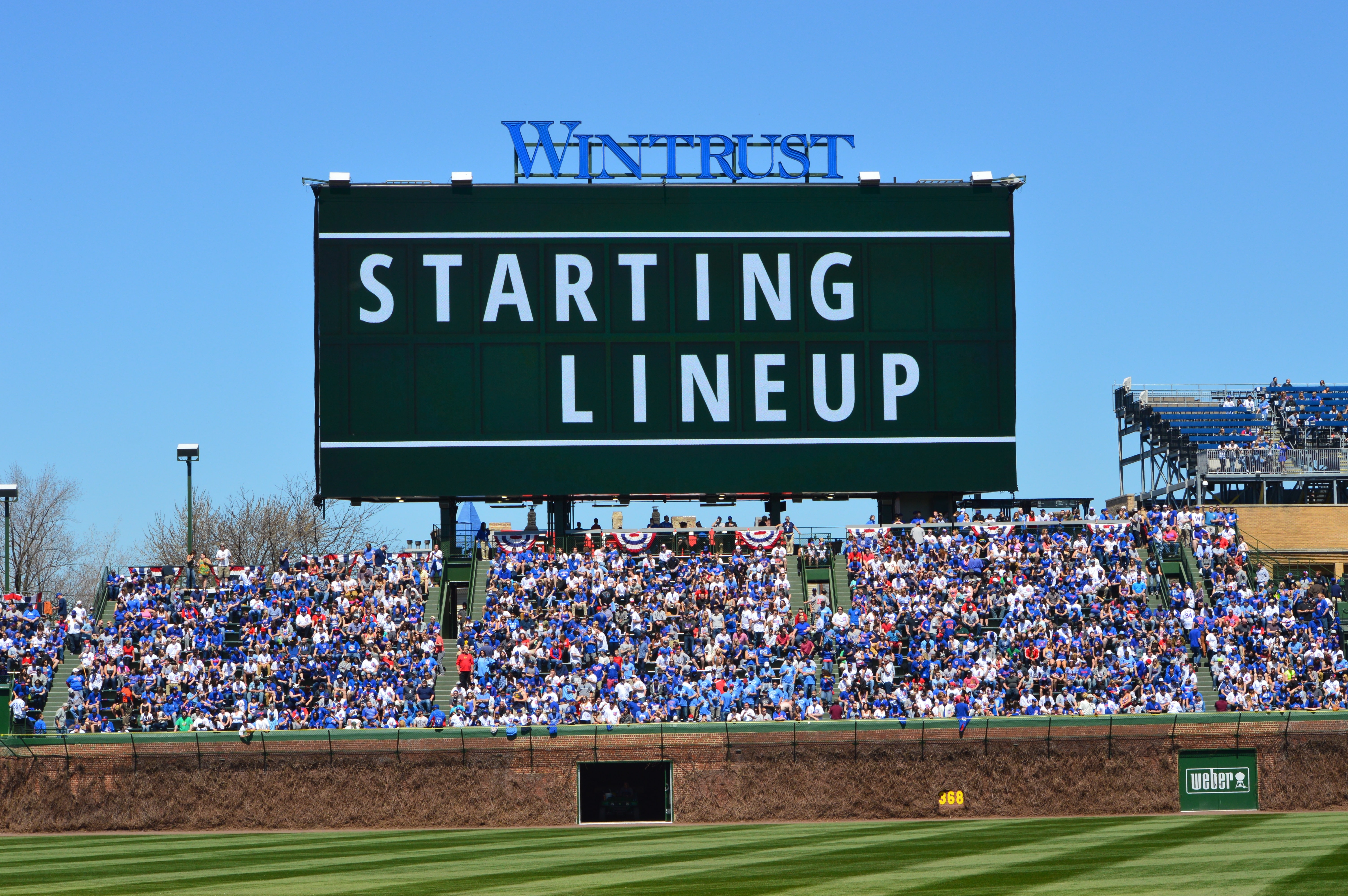 Chicago Cubs Lineup: Zo Leads Off, WillCo Cleans Up, Schwarber Fifth as Cubs Open Pivotal Series with Cards
Ben Zobrist has been resurgent over the last month or so and is as good a choice as any to lead off at this point. Though I'd personally like to see Kris Bryant up there, this is better than Jon Jay. Bryant is batting second and he'll be looking to improve upon his career numbers against Cardinals starter Carlos Martinez.
Anthony Rizzo has been seeing the ball really well lately and has always been able to hit Martinez (more on that below), so look for him to do damage in the three-hole. Willson Contreras is rounding back into form as he makes his third start in four days. So much for that whole "easing him back in" thing.
Kyle Schwarber, who has been the Cubs' best-hitting outfielder in the second half and has been particularly good at home, hits fifth. Jay is in center and batting sixth, which I find a little curious. The former Cardinal has a mere .536 OPS this month and I think the Cubs would have been better served with Ian Happ in that spot.
Jason Heyward, who bashed a home run after I roundly criticized his inclusion in yesterday's lineup, will bat seventh and play right. He's actually hit Martinez pretty well over the course of his career, so we'll see if he can continue to justify his spot. Regardless, I'm not sold on him being in there as often as Bryant and Rizzo.
Javy Baez takes up the eighth spot in the order and it be a long afternoon for the big-swinging shortstop. I just hope he likes White Castle, because he'll be getting a steady diet of sliders.
I'm not sure what's left to say about John Lackey that you don't already know. He isn't deceptive and isn't going to employ some brand-new gameplan Friday afternoon. As long as Big John can shovel enough coal into his engine to get chuffing down the track and get loose early, he can use the breaking stuff to get strikeouts and weak contact.
That's exactly what he's done when facing the Cardinals, against whom he has a 2-1 record with a 2.50 ERA and 0.983 WHIP in six starts. The big key is that he's only allowed four home runs in 39.2 innings, so here's to hoping that continues. It will if he can keep limiting Matt Carpenter, who has just a .063 average and .313 OPS against Lackey.
Among the Cards with more than 10 at-bats against Lackey, only Dexter Fowler (.973) has greater than a .582 OPS. Of course, he's day-to-day with a knee injury and may not play this weekend. I've got a sneaking suspicion the beloved former Cub will somehow find a way to impact this series.
Martinez baffled the Cubs for 7 innings in the season opener, but he's been hittable in two subsequent starts. The Cubs have shown the ability to reach base against the hard-throwing righty, tallying 21 hits (two HR) in 20 innings this season. They've only walked five times against 20 strikeouts, though 10 of those K's came in that first game.
Just a few days shy of his 26th birthday, Martinez can run the fastball up there in the high 90's and will sit around 95-96 mph. That sets up a nasty slider that he uses nearly as often as the four-seam or sinker. He's also got a hard change, though it's not as effective as his other offerings.
The Cardinals ace isn't afraid to throw his hard stuff for strikes, knowing that the velocity and natural movement will keep hitters from barreling up too often. Then he'll bury that slider down and away from righties or roll the change down and away to lefties. Though neither is specific to batter handedness, he'll alternate them as put-away pitches depending on who's at the plate.
Righties have had a very hard time getting to Martinez this season, though lefties can really put it to him. That's especially true when he's pitching on the road, where lefty batters have compiled an .886 OPS and .379 wOBA. Rizzo is proof positive of that, posting a .995 OPS with three homers in 38 career plate appearances against Martinez. Zobrist has a .905 OPS in 21 PA's, so that's another solid matchup to watch.
As you can imagine given the filthy slide-piece, Javy has not been able to figure Martinez out at all. El Mago has a measly .429 OPS with five strikeouts in 21 at-bats against today's starter. But the real key could be Bryant, who has been absolutely confounded to the tune of a .433 OPS with 11 K's and no extra-base hits in 26 plate appearances. If KB can break through, it would be huge for the Cubs.
I've got a really good feeling about this game, folks, though I'm not entirely sure why. We'll see if my intuition holds true when Lackey takes the bump at 1:20 CT on ABC-7.
Here is today's #Cubs starting lineup.

Game preview: https://t.co/8HQW14zPNu pic.twitter.com/JsihoDrBj2

— Chicago Cubs (@Cubs) September 15, 2017