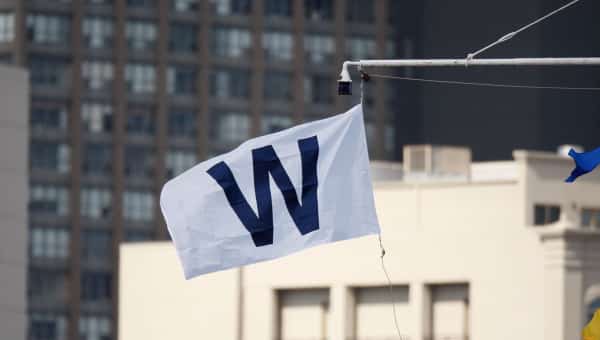 CI Recap (9/15/17) – Cubs 8, Cardinals 2: Mount Lackey Erupts Cubs Win Big
The first game of the critical Cubs/Cardinals series started out with a distinct playoff feel, then total chaos broke out in the middle innings. By the time the dust had settled, the Northsiders were on their way to huge win. (Box Score)
Why The Cubs Won
The offense again came through with a big effort, especially in the seven-run outburst in the 6th inning. After John Lackey was ejected in the 5th inning, Justin Wilson and Carl Edwards Jr. kept the deficit at one and gave the offense time to get into gear.
Key Moments
Stephen Piscotty singled in a 1-1 game in the 5th inning and advanced to second with two outs. Lackey intentionally walked Harrison Bader to get to pitcher Carlos Martinez. The Cubs starter appeared to strike out his counterpart looking — Martinez even started to head to the dugout — but umpire Jordan Baker had it as a ball. The next pitch was lined to center to score Piscotty, so Lack yelled at Baker while backing up the play and was ejected. Willson Contreras then got tossed as well, throwing his mask near the umpire. Wilson entered and struck out Matt Carpenter to keep it 2-1 Cardinals.
Kris Bryant singled to lead off the 6th inning and Anthony Rizzo walked. Alex Avila, in for Contreras, singled back up the middle to score Bryant, who hesitated at third before scampering home to tie the game. Jon Jay followed with a single to center to score Rizzo and put the Cubs ahead. After a Jason Heyward walk, Javy Baez hit a dribbler back to Martinez. His throw home was a bit low and Yadier Molina dropped it, allowing a run to score. Ian Happ singled, Ben Zobrist hit a sac fly, and Bryant singled again off of reliever Matt Bowman to make it an 8-2 Chicago edge.
Stats That Matter
John Lackey was pitching well before he was tossed: 4.2 IP, 2 R, 3 H, 4 K, and 2 BB. His anger was understandable, but a veteran pitcher has to keep his cool in a big game. Had the bullpen melted down in the 5th, it would have been costly.
Kris Bryant is getting hot at the right time; he had three hits, including a homer and 2 RBI. His two runs scored bring him to 104 on the season.
Javy Baez made two more terrific plays in the field, including a heads-up throw to nab Piscotty trying to stretch a single in the 7th. Then in the 8th while attempting another great play he jammed his left thumb. He remained in the game, but seemed to be in pain taking swings the next half inning.
Borrom Line
Despite the insanity that was this game, the Cubs regained their composure and picked up a key win. The Cardinals now are in must-win mode the next two days. Chicago will be at least 3 games up in the standings Saturday and days keep coming off the calendar.
On Deck
The Cubs look to win the series Saturday afternoon at 3:05 CT. Kyle Hendricks faces Michael Wacha in game broadcast on CSN-Chicago Plus.