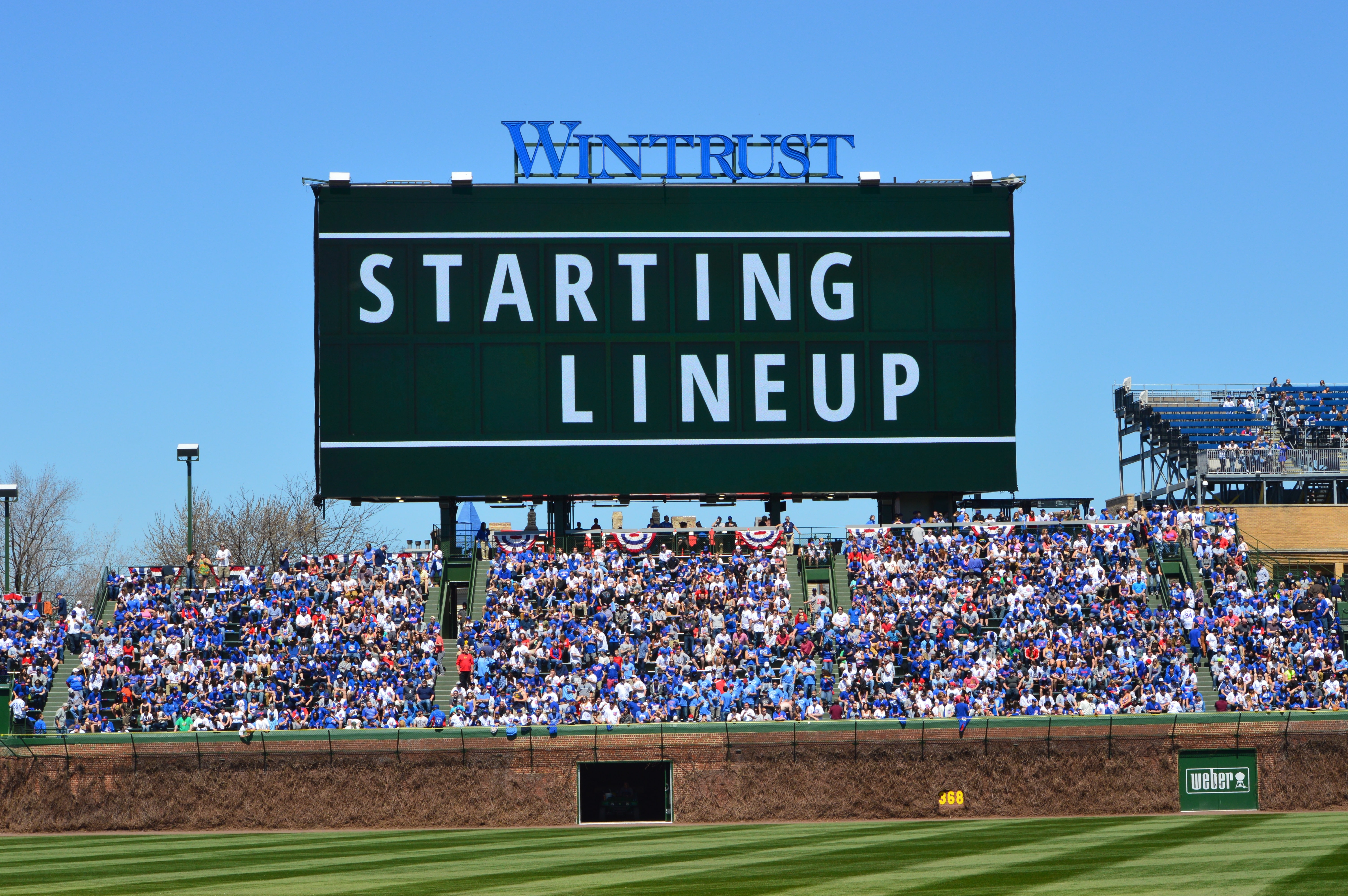 Chicago Cubs Lineup: Zobrist in RF, Almora in CF, Javy at SS to Face Wacha
Ben Zobrist will be leading off and playing right Saturday, which I had thought would be the case. Kris Bryant and Anthony Rizzo are the givens in the next two spots, with Willson Contreras cleaning up.
No word on a potential suspension for the catcher after his spiked mask bounced up and hit home plate umpire Jordan Baker during the ejection-fest yesterday afternoon. Contreras apologized to the fans after the game and planned to apologize to Baker today, so his contrition may help his case.
Batting fifth and playing center is Albert Almora Jr., who is finally getting another start against a righty. This is only his fourth September start and second against a right-handed pitcher this month, though both have come against reverse-split types.
Ian Happ, who has had a great deal of success against today's opponent, will bat sixth and play second. Javy Baez follows, which is a very good sign after he tweaked his wrist yesterday. Jon Jay brings up the tail end of the lineup and plays left.
This is where I'd like to see Jay more often, though I'd prefer to see him resume the bench-bat role in which he excelled earlier in the season. I'd also prefer to see Schwarber, who homered against Michael Wacha earlier this season, in left. Oh well, having Almora in the lineup is enough to keep my bellyaching to a minimum. But know that I'd have flipped out had he not been in there.
Kyle Hendricks has faced the Cardinals only once this season, and it was that start that pushed him to the DL with an ailing hand. His lack of velocity and control led to him going only four innings, allowing four runs on four hits (one HR) and three walks with only three strikeouts. He hasn't given that many runs in 10 starts since and has struck out at least three in all but one of those.
This lineup the Cardinals roll out against Hendricks Saturday should be significantly different from the one he faced back in June, but that shouldn't really matter. The entirety of the Cards' active roster has only 92 total at-bats against Hendricks. Matt Carpenter and Stephen Piscotty have done the most damage and Hendricks has allowed a little more hard contact this season than in the past, so he'll want to tread lightly to avoid any game-changing hits.
However, the soft-tossing righty has done a much better job of limiting hard contact since coming off the DL. Much of that has come from a combination of higher velocity and better control. He's not going to blow the fastball by anyone, but hitting his spots and getting just a little bit more juice on the heater has him looking more like last year's ERA leader.
Michael Wacha has been one of the most consistent starting pitchers in baseball over the past few seasons, at least when he's healthy. He doesn't bring anything spectacular to the mound, but just goes out and pitches his game. Wacha is coming off of eight shutout innings against the Pirates in which he allowed only five hits and struck out seven without a walk. It was his second-best start of the season behind a complete-game shutout of the Mets on July 18.
After that sterling effort in New York, however, Wacha was roughed up by the Cubs for five runs on five hits (two HR) in six innings. That was the day before Hendricks came back from the DL, for what it's worth. And Wacha's other start against the Cubs actually came in that final Hendricks start of the first half. In that one, the big Cardinals righty allowed six runs on six hits (two HR).
Cubs hitters have fared really, really well against Wacha on the whole, putting up an aggregate .319/.367/.655 slash that includes 20 extra-base hits in 119 at-bats. Only Kris Bryant (1.189 OPS) and Anthony Rizzo (1.192 OPS) have faced Wacha a significant number of times, but it's pretty clear no one on this Cubs team is intimidated by him.
Wacha throws his fastball mid-90's and he'll set that off with a firm circle change that sits around 88 mph. He also features a cutter and curve, though the change appears to have taken over as his secondary of choice here in the last month or so. It's got a little arm-side run and works as a nice weapon against lefty batters, against whom Wacha has traditionally been much tougher.
The reverse splits aren't terribly stark, but the home/road disparities certainly are. Wacha has allowed a road slash of .285/.345/.459, with righties at .324/.360/.479 in that sample. Lefties, however, walk at more than twice the rate of their counterparts. Put it all together and you've got a pretty clear recipe for success. Cubs lefties need to be patient and force Wacha to throw strikes. Righties need to jump on him and pound mistakes.
It make take a little time to get that going, as Wacha typically stumbles after turning the lineup over the first time. Batting leadoff back on June 4, Happ grounded out to second in his first at-bat and homered in his next two. In similar fashion, Jason Heyward led off that July 23 game with a groundout to second (weird, huh?) and then opened the scoring for the Cubs with a double in his next at-bat.
So don't be disheartened by a sluggish start when things get started at 3:05 CT on CSN Chicago Plus.
Here is today's #Cubs starting lineup.

Game preview: https://t.co/pDvb2hwptT pic.twitter.com/92qIJayLBG

— Chicago Cubs (@Cubs) September 16, 2017