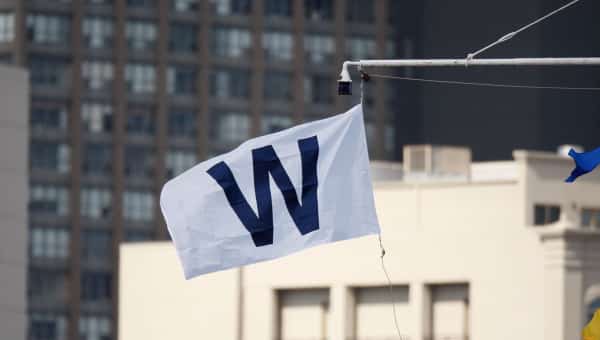 CI Recap (9/16/17) – Cubs 4, Cardinals 1: Hendricks Dazzles as Offense Dominates
A win against a division rival is big this time of year on way or the other, but the Cubs came into Saturday's contest clinging to a three-game lead in the NL Central. Unwilling to allow attrition to set their course, they put up their fifth straight win. The offense consistently made great contact off of Michael Wacha early in at-bats and Kyle Hendricks shut the Cardinals offense down as the Cubs cruised to a pretty easy win. (Box Score)
Why the Cubs Won
Hendricks did what he does best throughout the game: induce soft contact. It was rare to see a sharply-hit ball against him as he worked his full repertoire with the excellence we've come to expect. His only blemish on the day was a solo home run courtesy of Matt Carpenter in the top of the 8th with two outs. Hendricks was promptly pulled after the dong for Carl Edwards Jr.
The offense continued their recent dominance on Saturday by being patient and taking advantage of nearly every mistake Cardinals pitching made. The Cubs drew five walks from Wacha in 5.2 innings and hit him well.
Albert Almora Jr. made the most of a rare start hot stretch of play, going 3-4 at the plate with two doubles and two RBI.
Key Moments
Hendricks only had one problematic inning today as he ran into trouble in the 3rd. The first two batters reached on singles and the Cardinals loaded the bases with a one-out walk. Hendricks was able to induce a 6-4-3 double play from Tommy Pham to get out of the inning unscathed.
In the bottom of the 5th, Willson Contreras went down 0-2 against Michael Wacha with two outs and Anthony Rizzo on first. Nine pitches later, he drew a walk. On the very next pitch, Albert Almora smoked a double to left center, driving in Rizzo. Contreras' at-bat was one of the best I have seen in a while.
Addison Russell made sure people realized he was back from the disabled list. He pinch hit for Edwards Jr. in the bottom of the 8th and absolutely clobbered a ball to the back of the left field bleachers. He hadn't taken a major league at bat since 8/2.
Stats that Matter
•Hendricks picked off his seventh baserunner this year, tying him for the MLB lead in pickoffs. Who's he tied with? None other than former Cub Clayton Richard.
•Wade Davis notched his 30th save on the year.
•Anthony Rizzo went 2-for-4 with a walk and two runs scored. He was essential in this game, because if he doesn't get on base the Cubs might not win.
Bottom Line
The Cubs did what they were supposed to and beat an inferior opponent. Watching them win five games in a row after being swept by the Brewers is awesome and it goes to show all of the doubters that the Cubs do want to win. They increased their division lead over the Cardinals to five games and could lead the Brewers by four at the end of the day.
On Deck
The Cubs go for the sweep as Jose Quintana squares off against Lance Lynn at 1:20 CT. The game will be broadcast on CSN.