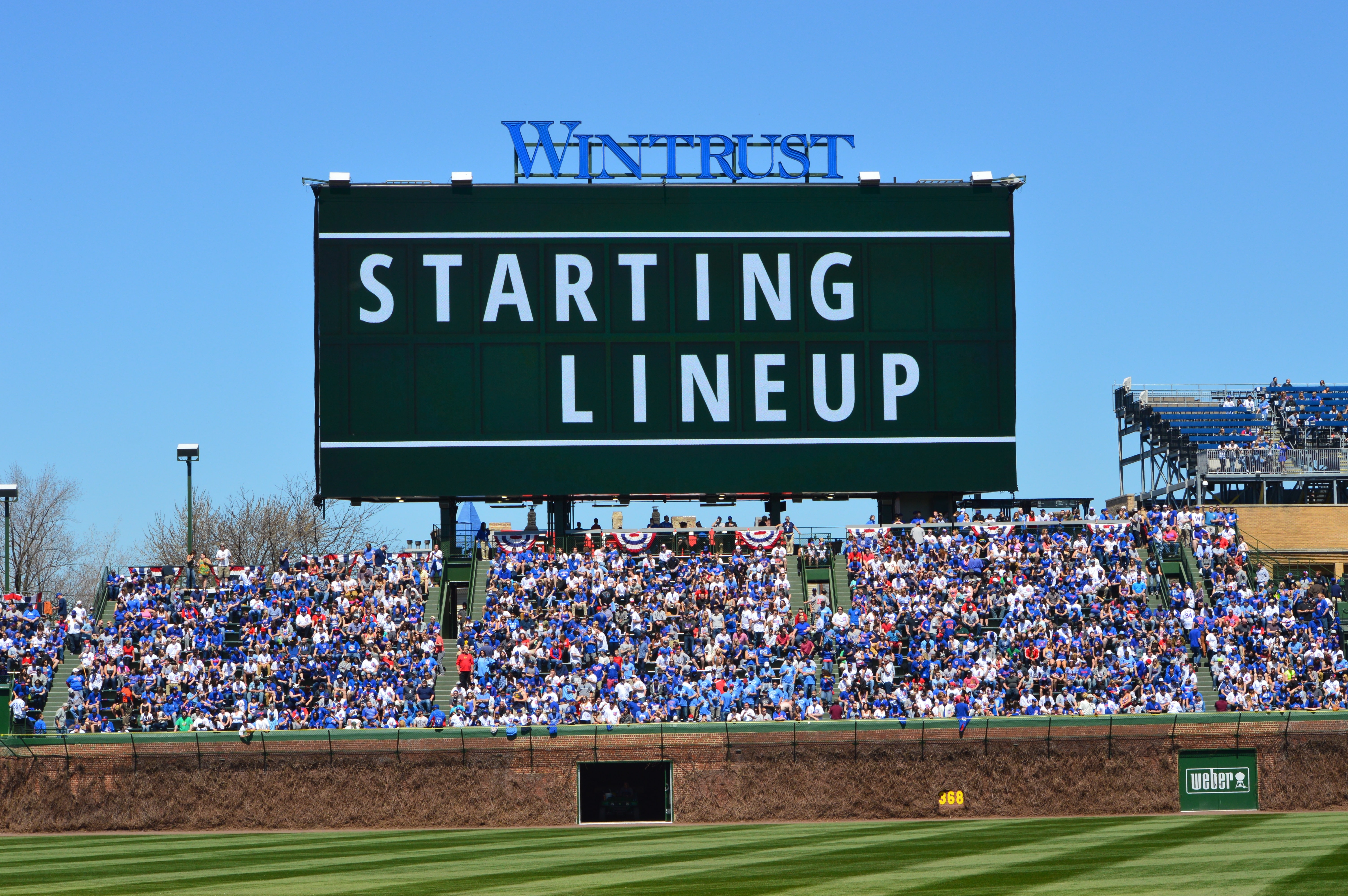 Chicago Cubs Lineup: Russell at SS, Javy at 3B, Bryant Sits as Cubs Try to Bow Archer
Even though this is a short series, it's a big one for Joe Maddon and the Cubs. Not only does the manager return to the place that made him a star, but he does so with a team that's rolling offensively and has a chance to grow its division lead heading into eight games against the Brewers and Cardinals.
Jon Jay will be leading off in center tonight while Ben Zobrist, the man who I think should be leading off, bats second and plays left. Anthony Rizzo finds himself in his familiar spot and Willson Contreras cleans up behind him.
Kyle Schwarber takes advantage of the American League rules by filling the DH role, Ian Happ plays second at bats sixth, and Jason Heyward bats seventh. Addison Russell — who is 2-for-2 with a home run, single, and three walks since coming back — takes the eight-hole and plays short while Javy Baez hits ninth and plays third.
Kris Bryant is noticeably absent, but that's really just a matter of giving him what should be his last day off of the season. Maddon said today on Spiegel and Parkins that his plan is to ride in infield of Rizzo, Baez, Russell, and Bryant down the stretch. And for anyone who's wondered whether the Cubs would consider shifting Russell back to second, I think that question has definitively been answered, "No."
Mike Montgomery returns to the rotation after a brief hiatus in order to give Jon Lester an extra day of rest. Monty threw only two innings in his last appearance, which was sort of a piggyback start in tandem with rookie Jen-Ho Tseng. The lefty swingman is going on regular rest for a starter and only threw two innings that last time, so he should be well-rested.
The key for Montgomery tonight will be maintaining his control. He pitched seven innings in his last two starts combined, giving up seven runs on seven hits and five walks. He needs to keep the ball down while still throwing strikes, which is sometimes easier said than done. Regardless of his performance in Tampa, this is likely Montgomery's last start this season as Jake Arrieta is set to return this weekend.
Working opposite Montgomery will be Chris Archer, a lithe righty with electric stuff. The one-time Cubs farmhand faced his former employer back on July 4, allowing three earned runs and picking up a win. He's a big-time strikeout pitcher with elite talent and is capable of throwing a no-hitter every time out.
For as good as he can be, though, Archer is very beatable. Starting with that outing against the Cubs, Archer has put up 12.66 K/9 and only 2.73 BB/9. However, he's also allowed 1.66 HR/9. He misses a ton of bats, yes, but he gives up a lot of hard contact when hitters time him up.
More than 90 percent of the batted balls against Archer are either medium or hard-hit, and over 60 percent of that is in the air. Nearly 19 percent of the fly balls he gives up leave the yard, a high rate even in the juiced-ball era. So this will be a matter of the Cubs doing more of one thing they do well (beat the hell out of the ball) and less of a thing they also do well (swing and miss).
Archer is a fastball/slider pitcher and he'll mix in a change for good measure. The fastball sits 96 and can touch higher, but he often elevates it in the zone from time to time. That nasty power slider comes in close to 90 and can wipe out plenty of batters when it's spinning. Throw it as often as Archer does, though, and you'll get a cement mixer now and then.
As with most pitchers, Archer is better at home. He's also tougher on righties, though the splits aren't all that stark. The Cubs will need to go up there being aggressive at the plate and keep from getting into two-strike counts. It's going to be all about pitch recognition and not chasing those sliders.
First pitch is 6:10 CT on CSN Chicago.
Here is tonight's #Cubs starting lineup.

Game preview: https://t.co/GeyXenh9cN pic.twitter.com/13JwgQsFtS

— Chicago Cubs (@Cubs) September 19, 2017