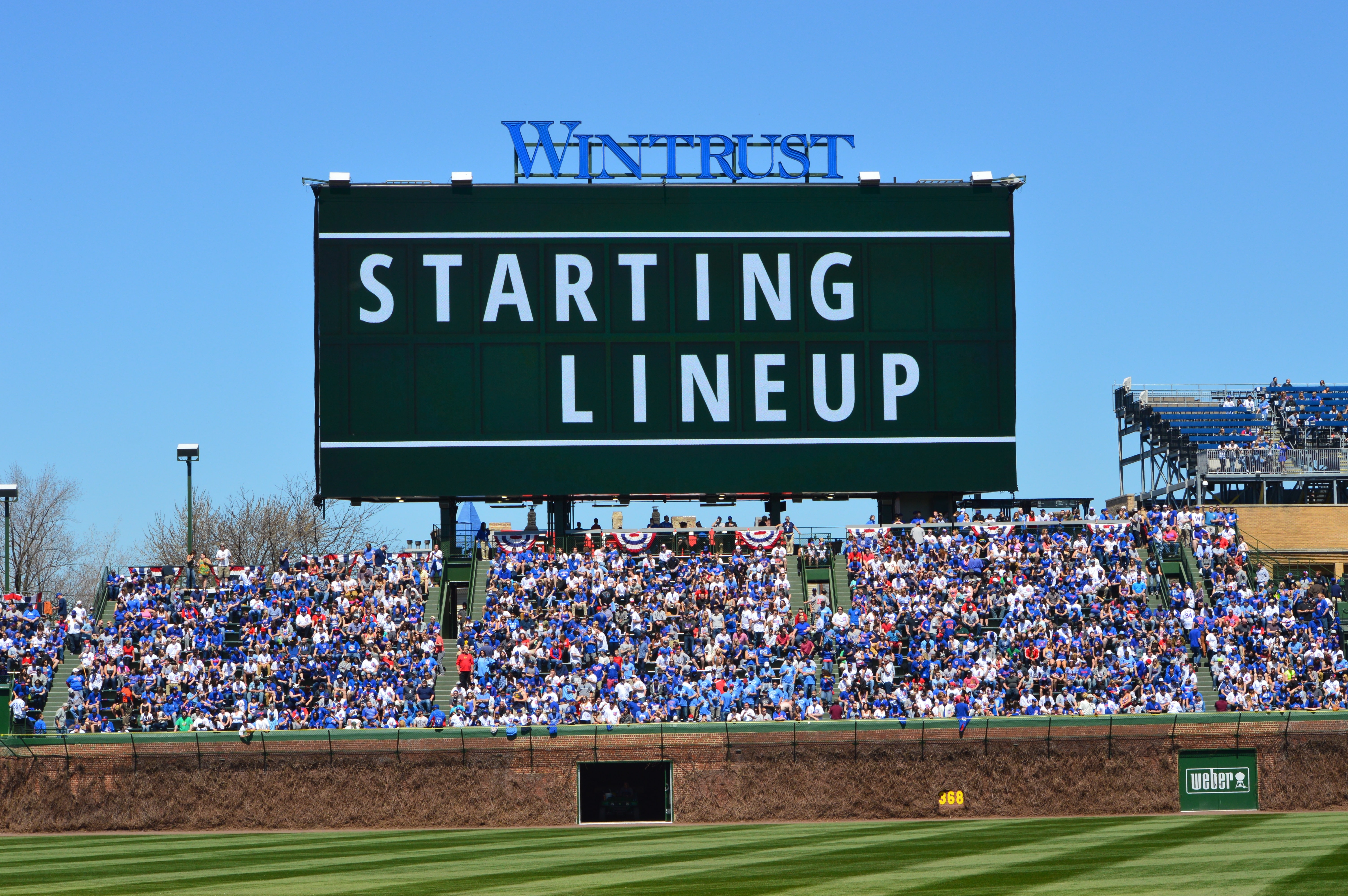 Chicago Cubs Lineup: Jay Leads Off, Almora Fifth, Happ Eighth in Order Tailor-Made to Face Suter
Jon Jay again?! Yes, Jon Jay again, this time in left. Since the veteran outfielder has made me look like even more of a chump than usual each time I've disparaged his presence at the top of the order, I figure I've got to keep it up as long as he's there. Last night's heroics were highlighted by an insane 15-pitch at-bat that featured 10 consecutive foul balls before resulting in a leadoff single.
I'm still not a huge fan of having a leadoff hitter who's posted only a .318 OBP and .289 wOBA when batting in that spot, but I don't suppose there's a whole lot I can do about it at this point.
Kris Bryant is batting second and Anthony Rizzo is right there behind him, followed by Willson Contreras. That's as fine an offensive trio as you're going to find out there and I'm expecting big things from them today. Albert Almora Jr. is batting fifth and playing center, which is something I'm sure most of Cubdom is happy to see.
Addison Russell and Javy Baez comprise the middle infield and Ian Happ will be manning right and holding down the eighth spot. This is really something I'd like for Joe Maddon to do more often. There's a lot of swing-and-miss in Happ's game and he's not nearly the defender Jason Heyward is, but cutting back on Heyward's everyday play has been a long time coming.
Kyle Hendricks took a loss when he faced the Brewers a couple weeks ago, but that's only because the Cubs managed only one run against Zach Davies and Co. After giving up eight earned on four homers in his first two starts against Milwaukee, Hendricks has allowed only four and one, respectively, the last two times he's faced them.
He's been exhibiting much better control and has been dialing the strikeouts up a little since coming back from the DL, though he has been susceptible to the longball. Hendricks has given up a home run in each of his last six starts, but he's limited the damage, giving up no more than three earned in any of those.
We've seen how Hendricks' unflappable demeanor has helped him in big games in the past and I believe we'll see more of the same this afternoon. With an opportunity to further trim their magic number, the slim righty is due for a vintage performance.
Opposing the Cubs will be Brent Suter, a lanky lefty who's bounced back and forth from the pen to the rotation as the Brewers try to field a full team in the face of injuries. Suter is a fastball-heavy pitcher who goes with the ol' Number 1 about 70 percent of the time, though he mixes in a slider and change to a decent extent. Like Hendricks, we're looking at a guy who sits around 86 and works in the mid-70's/low-80's with his ancillaries.
Suter allows a significant number of fly balls, but he's been able to limit hard contact to a decent extent this season. He doesn't strike out or walk many batters, just goes out and works around the plate. And his 3.41 ERA isn't too far out of line with his 3.77 FIP, though he may have had some good fortune when it comes to balls not leaving the yard (4.17 xFIP).
While most of the numbers are pretty standard, Suter does show off some pretty stark reverse splits. He's only faced 69 lefties this season, but he's done a really nice job in limiting them to a .565 OPS. That drops to .418 with a .205 wOBA when he pitches against lefties in Miller Park. Righties, on the other hand (get it?), have gone for an .812 OPS and .348 wOBA against him at home.
Find out whether the Cubs can make it three straight against the Brewers at 12:05 CT on FOX. Who knows, maybe we'll even see someone hit a pair of home runs against Suter. That would be totally unique and would not at all ignite myriad puns.
Here is this afternoon's #Cubs starting lineup.

Game preview: https://t.co/IkOBWwh6BN pic.twitter.com/TxvxDeRe9M

— Chicago Cubs (@Cubs) September 23, 2017