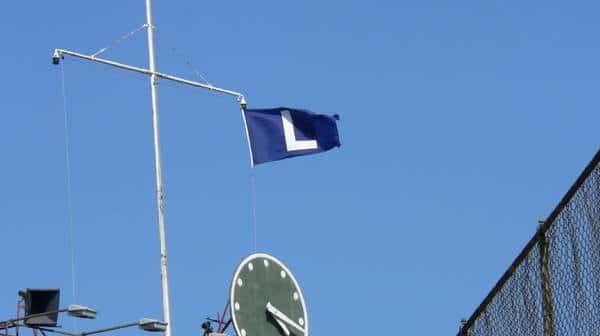 CI Recap (9/23/17) Cubs 3, Brewers 4: Wade Davis Can't Deliver Cubs' Third Consecutive Extra Inning Win
Riding the momentum of back-to-back extra inning wins against the Brewers, the Cubs found themselves with a great opportunity to continue to decrease their magic number to win the division. This series is what September pennant races are all about, and for the third game in a row the Brewers and Cubs found themselves in extra innings. Only this time the Cubs fell just short as Milwaukee walked it off against Wade Davis in the 10th inning (Box Score).
Why the Cubs Lost
The first blown save for Davis as a Cub led to the loss. He got roughed up for three hits, two of which were home runs, and gave up three runs in 1 1/3 innings, taking his second loss of the year.
Key Moments
Leading off the top of the 8th inning, Ian Happ hit a double to deep left-center, which was followed by a four-pitch walk to Jason Heyward. Jon Jay laid down a perfect bunt to advance the runners to second and third. Kris Bryant came to the plate delivered with a sacrifice fly to deep center to give the Cubs a 2-1 lead.
The Cubs maintained their lead heading into the bottom of the 9th inning as Davis came on for the save. He gave up a leadoff home run to Orlando Arcia to tie the game at two runs a-piece, blowing his first save in 33 opportunities as a Cub.
With the Cubs looking to respond in the top of the 10th inning, Happ came up big again with a leadoff walk. Heyward laid down a sacrifice bunt to move Happ to second base. Jon Jay delivered with a one-out single to score Happ and give the Cubs a 3-2 lead.
The day got even worse for Davis in the 10th inning, as he gave up a one-out double to Ryan Braun followed by a two run walk-off home run to Travis Shaw.
Stats That Matter
Kyle Hendricks was strong today – 6 IP, 3 R, 1 BB, 6K
Ian Happ was a big part of the offense – 2-for-3, 2 R, 1 RBI, 1 BB
Wade Davis finally blew a save, better now than in the postseason – 1.1 IP, 3 R, 3 K, 2 HR allowed
Bottle Line
This was a game that the Cubs will certainly want to forget about and move on from. Even so, there was some good to take from the loss, including solid outings by Hendricks, Justin Wilson, and Pedro Strop. Their division lead is now down to 4 1/2 games with eight games left to play in the season.
On Deck
The Cubs will wrap up their season series with the Brewers in Milwaukee on Sunday. Jose Quintana will take the mound for Chicago while Milwaukee will send out right-hander Chase Anderson. First pitch is slated for 1:10 p.m. CT and will air on TBS.