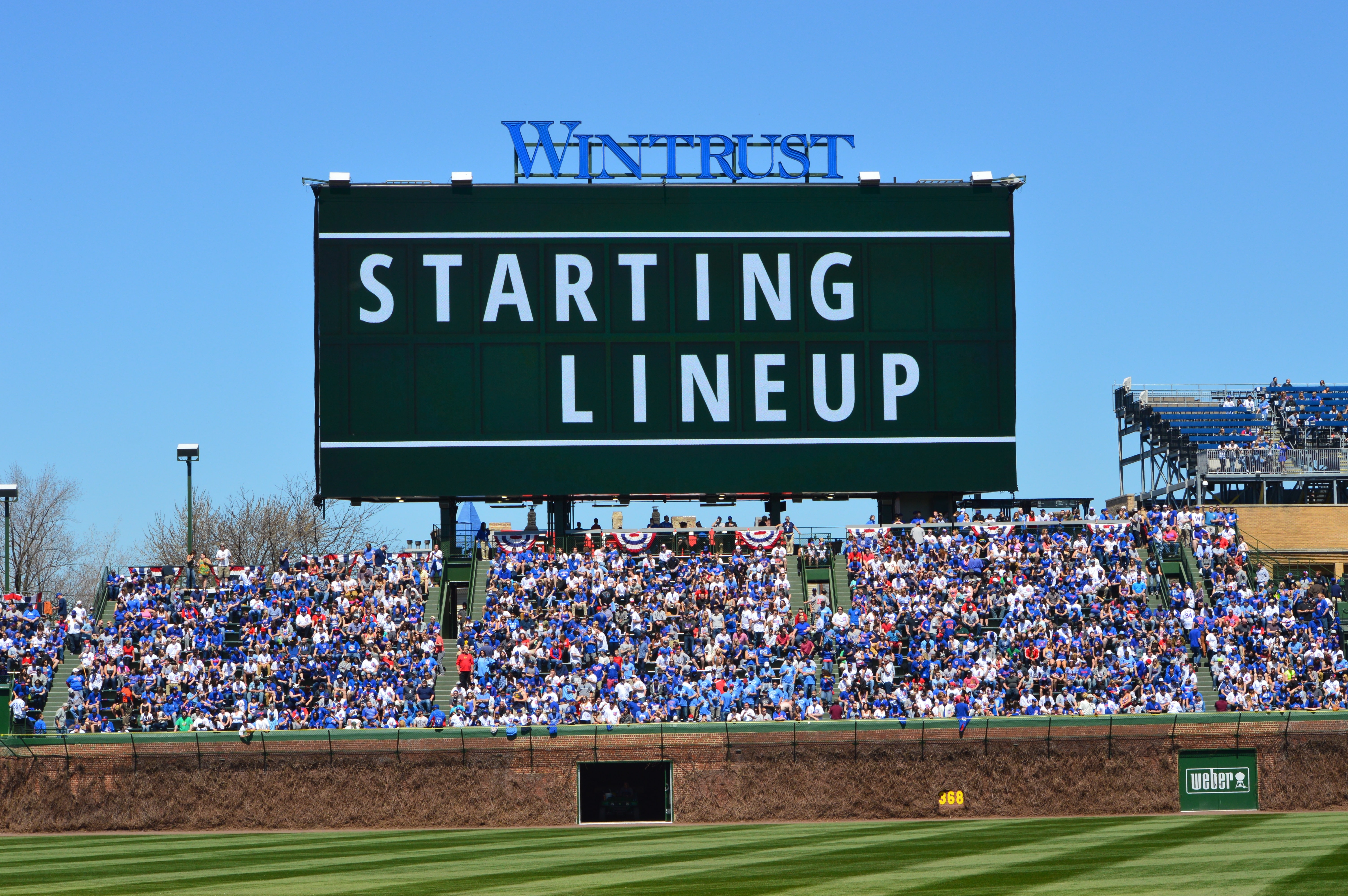 Chicago Cubs Lineup: Zobrist Leads Off, Freeman at SS to Face C-Mart with Chance to Clinch Central
So, uh, this middle infield isn't quite as dynamic as we're used to seeing in Chicago. Ben Zobrist will be playing second and leading off tonight as the Cubs stand on the precipice of clinching the NL Central. He'll be followed by Kris Bryant, who has a 12-game on-base streak during which he's posted a 1.266 OPS with four homers.
Anthony Rizzo and Willson Contreras follow in their traditional spots, Ian Happ is batting fifth and playing center, and Kyle Schwarber hits sixth in left. Jason Heyward rounds out the outfield and bats seventh, which leaves only one spot. And it ain't Addison Russell or Javy Baez.
With Javy out after fouling a ball off of his knee and Russell scheduled for an off-day as he continue to work back from a foot injury, the Cubs turn to Mike Freeman. It's kinda poetic in a way, since he sounds like a guy who would play for the Cardinals and would kill the Cubs. So maybe this is a reverse-voodoo thing.
Jake Arrieta will be making his second start since returning from the DL with a hamstring strain and he'll be looking to hamstring the Cardinals' playoff efforts as he does. The former Cy Young winner had a rocky start to the season, but has posted a 2.00 ERA since in 13 starts since July 2. Arrieta's 3.88 FIP in that time is nearly twice as high as that ERA, which could incite fears that his performance has been propped up by good luck.
There's probably some of that involved, but mainly because the best players make their own luck. By that I mean they'll be able to generate better results than a less elite player might be expected to achieve given the same circumstances. In Arrieta's case, improved control and increased reliance on the sinker have been behind the numbers.
Since July, he has increased his groundball rate by three points (43.9 to 46.9 percent) while cutting his HR/FB rate by over 50 percent (15.9 to 10.4) and dropping his BB/9 (3.15 to 2.70) as well. He's not striking out nearly as many batters in that stretch, but the decreases in walks and homers have been integral.
Arrieta was on a limit of 75-80 pitches heading into his previous start and he only made it to 71 based on the situation. As such, he should be well-rested and will likely be given a little more slack this time out. Depending on how Arrieta looks, I'm guessing the Cubs would like to get him up to 90 pitches with an eye toward him being at a full go Sunday in his final start of the regular season.
Carlos Martinez will be facing the Cubs for the fourth time this season and the first since that infamous game in which he hit the single that spurred the dual ejections of Contreras and John Lackey. You should know enough about him by now, but I'll offer a quick primer for those who aren't quite as familiar.
Martinez features a lively fastball that sits 95-96 and he finishes batters off with a slider that has the potential to be devastating when he's locating. But as scary as he can be, the 26-year-old righty has been giving up more fly balls and hard contact than at any point in his career. His last game put him over 200 innings for the first time, which may have contributed to the 11 earned runs he has allowed over the last two games.
Most of the disparity in Martinez's platoon splits come from his performance on the road, as lefty and righty batters hit him very similarly at Busch. We could be in for an old-fashioned pitcher's duel, though something tells me the Cubs are really going to pounce on the opportunity to lock down the Central.
Anthony Rizzo has a .999 OPS with three home runs in 40 career plate appearances against Martinez, so he's a candidate to go off. Kris Bryant, who had been befuddled by the righty for the most part, went 2-for-3 with a homer in their last matchup and has been really hot of late. I've got a good feeling about War Bear too, so we'll see. And then there's Mike Freeman, baby.
First pitch is 7:15 CT on CSN Chicago and ESPN (out-of-market only), so tune in to see whether the Cubs can guarantee a third straight playoff berth for the first time in 109 years (1906-08).
Just trying to win a ballgame.

Game preview: https://t.co/uhkk9CoEb2 pic.twitter.com/dUl5IhLCrL

— Chicago Cubs (@Cubs) September 26, 2017