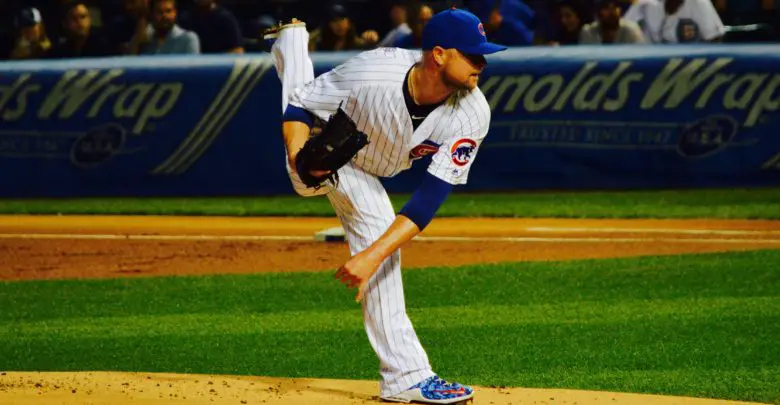 The Rundown: Lester Throws Hard in Big Win, Pham and Zobrist Can't Be Friends, Nacho Man and Mizzou Dad
If you've been worrying about Jon Lester's performance this season, you're not alone. Nor are your concerns unfounded, as Eno Sarris pointed out in a horror story worthy of Stephen King. And I'm talking early King, when he was legit scary and hadn't yet gotten into more meta sci-fi stuff and was a little too self-aware.
Consider if you will the following points from Sarris's piece:
The worst fastball velocity of his career.
The worst four-seam fastball spin of his career.
The worst four-seam ride of his career.
The second-worst curveball velocity of his career.
The worst curveball drop of his career.
The worst curveball cut of his career.
The worst cutter velocity of his career.
The second-worst cutter drop (relative to fastball) of his career.
Not good, Bob.
But there's also something to be said for a guy who knows how to pitch in high-pressure situations and who's not rattled by the big stage. Lester is such a pitcher. His counterpart in Monday evening's contest, Luke Weaver, is not. The young righty had given up only 12 earned runs in 52.2 innings this season, and only four of those runs had come in 26.2 innings at Busch Stadium. Then again, none of those innings bore the same importance of those he'd be pitching this time around.
The Cubs had doubled Weaver's home run total by the end of the 1st inning and then tripled it by the end of the 3rd. Oh, they also tripled his home home run total. After having given up just one dinger in St. Louis this season, Weaver allowed shots to Kris Bryant and Javy Baez, the latter of which pushed the score to 8-0.
Getting that kind of support from the offense certainly helped Lester, who was able to cruise through six innings with only one run allowed. The single tally came via a Jedd Gyorko home run, which means that Lester didn't allow any of the other four hits or two walks he issued to score. The big lefty struck out only four Cardinals, but keeping them from putting together anything resembling a rally was the real accomplishment.
And though he wasn't missing many bats and, as Sarris tweeted, wasn't going inside much to righties, Lester did appear to have a little more oomph on the heater. Based on my calculations from the live data available during the game, Lester's four-seamer averaged 91.7 mph, which would be the hardest he's thrown it since he averaged 91.9 on July 9 against Pittsburgh. He was sitting 92-93 in the first couple innings, then dialed it down over the next four.
He also dialed down the overall usage of the fastball, throwing it 24 times over the first two innings and only 30 times over the next four. He was down a full tick down from that average velo in the 6th, but by then he'd already been effectively mixing in the cutter, curve, and change to offset the drop. While it was far from a vintage performance and Lester wasn't hitting his spots very well, it was encouraging to see him going 103 pitches and working with all of his pitches.
Think of it like a runny watercolor put together by a talented art student. Not something you'd pay money to hang in your front room, yet still evocative of something bigger and better.
It'll be interesting to see how Joe Maddon and Cubs handle Lester, who's in line for one more start this Saturday against the Reds. Given the five-day break between the end of the regular season and the start of the playoffs, you figure he'll be going without any real restrictions in terms of pitch or inning limits. That said, I'd imagine the leash will be relatively short. There shouldn't be such a thing as a high-leverage situation in that next start, but no reason to tax him unnecessarily.
Tommy Pham isn't inviting Ben Zobrist over
Cardinals outfielder Tommy Pham was apparently none too pleased with Ben Zobrist stating that the Cubs actually planned to win a couple games in St. Louis. And we're talking about a guy who wears black New Balance cleats, so you know darn well he couldn't produce bulletin-board material if he tried.
"We intend to clinch there (in STL)," Zobrist said following the Cubs' win in Milwaukee Sunday afternoon. "And I think for a lot of guys that have been around here for a long time, it's gonna be very satisfying."
Okay, so I'm biased or whatever, but this is one of the most innocuous things I've ever heard. Like, he's just saying that the Cubs want to win baseball games in a ballpark that they don't call home. And it's a division rival, so that adds a little significance. Pham, whose name is an anagram for "phat mommy," took umbrage.
"Better not ask me how I'm doing on the field," Pham told Cardinals pre- and postgame broadcaster Chris Hrabe. "I don't wanna be his friend now. You know, you say you're going to come here and pop bottles…don't say 'Hi' to me on the field then."
This is not only childish, it's taking things out of context and drumming up animosity where none exists. I'm sure Zobrist is really sad about Pham not wanting to be his friend now, though I'm guessing the 10-2 thrashing the Cubs just administered will make him feel better.
Nacho Man and Mizzou Dad
While Nacho Man's exploits stole the show Monday night, it was Mizzou Dad who ended up dominating my Twitter timeline. The former ended up signing autographs and taking photos with other fans in attendance, which is fun. But the pictures below reveal that the man behind him may actually be Quicksilver or Flash.
The real question: how did Mizzou Dad move faster than the speed of light?! @DEvanAltman
My brain is melting.#MizzouMan #NachoMan pic.twitter.com/FNTWHW2TyS

— girl.chicago (@iamgirlm) September 26, 2017
Apparently not everyone at Busch was enamored of the 15 minutes of fame afforded to the portly fella who lost his processed cheese snack.
Lester: "Guy fell into him &got nacho cheese on his arm & he's taking pictures &signing autographs. Shows u where our society's @ right now"

— Gordon Wittenmyer (@GDubMLB) September 26, 2017
More news and notes
With one more Cubs win or Brewers loss, the Cubs will become the first World Series winner since 2000 to capture a division title and only the eighth to return to the playoffs, period. So that's kind of a thing that should temper all of that disappointment stuff.
With his 50th home run, Aaron Judge became MLB's all-time rookie leader
Japanese phenom Shohei Otani is reportedly interviewing MLB agents, a relatively clear sign that he indeed attempts to sacrifice boatloads of money to jump to the States.
After sitting out the year following another DUI arrest led to the denial of his visa, Pirates infielder Jung Ho Kang has been granted an exemption to play in the Dominican Winter League. While I understand the crippling grip of addiction, this dude has been arrested and/or investigated many times for drunk driving and sexual assault and I would not be upset if he never plays another inning in the majors.