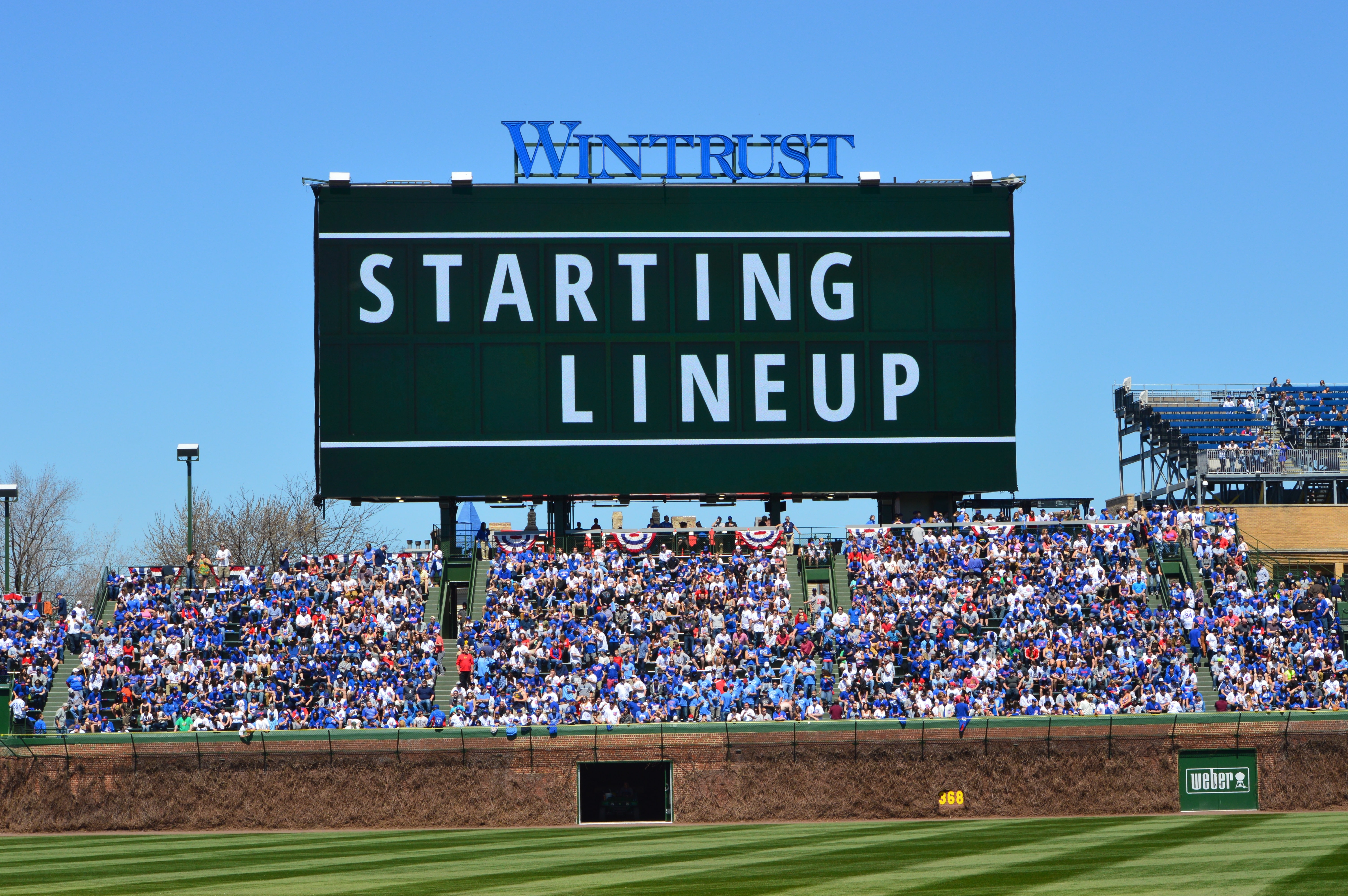 Chicago Cubs Lineup: Zobrist Leads Off in RF, Heyward in CF, Schwarber Fifth in NLDS Game 1
We told you he'd be getting more playing time and sure enough, Ben Zobrist will be there at the top of the order and playing in right field to start the NLDS. He'll be batting left-handed as he tries to get things going ahead of Kris Bryant and Anthony Rizzo.
Willson Contreras will clean up, followed by Kyle Schwarber and Addison Russell. Zobrist being in the corner pushes Jason Heyward, who has tons of experience against the Nats, over to center. That means no Jon Jay, which might come as a bit of a surprise to some.
Javy Baez rounds out the order playing second base to give the Cubs that sexy, dynamic middle infield behind Kyle Hendricks. Not quite what I'd predicted, but relatively close (I had Ian Happ leading off).
When he takes the mound tonight in Washington, Hendricks will have started the Cubs' last two playoff games. Remember how the other one went? I do. He's earned himself this Game 1 start with a post-DL performance that has seen him recapture the form that led him to the NL's best ERA last season.
Relieved of the finger tendinitis that dogged him through much of the first half, Hendricks has seen improvements in both command and velocity down the stretch. He'll need all of that he can muster against this Nationals lineup, leveraging his ability to keep the ball on the ground and limit hard contact.
Hendricks hasn't faced any of the Nats enough to take much away from the results, though Daniel Murphy and Bryce Harper have combined for three homers against him. Both of Murphy's dingers came in a 4-2 Nationals win back on August 4, so Hendricks would do well to be careful with the man who almost single-handedly beat them in the 2015 NLCS when he was with the Mets.
There's no reason to dance around it, Stephen Strasburg is a freaking beast. When the Cubs faced him in late June, he was coming off of a three-game stretch over which he'd allowed 13 earned runs in 15.1 innings. Including the two he gave up to the Cubs in that game, the fireballing righty has surrendered 11 earned runs over his final 79.2 innings of the season (1.24 ERA, 2.13 FIP). And that's despite missing nearly a month with a nerve impingement in his elbow.
The time off served Strasburg well, getting him rested up for a stretch run that saw him allow six total runs (five earned) over 53.2 innings. He tallied 63 strikeouts and walked only 10 during that time, so yeah, that's good. All four of his pitches — fastball, curve, change, and slider — have positive value on the season and he's been executing them all to near perfection over the last few months.
I'd love to say I combed through all the stats and found some holes in Strasburg's game that the Cubs can exploit, but that's simply not the case. If he's on and has a feel for his whole repertoire, the best bet might be to get into a bullpen that has led the league in ERA in the second half. The frying pan or the fire, pick your method of torture.
That's maybe a little too doom-and-gloom, since Strasburg is far from unhittable. And the members of the Cubs' roster do boast a .760 OPS in 118 plate appearances against the righty, though that includes only five walks against 33 strikeouts. We're likely to see more of that same ratio tonight, but all it takes is for someone to run into one.
I wouldn't be surprised to see Heyward make some noise tonight, which sounds strange until you look at his history with Strasburg. The longtime Brave has logged 40 plate appearances against tonight's starter, posting a 1.058 OPS with a home run and three of those walks. Contreras and Zobrist have also taken Strasburg deep in the past, as have bench bats Alex Avila and Tommy La Stella.
If a slight crack in Strasburg's façade does exist, it's that righties have actually hit him pretty well at home this season, posting a .282 wOBA and .658 OPS that are significantly higher than the overall numbers against him. This is going to be a tough matchup all the way around, but I've got a weird feeling that the Cubs will be able to put something together early.
Tune in at 6:31 CT on TBS to find out how the Cubs start off their title defense.
Here is tonight's #Cubs starting lineup!

NLDS Game 1 preview: https://t.co/6f55IfHoHS #FlyTheW pic.twitter.com/cZaYOKZvjG

— Chicago Cubs (@Cubs) October 6, 2017