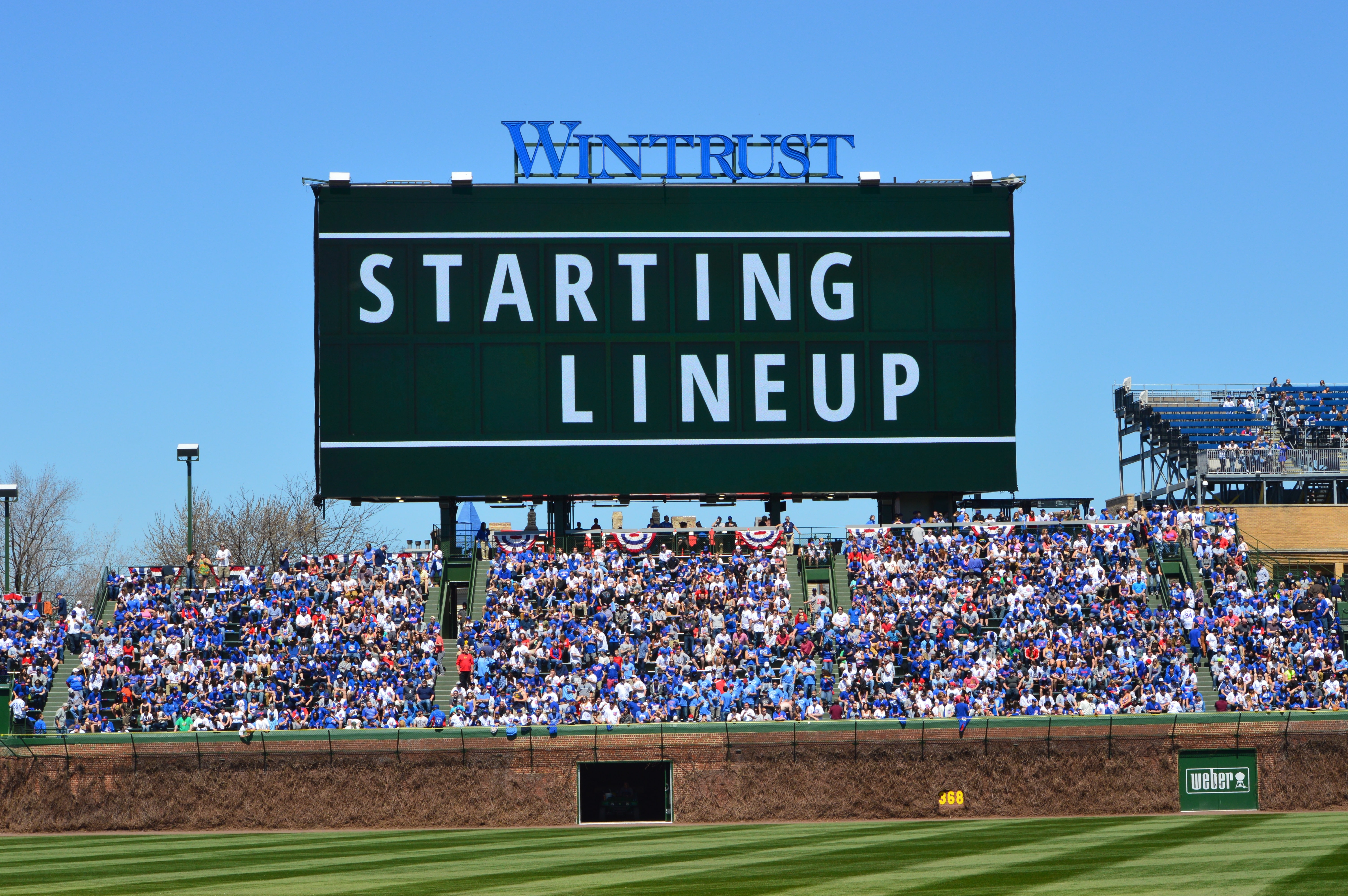 Chicago Cubs Lineup: Jay Leads Off, Zobrist Fifth, Schwarber Sixth Against Scherzer in Game 3
Jon Jay is back in the starting lineup, leading off and playing center as the Cubs look to take back the series lead. He's followed as always by Kris Bryant, Anthony Rizzo, and Willson Contreras. Ben Zobrist, who has an .893 OPS in twice as much experience against Max Scherzer as anyone else in the lineup, bats fifth and plays second.
Kyle Schwarber hits sixth and mans left field, Jason Heyward is in right, and Addison Russell handles short. Notably absent is Javy Baez, who hasn't looked great at the plate in two games and doesn't match up well against Scherzer.
Jose Quintana is making his first ever playoff start in kind of a big situation, facing a tough lineup in his home park. He's well aware of the magnitude of the situation and spent the two games in Washington just taking everything in. Now it's a matter of taking that and using the friendly crowd for fuel without getting too juiced up.
It sounds overly simple, but the key for Q is going to be executing his pitches consistently. He needs to locate the fastball and keep it down, being sure to stay sharp with the curve to keep Washington off-guard. Adding to the fun will be Quintana's opponent Monday afternoon, a man who knows a thing or two about strong pitching performances.
Under normal circumstances, the Cubs would have faced Scherzer in the series already. But he tweaked him hamstring during the penultimate game of the regular season and had to spend time building strength back up in the leg. Despite the gap in action and the reasons for it, the ace feels confident he can go deep in Game 3.
He specifically mentioned a 100-pitch target more than once when addressing his readiness with the media Sunday, but it'll be interesting to see how reality matches that bravado. The Cubs have actually handled Scherzer quite well in the past, compiling an aggregate .796 OPS over 88 at-bats. No one but Zobrist has more than a dozen ABs against Scherzer, though, so we're not really talking about reliable samples.
All of the righty's pitches are solid, particularly the mid-90's fastball and the nasty power slider. The change is also excellent and he's worked hard to turn the curveball into a plus offering. What I'm really interested to see is how the slider looks in light of the hamstring issue. That pitch has really fallen off in terms of efficacy since June and it has not been the unhittable weapon the overall numbers might paint it as.
Even the fastball has been less effective this season as compared to the past several, though it's still been very good. If Scherzer can come out as his usual self, the Cubs are going to be in for a long afternoon. But even if he's sharp early, you have to wonder whether he can maintain his stuff.
We'll find out when the Cubs and Nats bow at 3pm CT on TBS.
Here is today's #Cubs starting lineup.

NLDS Game 3 preview: https://t.co/noQuSGkh1v pic.twitter.com/2FN5VMi8g9

— Chicago Cubs (@Cubs) October 9, 2017