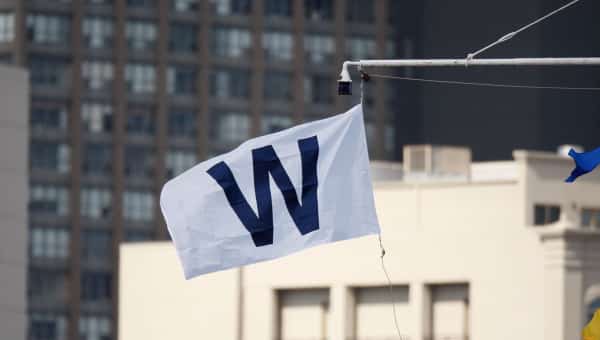 CI Recap (NLDS Game 3) – Cubs 2, Nationals 1: Pitching Sparkles, Timely Hits Help Cubs Steal Win
The Cubs and Nationals brought the best-of-five series to Wrigley tied at one game apiece. This game was eerily similar to the opener in Washington in which the Cubs were held hitless into the late innings. Fortunately for the Cubs in both cases, they came out with a 2-1 victory by putting together timely hits, defensive gems, and a little help from the baseball gods.
Why The Cubs Won
Cubs starting pitching has been sparkling this postseason, and Jose Quintana was no exception. He had himself a pretty good outing – 5.2 IP, 2 H, BB, 7 K, and gave up an single unearned run. He was pulled with two outs in the 6th inning after an error by Kyle Schwarber put a man on third.
Anthony Rizzo went 1-for-4 today and his one hit was HUGE. It came in the bottom of the 8th inning, when he blooped a fly ball that dropped in for a single to score Leonys Martin from second base. That put the Cubs up 2-1 and they held on for three more outs.
Key Moments
In the top of the 6th inning, Kyle Schwarber dropped a routine fly ball that should have been out number three. After dropping it, he flipped it farther away while trying to field it with his glove, which resulted in Daniel Murphy reaching third. Murphy would eventually score on a double by Ryan Zimmerman.
That error cast a somber mood over Wrigley until the bottom of the 7th, when Ben Zobrist got the party started with a double to break up Max Scherzer's no-hit bid. Dusty Baker elected to turn to the bullpen to keep the Cubs quiet, but that didn't happen. Albert Almora Jr. lined a single to left to score Zobrist and tying the game.
Zobrist proved to everyone once again why he deserved to be in the lineup when he made a beautiful diving stop in the top of the 8th inning to rob Trea Turner of a hit.
Stats That Matter
Max Scherzer had the longest postseason no-hit bid in history against the Cubs at six innings.
Ben Zobrist was only 1-for-3, but ending Scherzer's no-hitter in the 7th inning and scoring the Cubs' first run was huge.
Anthony Rizzo came into this game with his name in the record books as the Cub with the most hits in the postseason. He only added on to that with his 8th inning, game-winning single.
Bottom Line
The Cubs look to clinch their third NLCS berth in three seasons Tuesday. As they proved in Game 1 and yet again Monday night, they aren't afraid of anything. Jake Arrieta says he feels 100 percent healthy and is ready to go. The Cubs offense, defense, and bullpen must back him to send the Nationals home.
On Deck
Jake Arrieta looks to ride the momentum and help the Cubs pursue the pennant. He will be opposed by Tanner Roark at 4:38 CT on TBS and 670 The Score.