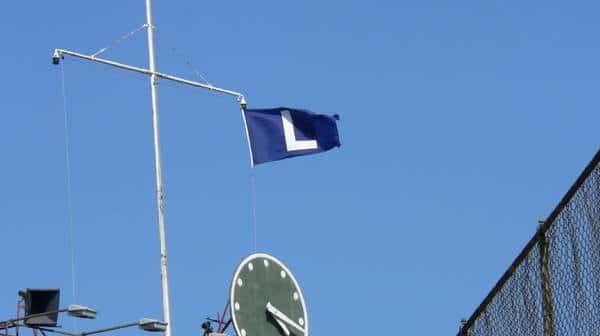 CI Recap (NLDS Game 4) – Cubs 0, Nationals 5: Cubs Can't Handle Pitching Change
It was a weird 24 hours involving flu-like symptoms, complaints of mold, and a postponed game. There were also questions pertaining to who would be taking the bump for the Nationals. First it was Tanner Roark, then there was speculation that Stephen Strasburg would take the hill. It would be Strasburg who started for the Nats, as the Cubs tried to close out the series at Wrigley. Jake Arrieta pitched well and Jon Lester was solid, but the bats weren't able to do much. (Box Score)
Why the Cubs Lost
Stephen Strasburg had the Cubs' number today. Hitters were off balance against his ridiculous changeup and breaking ball. They did work some counts and had some good scoring opportunities, but were unable to figure Strasburg out.
Key Moments
After Trea Turner doubled and moved to third on a wild pitch, Addison Russell booted a bouncing ball off of Ryan Zimmerman's bat with two outs. This was the first run of the game.
Lester gave up a hit and Carl Edwards Jr. walked two men to load the bases, which led to Joe Maddon calling upon Wade Davis to get the final out of the 8th. Unfortunately, Michael A. Taylor had other plans, depositing Davis's offering into the right field basket for a grand slam that essentially secured the game for the Nationals.
Before the bad pitching showed up, Lester picked Zimmerman off at first. You read that correctly, folks, Big Bad Jon picked somebody off. This was also the second consecutive time he threw over, the first of which bounced to Anthony Rizzo. It was the highlight of the game for the Cubs.
Stats that Matter
Cubs pitching walked nine batters, with Arrieta accounting for five of them, while only striking out seven.
Kris Bryant got the golden sombrero, going 0-4 with four strikeouts. This was the third time he had accomplished that unfortunate feat and the first time since 2015, his rookie year.
Bottom Line
The Cubs could no figure out Strasburg and did not perform well in high-pressure situations. It highlighted their inability to generate offense this series, while wasting some great pitching appearances by their starters.
On Deck
The Cubs head back to Washington Thursday to play the Nationals for all the NLDS marbles. First pitch will be made at 7:00 CT, and the game will unfortunately be broadcast on TBS.