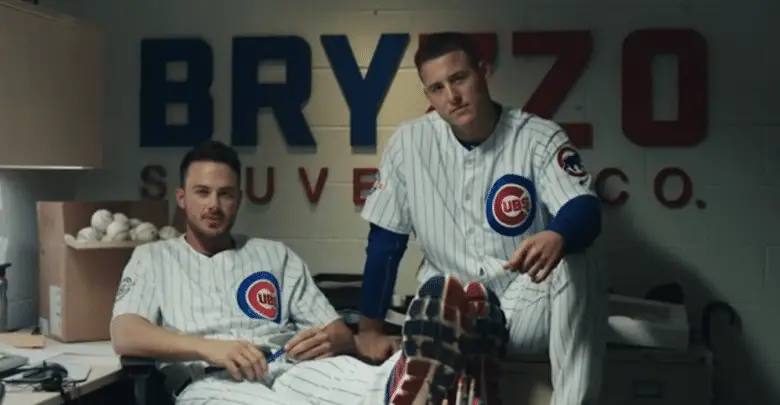 The Rundown: 'Growing Consensus' for MLB Expansion, Bryzzo Baffled, No Excuses
Since there's not really anything fun to talk about as far as the Cubs are concerned, I wanted to start with Tracy Ringolsby's column in Baseball America regarding the possibility of MLB expanding to 32 teams. Don't let the talk of ratings fool you, baseball is as popular as ever on a regional basis and there are a handful of cities that could support teams. But there are two spots that make too much sense.
Montreal has been clamoring for a team ever since the Expos left to become the Nationals, and now there appears to be support for a new stadium downtown. While it would bring an end to the ironic wearing of Expos jerseys in Washington, it'd be great to reinstall those sweet unis.
Portland is a city that has wanted a franchise for some time and that lobbied hard to land the Expos back in 2003. As Ringolsby notes, a $150 million grant that was approved to fund a new stadium 14 years ago is still available. Commissioner Rob Manfred has been vocal about a Western city being part of a potential expansion, so it all sets up nicely.
As cool and fun as all that is, the real meat on this bone lies in the seismic changes to both divisional structure and scheduling. Not just the regular season, either, but the playoffs as well. And we're talking major shakeups, as in no more AL and NL as we know them now.
Consider the following geographical alignments, as laid out in BA:
East: Atlanta, Baltimore, Cincinnati, Miami, Philadelphia, Pittsburgh, Tampa Bay and Washington.
North: Boston, Cleveland, Detroit, Minnesota, Montreal, both New York franchises and Toronto.
Midwest: Both Chicago franchises, Colorado, Houston, Kansas City, Milwaukee, St. Louis and Texas.
West: Anaheim, Arizona, Los Angeles, Oakland, Portland, San Diego, San Francisco and Seattle.
Wow, that's some very serious stuff. You really should check out that earlier link because Ringolsby lays out in great detail how the schedule would be structured. Perhaps most notable is a reduced 156-game calendar that would result in less gate revenue in addition to significantly lower travel costs.
This would also make the postseason broader and perhaps more equitable, as four division winners and eight wild cards would make the playoffs. Winners from the wild card games would face the division winners, and so on. All told, it's a pretty good setup.
One item not mentioned that would surely be a part of such a complete overhaul is the league-wide adoption of the DL. There's no way AL teams or the players union would ever agree to eliminate such an integral role, and most Senior Circuit die-hards wouldn't even notice the change in light of the other alterations.
I have to admit that I'm not big on such a sweeping realignment, but it makes sense from a logistical standpoint. What say you, dear reader? Also, are there other cities you'd like to see get teams? I'm thinking Charlotte is another possibility, though I wouldn't put it ahead of the others mentioned above.
Bryzzo recession
There's this really fun tendency we have when someone presents a critique of Player X and we immediately respond with, "Well, what about Players A, B, and C?" And I'm using the royal "we" here, so feel free to exclude yourself from the rabble there.
In any case, I got a fair bit of blowback on my assessment of Javy Baez's struggles at the plate this postseason. The first thing to understand is that I'm not blaming him for anything. The second thing to understand is that you can't simply compare Javy to Kris Bryant and Anthony Rizzo and say that they should sit too. It doesn't work like that.
At the same time, the Bryzzo boys have not been pulling their weight this postseason and are going to need to turn things around if the Cubs have any hopes of getting back into this series. Through two games in the NLDS, the duo was 6-for-16 with five RBI and three runs scored. In the five games since, they are 3-for-38 with three RBI and one(!) run scored, combining for only three walks against 16 strikeouts.
It's no surprise, then, that the Cubs have averaged only 2.8 runs/game over that stretch, and that includes the nine-run game in Washington. Baseball is a game of fits and spurts, so there's a high likelihood that one or both of these guys can get going and carry the team moving forward. It's just tough when both have had equally fruitless at-bats lately.
No excuses
Say what you will about Joe Maddon's decision-making, the Cubs simply need to perform. And they need to do it in front of their home crowd after an off-day that ensures everyone is rested and ready to go. Maddon's got his whole bullpen available, he's got Kyle Hendricks on full rest, and he's had time to consult the geeks in order to construct the optimal lineup.
With no disrespect to the Dodgers' pitching staff, the Cubs have just been dog-crap awful at the plate pretty much this entire postseason. That has to change and they've got no excuses otherwise at this point.
One need look no further for inspiration than the ALCS, where the Yankees scored a total of two runs over the first two games before busting out for eight in last night's Game 3 at home. The Cubs can score. The Cubs should score. The Cubs will score.
I hope.
More news and notes
I still can't believe Joe Maddon talked about dry humping Wade Davis.
The managerial carousel is spinning rapidly already, with the Tigers, Phillies, Mets, and Red Sox narrowing their searches. You wonder if playing deep into the postseason each year actually hurts a guy like Dave Martinez, who seems to be like the Susan Lucci of managerial candidates.
The Oakland A's are helping a young fan who lost an extensive memorabilia collection when his family's home was destroyed in the Northern California wildfires. Loren Smith's letter to the team went viral and the A's have organized a campaign to get the boy some new swag.
If you'd like to donate baseball memorabilia to our pal Loren, please send items to the address below and we'll make sure they get to him. pic.twitter.com/xI3ZwWWfNA

— Oakland A's (@Athletics) October 16, 2017