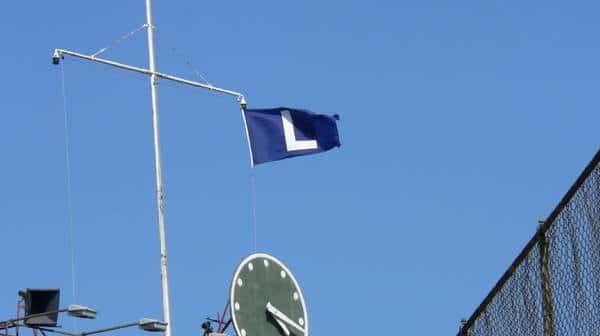 CI Recap (NLCS Game 3) – Cubs 1, Dodgers 6: Offensive Struggles Spell Doom Again
Heading back home down 2-0 in the NLCS after a walk-off loss in the 9th inning of Game 2, the Cubs were hoping their offense could come alive and get them back in the series. That was the case when they got out to an early 1-0 lead in the 1st inning, but the Dodgers responded as they had in LA, scoring half a dozen unanswered runs for a final score of 6-1. (Box Score)
Why the Cubs Lost
The Cubs' offense continued it's anemic play this postseason and couldn't figure out Yu Darvish or the Dodger's bullpen. It's becoming a disturbing trend.
Key Moments
In the bottom of the 1st inning with one out, Kyle Schwarber hit a dinger to left field to put the Cubs up 1-0. Kris Bryant and Willson Contreras sandwiched singles around an Anthony Rizzo strikeout to put runners on first and seconnd with two outs. Jon Jay struck out to end the early scoring opportunity.
The Dodgers answered immediately with an Andre Ethier solo shot in the top of the 2nd, then added another from Chris Taylor to provide them all the offense they'd need. Taylor later tripled in another run and Carl Edwards Jr. walked Yu Darvish with the bases loaded to dig the hole even deeper.
In what first looked like an all-too-familiar situation for the Cubs 'pen, the Dodgers put the first two batter on in the 7th with no outs on an error by Ian Happ and a walk by Pedro Strop. But Strop induced Yasiel Puig to ground into a double play and got Andre Either to a ground out to get out of the jam without giving up a run, which was a pleasant surprise.
In a last-ditch effort to claw their way back into this game in the 9th inning, Alex Avila singled to left field. Albert Almora Jr. followed up with a hit to left field that ended up in the ivy to put runners on second and third with no outs. In came Kenley Jensen, who stranded both runners with a popout out and back-to-back strikeouts to end the game.
Stats that matter
Mike Montgomery continues to give up runs – 0.1 IP, 2 R (1 ER), H, BB
The Cubs can't get to Dodgers bullpen – 10.2 IP, 0 R, BB, 2 H allowed this series.
The  offense has been brutal – 4 runs total this series, 0-10 with RISP. You can't win if you can't score runs.
Bottom Line
It was a familiar storyline in this one. The Cubs jumped out to an early lead, much like the last two games, and the Dodgers responded in the next half inning to even tthings. The Dodgers scored six unanswered runs following the home run by Schwarber and the Cubs were held in check by the opposing staff again. Scoring 1.33 runs/game is not going to get it done against this Dodgers team (or any team, for that matter). The Cubs now face a must-win elimination game at home in Game 4.
On Deck
The series continues at Wrigley for Game 4 on Wednesday.. The Cubs will send former Cy Young winner Jake Arrieta to the mound in hopes that he can extend the series, while the Dodgers will counter with southpaw Alex Wood. First pitch is slated for 8 p.m. CT and will air on TBS.