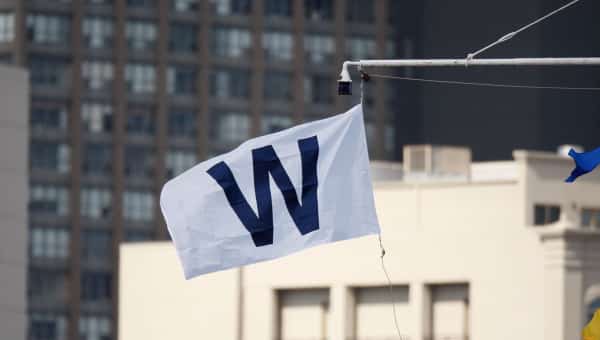 CI Recap (NLCS Game 4) – Cubs 3, Dodgers 2: Javy Air Baez Took Flight, Jake Arrieta was Great Again
With their backs against the wall and on the verge of singing their swan song, the Cubs turned to Jake Arrieta to shut the Dodgers down. Throughout this series, and really the postseason, one thing has remained stable: the offense's inability to produce anything resembling what we saw from the Cubs down the stretch. They had to be better to stave off elimination, eventually providing Arrieta with a "comfortable" 3-1 lead, which he secured with his masterful performance. (Box Score)
Why the Cubs Won
Arrieta was terrific, allowing a single run on three hits and five walks, with nine strikeouts over 6 2/3 innings. He kept the Cubs ahead and did his best to ensure they would fight another day.
Wade Davis gave up a solo home run to Justin Turner and walked Yasiel Puig before he was able to record an out. Do you think that fazed him? If you thought it did, then you haven't watched much of the Cubs closer.
Key Moments
Willson Contreras opened the scoring with a home run off the video board that Statcast estimated at 491 feet. That now stands as the longest playoff homer Statcast has measured and it's second to only Kris Bryant's 495-foot shot off the board as the longest Cubs homer of at least the last three years.
Knowing Cubs Nation was relying on him, Javy Baez went deep for the second time in the 5th inning, giving the Cubs all they needed to push on to Game 5.
There was a bit of an issue with Wade Davis striking out Curtis Granderson in the 8th inning. The batter swung and missed for strike three, but the umpires and together and somehow determined that he'd fouled off the pitch. Fortunately, Davis is a machine and struck out Granderson on the very next pitch.
Stats that Matter
The Cubs scored more runs than the Dodgers.
Bottom Line
The Cubs were able to extend their season with great performances from Jake Arrieta, Javy Baez, and Willson Contreras.
On Deck
Game 5 goes off at 7pm CT and will once again be broadcast on TBS. Not very funny.