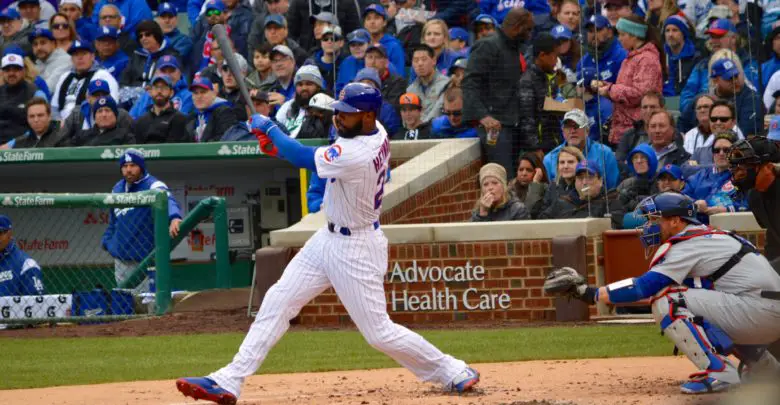 Can Jason Heyward End the Hand-Wringing and Become a Decent Hitter Again?
It shouldn't come as much of a surprise that Jason Heyward has struggled in Chicago. You'd have trouble swinging a bat too if you'd carried the same weight of expectation Heyward has for the last decade. Before he was trying to live up to a $184 million contract in Chicago, he was laboring in the shadow of one of the game's giants. Hank Aaron comps? It's a wonder the guy's spinal column is still intact.
Be that as it may, there's a point at which empathy can no longer help to shoulder the load from even the most reasonable expectations. And we're well past that point for Heyward. The question, then, is whether or not he can turn it around.
Hank Aaron comps? It's a wonder the guy's spinal column is still intact.
I should be clear here that I fully recognize the value Heyward brings to the table when it comes to his superior glove and his veteran leadership. But all that's gold doesn't necessarily glitter and you can't stop every single game for a rain-delay pep talk. Heyward's got to get better.
When the Cubs signed that offseason's most coveted free agent position player to a massive deal, they did so assuming that he'd outperform it. Not by hitting 35 homers and driving in 120 runs or anything, but by seeing the same great overall talent that he'd been to that point.
Even if he wasn't the kind of singular force you'd expect from the recipient of such a contract, he would act as the glue for all the puzzle pieces the Cubs had assembled. And even if he only posted a little less than his career-average 4.6 fWAR to that point, it could have been worth nearly $36 million per season (based on $8 million for each incremental win). That's more than enough to justify what he's making.
Putting up 2.4 fWAR, however, is not quite as valuable. And that's over two seasons. It'd be one thing if we were talking about a young player, but this is a 28-year-old with eight seasons in the majors. As such, we can't really hope for some kind of breakout, a la Justin Turner.
The ginger Dodger with the Ed Sheeran walkup music was 29 when he finally burst through in 2014, but he'd only logged 712 plate appearances over parts of four seasons to that point. And his cumulative 0.4 fWAR, not to mention his advanced age, wasn't necessarily indicative of the success we've seen from him since. His 4.55 fWAR average over the past four seasons, however, is right in line with what Heyward produced pre-Cubs.
Turner's turnaround came after he got hooked up with hitting coach Doug Latta on the advice of former Mets teammate Marlon Byrd.
"It wasn't something that just happened overnight," Turner told MLB.com's Phil Rogers back in 2015. "We did it five days a week for four months, trying to fix [my swing] and get to where I can repeat it. Went to Spring [Training], had success. Throughout all last year, from that base we established, we made adjustments on the fly within the parameters of the philosophies we had, and started having success."
That success has carried on as Turner has perfected a swing that employs an exaggerated leg kick to hit for both power and average. It's not the same move every time, either, he's able to adjust the kick and more based on the situation and how he feels or what the opposing pitcher is showing him.
"The thing about hitting is you never figure it out," Turner said. "It changes every day. Your body goes through different things, you're feeling different things. It's all about making adjustments."
That's cool and all, but we've already seen Heyward enlist the help of several different coaches with his notoriously mutable swing. Though we've focused on it to a nauseating degree here at Cubs Insider, J-Hey has been tinkering with his mechanics since well before he was placed under our magnifying glass. It's just that his constant changes weren't as much of an issue in light of his production in Atlanta and St. Louis.
Whether he's gone with a toe-tap (initially suggested by former Cubs hitting coach John Mallee) or a quieter pre-swing ritual, the results in Chicago have left the door wide open to criticism. It's been obvious to even the most novice amateur scouts that Heyward is doing some funky stuff up there at the plate, namely the cross-locking of his wrists that requires everything else to work out perfectly in order for him to drive the ball with any success.
The big right fielder is wringing his hands on the handle of his bat in much the same way you'd get excess water from a chamois.
The big right fielder is wringing his hands on the handle of his bat in much the same way you'd get excess water from a chamois. Or perhaps it's more similar to what fans do when Heyward is batting in an important situation. However you describe it, the pre-swing adjustment looks almost like a tic or like a hitter's version of the yips. It has to be that, too, because that's the only way to explain doing something so awkward and counterproductive to hitting.
That's what really worries me, since it's not as easy to coach that kind of involuntary action out of someone's swing. It's almost like watching a Little Leaguer who reflexively bails out of the box every time the pitch comes in. Or perhaps we could stay closer to home by bluntly analogizing Heyward's swing to Jon Lester throwing to first. The issue may never go away, it's just a matter of learning to perform around it.
If that's the case with Heyward, perhaps new hitting instructors will help him moving forward. Despite being known as a genius with mechanics, Mallee was unable to affect any meaningful change with his most frustrating charge. In fact, that toe-tap Mallee suggested may have actually diminished Heyward's effectiveness. And though their tutelage seemed to be working in spurts, neither Eric Hinske nor Darnell McDonald could right the ship.
Chili Davis comes to Chicago as the Cubs' new hitting coach with more of a focus on the mental side of the game, while Andy Haines has been promoted from the minors to handle mechanics. That's too binary a description, as both are well-versed in different aspects, but I'm very interested to see what Haines can do with Heyward.
The former roving instructor is no doubt well-versed in his new charge's struggles and surely has some thoughts on how to work with Heyward moving forward. We've already seen how Haines was able to get Kyle Schwarber pointed back in the right direction during his time with Iowa and there were even whispers that the coach would be coming to Chicago along with the slugger in July.
There's been a lot of chatter during the offseason that the Cubs might look to move Heyward in order to free up salary, but he's got no-trade rights and isn't necessarily a valuable commodity at this point. Which is to say that he'll be patrolling right field whether you like it or not. That's probably the wrong way to put it, since no one actually minds him patrolling right. Right?
It's gotten to the point where the Cubs are going to have to choke back their pride and sit Heyward much more often if they still have excess outfield depth and he can't get it together at the plate. Which is why it'd be such a boon to the team for him to be even mediocre with the stick. And maybe the last two years will actually help Heyward.
Those hopes that he'd be the second coming of Hammerin' Hank? Gone. As are the assumptions that he'd be for the Cubs what he was for the Braves. Freed to stand up a little straighter, perhaps Jason Heyward can finally make the necessary adjustments and get all these hack bloggers to stop writing about whether he'll ever be able to put it together again.
Or maybe he won't and we'll keep wondering what the hell happened. That's the thing here, I really don't know if he can figure it out. Nor do I put it past him. It's an enigma wrapped in a riddle. Here's to hoping Heyward is a sphinx.