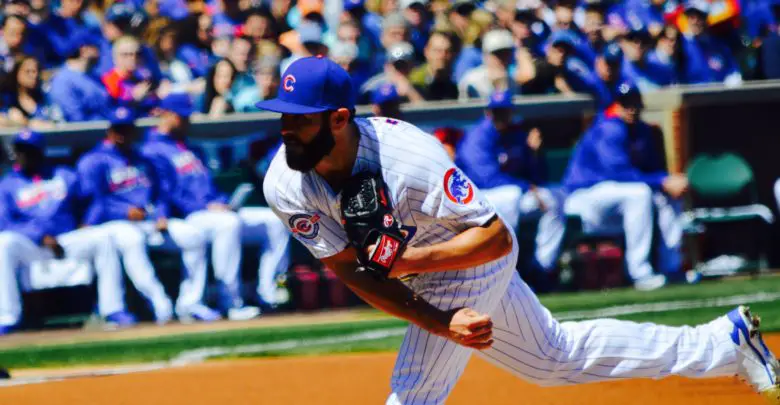 Odds of Arrieta Returning to Cubs May Have Just Gone Down Even Further
The concept of supply and demand is the most basic tenet of economics. When it comes to baseball, in particular the market for starting pitchers, the latter is unquenchably voracious. And the pickings, which were already looking thin at the end of the season, have gotten slimmer of late.
We learned a few days ago that Masahiro Tanaka would not be opting out of his pact with the Yankees, thus removing one big name from the market. While some were surprised by the decision not to pursue more than the $67 million he was due over the next three seasons, I'd have been mildly shocked had Tanaka chosen to test free agency.
The 29-year-old righty finished his 2017 campaign on a high note and looked great during the postseason, but the small matter of a partially-torn UCL might have hampered his prospects. Even though it hasn't been an issue since, it's hard to believe another team would be willing to cough up more than $22.3 million per season for more than three years.
Likewise, Johnny Cueto has opted to remain with the Giants in order to collect $84 million over the next four seasons. This really isn't surprising at all, as the 32-year-old (as of February 15) is coming off of what was his worst season since his sophomore campaign of 2009 in Cincinnati. Though is AAV is a little lower than Tanaka's, Cueto is nearly three years older and is under contract for one year longer.
So sure a bet was Cueto's decision that MLB Trade Rumors didn't even include him among their predictions for this offseason's top 50 free agents. Tanaka, on the other hand, was listed at No. 5 with a prediction of five years and $100 million from the Phillies. The next starting pitcher was Lance Lynn, who came in at No. 9 with a four-year, $56 million pact in Texas (again, predicted).
What this means is that Jake Arrieta is going to look that much more desirable to the teams in need of starting pitching. He was already in line for more than what seems like a laughably low prediction of $100 million over four seasons, but the utter lack of top-flight starters outside of Arrieta and Yu Darvish means that we'll likely see even that much more separation at the top of the market.
And that means the chances of the former Cy Young returning to the Cubs as a free agent are even lower than they've been at any point over the past two years. The projected AAV in the piece linked above isn't too bad, but I'd be absolutely gobsmacked if Arrieta got fewer than five years at this point. Even though he's heading into his age-32 season, Arrieta has less mileage on his arm than comparable pitchers and has proven himself in big games.
There are plenty of teams out there with both the means and desire to add a pitcher like that, but the Cubs aren't one of them. Will they check in on Arrieta? Absolutely. It just figures that the latest decisions by Tanaka and Cueto have provided that much more fuel for Arrieta to escape the gravity generated by the Cubs' young core.