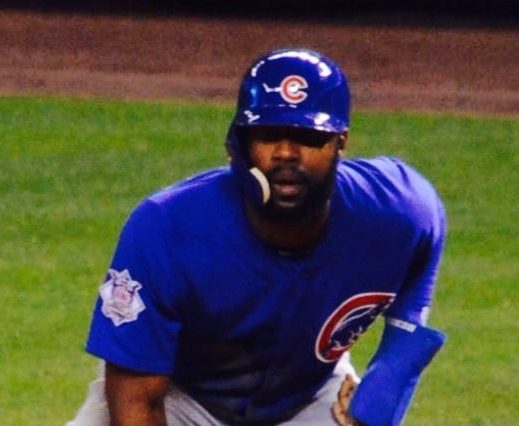 Cubs Trade Rumors: Giants Interested in Heyward, Could Move Samardzija and Melancon
Let's go ahead and put it out there that this is a) not a brand-new report; and b) very much more smoke than fire right now. It's been around for a little while and I wrote a little about it last week as well, but MLB.com's Phil Rogers tweeted it Tuesday afternoon and put it back on the radar. My apologies to whomever was first on the reports of mutual interest between the Cubs and Giants, I only saw little snippets here and there.
"Giants have interest in Cubs' Jason Heyward, with Jeff Samardzija and Mark Melancon to offer," Rogers wrote. "Very complicated deal but not impossible."
The main complication he's referring to is Heyward's full no-trade clause, which runs through 2018 and allows him to veto any deal. Even though it ended up working out really well for them in the Ryan Dempster deal (after he reportedly vetoed an agreed-upon trade to Atlanta, the Cubs sent him to Texas for Kyle Hendricks), the Cubs would obviously have to have Heyward's buy-in before seriously pursuing any swap.
While highly unlikely, it's possible that the big right fielder would okay a trade simply because he's a good dude and would want to help the Cubs out. What's more probable, though, is that the Cubs would have to sort of force his hand a little bit. By that I mean presenting him with the reality of decreased playing time moving forward. They'd have to be very tactful about that lest it blow up in their faces, but that's certainly something this front office can figure out.
Again, I think this is all highly improbable, but let's look at how it'd make sense for the Cubs in both the short and long term. And believe me, it makes hella sense for them.
First is the money, which is the least subjective aspect of the whole thing. Samardzija ($19.8 million) and Melancon ($15 million) will combine to make only $6.8 million more than Heyward is set to pull down in 2018. Adding a starting pitcher and proven reliever for only $3.4 million apiece (relative to current payroll obligations)? Yes, please.
Melancon's salary jumps to $19 million in each of the next two years and Heyward's drops to $20 million in 2019 and $21 million in 2020, but that's still only an average of $18.3 million extra on the Cubs' payroll in those seasons. But then that's it, the Cubs would be free and clear of salary obligations to any of the trio, namely the $65 million due Heyward from 2021-23.
They'll probably have to kick in some money to make a deal work, but suffice to say that amount shouldn't hamper them in the least.
Bringing Samardzija back would fill one of the holes in the Cubs' rotation for the next three seasons at a very reasonable cost. Remember, you can't look at it like spending $19.8 million per year for a back-end starter because the salary offset makes it more like $7.2 million AAV (dividing average annual difference from above by two). He'll be 33 when the 2018 season opens, but he's durable and he doesn't have much mileage on his arm.
The same can't really be said for Melancon, who missed much of 2017 with forearm issues and underwent surgery to alleviate pronator syndrome in September. The timeline for recovery is only 6-8 weeks, so he should be perfectly healthy in time for spring training. There's still quite a bit of risk involved, but the Cubs might be willing to take the gamble given their current situation.
It's unlikely they'd get Melancon for the express purpose of closing game, but his acquisition would offer both leverage and a safety net in negotiations with Wade Davis. Because of the offset we mentioned earlier, Melancon's otherwise significant salary is more comparable to that of a well-paid setup man, which is what he'd serve as if the Cubs are able to bring Davis back.
Think back to what Theo Epstein said the Cubs were going to be looking for in their bullpen acquisitions and then guess what Melancon does really well. If you said, "He throws strikes like a mug," you're correct. Since 2013, only three qualified relievers — Evan Scribner(?), Edward Mujica, Dan Otero — have posted fewer than Melancon's 1.43 BB/9. The former Pirate's 5.82 K/BB in that time ranks sixth, just ahead of Andrew Miller (5.58).
That's not a bad guy to have in the bullpen, particularly if you're not leaning on him to be the actual closer. In addition to handling those high-leverage innings that gave the Cubs so much trouble last season — I'm looking at you, 8th Inning of Death — Melancon could spell Davis from time to time to ensure that the Cubs' (potential) investment stays fresh into the postseason.
Since I've already gone too far down the path to turn around and head back now, I'll close with even more pie in the sky. Rogers mentioned in a subsequent tweet that moving Heyward could improve the Cubs' chances of recruiting Shohei Otani, a left-handed batter who would like the opportunity to play in the outfield when he's not pitching. Which, uh, okay. Whether the two-way star is able to come to MLB for 2018 or later, it doesn't hurt to have a little more room for him.
And there's one more big name whose recruitment would be aided by both a spot in right field and extra room on the payroll. I don't want to say it out loud for fear of jinxing it, but it rhymes with Rice Larper.
The last thing I need to get is get hopes — either mine of yours — up about this whole thing, but it would be a huge coup if the Cubs could pull it off. There are just so many moving parts, though, and that no-trade clause is a big ol' horsefly in the ointment. Whether or not it actually happens, this gives us an idea of what the Cubs are trying to do.
Their moves aren't just about the upcoming season, they're being made with an eye toward the next several campaigns. Man, this stuff is fun.