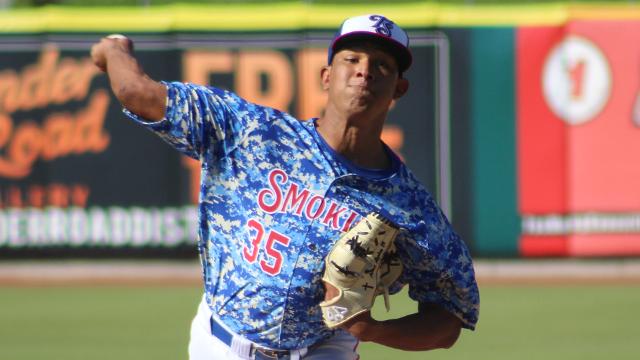 Ryan Says: Check Out Adbert Alzolay, Cubs Have 40-Man Roster Decisions Looming
I wanted to start out this week's column by saying that I love the community of baseball fans and writers that Evan, myself, and others have built here at Cubs Insider and out into social media. One of my favorite things to do each year is go to Chicago for Cubs Convention weekend and socialize with fans (of the Cubs, not me). Whether we've met face-to-face or not, I appreciate everyone who takes the time to read and add to the conversation.
• The prospect lists aren't out yet, but there is one name from the Cubs' farm system that you should expect to see popping up in the 75-100 range: Adbert Alzolay. Dave DeFreitas of 2080 Baseball saw him pitch in the AFL around a week ago, and posted a short video that is worth your time.
I could tell you everything I know about Alzolay, but the late John Arguello can still do it better. Here is something he wrote at 2080 on Alzolay last April.
There were times, even as recently as last season, where he'd lose velocity as the game went on. All of those things give you the temptation to just label him a reliever. However, Alzolay seems to have matured physically since last season. He looks to have added some lean muscle that should help him go deeper into games.
The Cubs are developing Alzolay as a starter, in large part, because he has a full repertoire, good command, and a good feel for pitching, but to just focus on that would sell him short. When you combine that with his less-than-ideal build, it may have you thinking that Alzolay is a soft-tossing finesse pitcher. That is not the case at all. Alzolay will throw his fastball anywhere between 92-to-96 mph and he complements that with a cutter, curveball, and changeup. It's that good stuff that has some scouts excited that he can pitch in a big league rotation.
• As for the rest of the pitching staff, Theo Epstein talks about the "top-eight" frequently. The Cubs will need eight pitchers that could be viable options to step up and handle innings in the majors if necessary. Right now they probably have five they feel good about: Jon Lester, Kyle Hendricks, and Jose Quintana as the top three; Mike Montgomery as a swing guy; and Jen-Ho Tseng hiding in the minors. That leaves three spots to be filled.
Eddie Butler is still around for now, although there's a really good chance that he doesn't survive the 40-man crunch over the winter. The Cubs will need to be active in free agency and the trade market, with Alex Cobb making the most sense as their No. 4 starter. He should come for around half the money that Jake Arrieta will get, and although he's not the pitcher that Arrieta is, the gap in production won't be as significant as that in salary.
Speaking of the 40-man roster, it currently stands at 34. In addition to needing to add two starters to the rotation and another that they can hide in Des Moines, the Cubs have a handful of Rule 5-eligible guys that need roster spots. Alzolay is one prospect who needs to be added. Other such players include Charcer Burks, Oscar de la Cruz, David Bote, Jake Stinnett, Chesny Young, Trevor Clifton, Jose Paulino, and Bijan Rademacher.
Not everyone will make the cut, but it's clear that some tough decisions will need to be made by the front office. If I had to guess, the guys currently on the 40-man roster that could be in danger of being let go are Butler, Alec Mills, Matt Carasiti, Luke Farrell, Cory Mazzoni, Randy Rosario, and Justin Grimm.