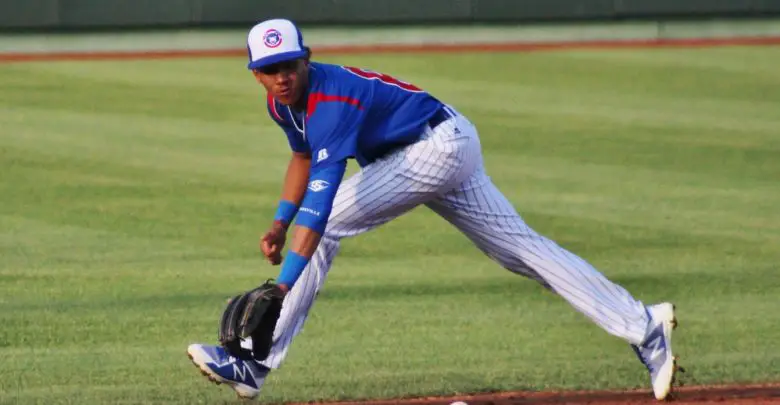 Baseball America Crowns a Surprising New No. 1 Cubs Prospect
Most prospect lists tend to be pretty staid affairs. There is usually some analysis, a few statistics, and maybe even a little video. The rankings are often conservative in nature and rapid ascents are usually rare.
That is how things used to be.
With Eloy Jimenez, Dylan Cease, Jeimer Candelario, and Isaac Paredes gone, everything changed when it came to the Cubs' top prospects and it was a sure bet that every list was going to vary greatly. While current performance should be part of the evaluation process, any prospect list should be looking two to four years down the road. As such, you'll see some variation in how various outlets view prospects' value.
Outside of Keith Law's, rarely does a prospect list have any surprise value to it. Baseball America's top 10 Cubs Prospect List didn't necessarily shock me, but it most certainly offered some major surprises.
Let's have a look:
10. Nelson Velazquez
9. Jen-Ho Tseng
8. Thomas Hatch
7. Brendon Little
6. Oscar de la Cruz
5. Alex Lange
4. Victor Caratini
3. Jose Albertos
2. Adbert Alzolay
1. Aramis Ademan
The first thing to note here is that only two names remain from last year's top 10: Oscar de la Cruz and Jose Albertos. Mark Zagunis, Trevor Clifton, and DJ Wilson are still with the organization, just not top 10 prospects any longer. Then there's the shift to a pitching-dominated list, evidenced by the presence of eight arms in the top 10. It should be very interesting to watch them develop in 2018 and how quickly they do so.
While a subscription is required to read the breakdown of each prospect, I can tell you that Ademan was praised for his current talent level and the way he's advanced quickly through the Cubs system. I like him and I understand that he is more projectable as a hitter in an organization that graduated or traded most of their elite hitters.
However, Ademan's ability to hit consistently is still in question. He can turn on anything on the inner half and showed more power in 2017 than anyone thought he could have, but he also had long stretches of nothingness where he was baffled by a well-placed curve or change. He is far from a finished product in the field as well, bobbling routine grounders nearly as often as he flashes spectacular leather. Ademan is definitely one of the top three prospects in the system and the position he plays might be part of why he got the No. 1 nod.
I would argue that Albertos has more value to the organization as a top-of-the-rotation starting pitcher. The same could also hold true for Alzolay, especially by the middle of next year. Alex Lange is another arm who should move pretty quickly in 2018; I really like his value as a starter as he has a nasty competitive streak. His delivery is maximum effort and needs some smoothing out, but his curve is amazing.
I really like the aggressive ranking of the top 5 prospects. While bold, it also shows value. Hopefully, other lists will be equally surprising and equally open to varying interpretation of players' positional value and importance to the organization.