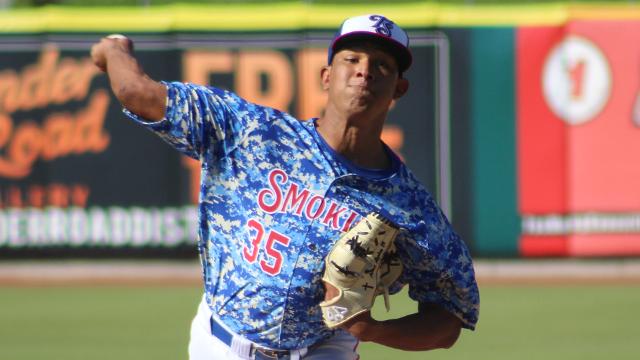 Cubs Add Alzolay, Bote, De La Cruz to 40-Man Roster
Heading into Monday evening, the Cubs had a half dozen spots open on their 40-man roster. They could have used all six to protect prospects from the Rule 5 Draft or they could they could have released a couple guys in order to protect more. As it is, they could opted to protect only three in order to leave spots open for future free-agent signings as well.
While I didn't know exactly what they'd do, I was pretty sure the Cubs would prioritize the protection of their pitching assets. Adbert Alzolay and Oscar de la Cruz in particular were locks to be added to the roster so as not to fall into enemy hands. Who the Cubs chose to add to the roster — as well as who they chose not to add — shows us where they currently place the most value in the system.
In the end, they protected x players while leaving several more exposed to the Rule 5 Draft, which will be held on December 14. MLB.com has a nice summary of the process if you need a quick refresher. As for the players the Cubs chose to hold onto and who they left off the roster, we've got that for you below.
The Protected
Adbert Alzolay has been pretty much a given since the end of the season and his standing in the organization has reached a level not seen from a starting pitching prospect in a long time. He is far from a finished product as he still has work to do on his curve and changeup, but he could make an appearance at some point this summer. However, he hasn't pitched over 120 innings in any one season yet and could be a bullpen option at first.
Oscar de la Cruz can move quickly if he ever gets healthy. Then again, I have been saying that for two years and he's barely pitched 95 innings in that time. Still, his protection shows value. I wonder how long the Cubs are going to try to keep him as a starter if he continues to miss time.
David Bote tore the cover off the ball from July of 2016 to June of 2017 before a minor slump, but the he rebounded and absolutely tore up the Arizona Fall League. It helps that he played all over the field in 2017 including 12 games in the outfield. When I first saw him play in 2014, he was playing SS. His versatility is a key. Even so, I had not listed him among my early predictions for this list and I'm a little surprised that he made the cut. This tells us the Cubs hold Bote in high esteem.
Surprises
Pedro Araujo had been pitching really well since May and his performance in the Arizona Fall League only elevated his stature in the system. I have him ticketed for AA Tennessee next year and figure he could move to Iowa very quickly based on his AFL performance.
Charcer Burks was the cover boy on the Cubs' website on this past Sunday, so it's a little odd that he was left off. He had a great first half in 2017, hitting .313 with a .406 OBP and 5 home runs. He slipped a bit in the second, hitting only .231 with a .338 OBP and 5 more dingerss. Add in the fact that he can play all three OF spots with the ability to steal some bases (16 in 2017), and the Cubs might have something here.
The Rest of the Unprotected
With only six spots, and some 50+ players eligible for Rule 5 selection, the Cubs cannot protect everyone. Bub the team that selects a player has to keep him on the 25-man roster or return them to the original team, and the Cubs only have a few Rule 5-eligible players who could be at best bench players in the majors. To be honest, I did not see much of a gamble in the guys the Cubs left off. The bigger risk would be in selecting some of these players at this point in their respective careers.
Outfielder Bijan Rademacher, second baseman Chesny Young, and third baseman Jason Vosler were the most notable position players left off. Trevor Clifton, Jose Paulino, Erling Moreno, and Jake Stinnett are some of the better known pitchers.
A year ago, I said that Clifton and Young should be locks for the 40-man. Things still can change for both of them in 2018 as they will make some adjustments and move along in their development. Just because a player was not protected or added to the roster does not mean the Cubs are down on that prospect. Instead, it is more about 2018 than anything else. In a year from now, the Cubs will do this all over again.
In addition to the moves mentioned above, Jacob Hannemann cleared waivers and was assigned to AAA Iowa. Between the three additions and the lone subtraction, the 40-man roster now sits at 36.