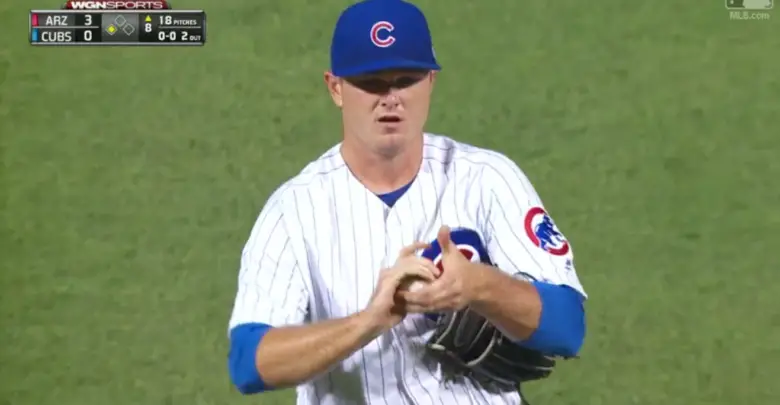 What Went Wrong for Justin Wilson?
Theo Epstein traded for one of the game's most dominant relievers in order to prevent a scenario in which John Lackey would have to be called upon to pitch in relief in a pivotal NLCS game. "Goal accomplished," the front office probably thought after acquiring Justin Wilson at the 2017 deadline. Never in their wildest nightmares did they think Justin Wilson would amount to so much bench dust while Lackey would serve up a walk-off bomb to Justin Turner.
Wilson basically Rick Ankiel'd the defending World Series champions down the stretch. The over-the-top lefty had been darting sliders, cutters, and four-seamers with pinpoint accuracy, but, all of a sudden he couldn't find the strike zone. His walk rate ballooned to an astonishing 9.68 BB/9 — nearly three times greater than in Detroit — and he finished his Cubs portion of the season with a 5.09 ERA. Maybe it was Wilson's evil twin pitching, not the 2.68-ERA southpaw who dominated in the American League.
The easy explanation for Wilson's collapse was that he became a mental headcase who had an awful case of the yips. Of course, I'm sure he was under immense pressure to perform for his new team. But what actually happened to Wilson's game?
El Mago wasn't the only one performing a magic act on the field; something made the effectiveness of Wilson's trademark cutter disappear. Batters whiffed against Wilson's cutter at nearly a 14 percent rate in Detroit, but batters weren't fooled against the same pitch in Chicago. Immediately after putting on a Cubs jersey, opponents made 85 percent more contact against Wilson's cutter.
Maybe those yips led to or came from a different release point. The moment Wilson became a Cub, his release point grew noticeably inconsistent, as illustrated by the error bars below. Wider bars between the data points represent more variation between Wilson's game-to-game release point. By season's end, he was letting go about 1.2 inches higher than he had been in Detroit.
Reasons for these oddities can only be explained by the coaches who worked with the lefty reliever, one of which is no longer with the team.
Perhaps Jim Hickey can perform a little magic of his own and bring back the ace reliever. But for that top-tier pitcher to return, his cutter will have to come back as well. Hickey will be tasked with fixing Wilson's mechanics in order to tighten up a variable release point and, in theory, create more whiffs.