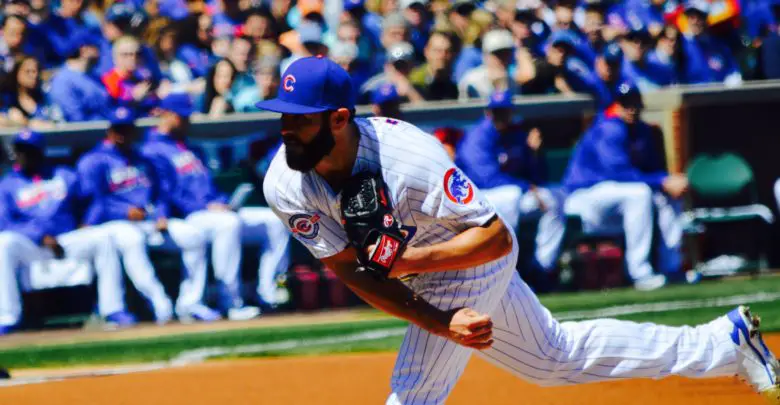 Cubs Not Among Five Teams That Have Checked on Arrieta…Yet
We've already written about interest from the Rangers, Brewers, and Twins, but the Boston Globe's Nick Cafardo adds the Blue Jays and Rockies to the list of teams that have checked in on Jake Arrieta. In a simple blurb way down past stuff about Giancarlo Stanton and Shohei Ohtani — hey, the Globe is pretty much just like Cubs Insider — Cafardo notes that all five teams have been in contact with Arrieta's agent, Scott Boras, about the property taxes in Playoffville.
The Rockies are a bit of a surprise, especially given the diverging trends in Arrieta's ground ball (down) and home run-per-fly ball rates (up). It's unfair to comp this to the Rox signing Mike Hampton to what was then the largest contract in baseball (eight years, $121 million), but I'm not sure Coors Field is the best spot in the world for a pitcher of Arrieta's ilk and projected cost.
Toronto seems like a decent spot and the Jays could use a veteran pitching presence in that rotation. The AL is tougher sledding, but Rogers Centre has been in the bottom half of the league in home run ballpark factor over the last few years. Signing with Toronto would also give Arrieta the opportunity to reunite with some of his Hollywood friends after he offered to help them last November.
I really thought we'd hear more about the Dodgers' interest, though their ongoing involvement with the Marlins on a Stanton trade could be preventing them from other pursuits. According to Jon Morosi (Twitter links here and here), Stanton has provided a list of acceptable teams and most believe the Dodgers are his first choice, but there's been no progress when it comes to trade scenarios.
You'll notice that the Cubs aren't listed in the mix either, though it's a given that they'll at least be hanging around the periphery. Cafardo wrote that an attempt to re-sign Arrieta is "not out of the realm of possibility," and their obvious history with him means that they don't need to establish the same inroads through Boras that other teams might. It's a pretty obvious you-know-where-to-find-me situation.
The situation with the Cubs has remained somewhat unchanged since Arrieta discussed his unwillingness to sign an extension two years ago, so none of this is really new. He wants to see what he can command on the open market, but tepid offers could bring the Cubs back into the picture. Rather than regurgitate my thoughts on the matter, here's what I wrote about that possibility earlier this month.
As we saw with Dexter Fowler prior to 2016, there's a possibility that the market doesn't quite materialize to Arrieta's liking. Though it probably wouldn't be a one-year bridge deal like the center fielder agreed to, perhaps Arrieta would come down closer to that MLBTR estimate if he's not finding takers for more than four years. As unlikely as I believe that to be, it's probably the lone scenario that brings Arrieta back to the Cubs.
Either way, I see Arrieta being one of the later signings of the winter. There's really no need for teams to wait on how the top end of the market will be set, since there's such a clear difference between that upper tier of Arrieta and Yu Darvish and then everyone else. That gives Boras a little more time to work the angles without as much need to rush or fear that the money will dry up. He can't wait too long, though, or the hard-to-get strategy could backfire.
So while it's not a very realistic scenario on the whole, the chances that Arrieta comes back to Chicago do increase a little bit the later we get into free agency.
Don't expect anything to happen with Arrieta in the next two to three weeks, but the market should finally start moving once Stanton's fate is decided and we get more clarity on the Ohtani stuff. With at least five teams already in the mix for his services and more likely to join the chorus, the former Cy Young winner will be in no hurry to sign.