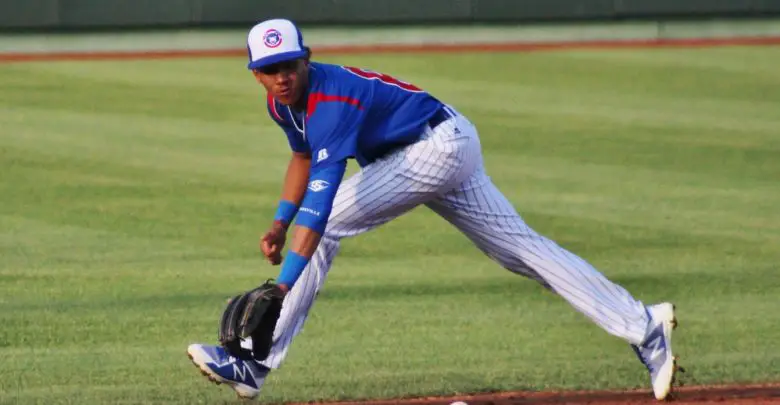 Fangraphs Top Cubs Prospect List Goes Hard on Potential
Last year, I quipped that Fangraphs produced the prospect list your mother warned you about. This year, Eric Longenhagen continued the tradition of creating a list different from the mainstream. The list, which came out Thursday, contains detailed analysis of upwards of 50 Cubs prospects.
Although he only ranks 22, there is still plenty of information to go through and dissect. Overall, we've got a selection of young, athletic, and unproven prospects in the top 10. We'll look at a few of them below, but I recommend checking out the link above to get the straight dope on all the various players included.
Like Baseball America, Fangraphs placed shortstop Aramis Ademan at No. 1, followed by pitchers Adbert Alzolay and Jose Albertos. While I would probably have them in inverse order as a top three, I really can't quibble with Longenhagen's reasoning. For the next 18 picks, though, it is all about potential, as the author states.
Trades and graduations have sliced off the head of this system, but I remain fond of its "fruit on the bottom" composition. It features a wide swath of young talent at the lower levels, mostly from Latin America. The Cubs have cast a wide net in Latin America, adding a slew of good-bodied athletes with middling tools and then just kicking back to see what the player-development staff can do with them.
Pitcher Oscar de la Cruz is still held in high esteem at number four and is soon followed by Brendon Little and Alex Lange, both of whom seem to have incomplete projections regarding whether they will be starters or relievers if/when they get to Chicago
The biggest shockers in the list came in the middle with the inclusion of several young 18-to-19-year-olds. Catcher Miguel Amaya is a favorite of mine and he is situated at No. 9. Pitcher Alec Mills was next at 10, even though he missed most of 2017 with bone spurs. Mills was praised for command of his pitches and a plus changeup.
At number 11, pitcher Jeremiah Estrada — a 2017 sixth round pick — got a lot of love for his potential despite pitching only six innings of professional ball in 2017. One of my favorite young Cub prospects, outfielder Nelson Velazquez, came in at No. 13, while unheralded lefty starter Brailyn Marquez surfaced at 14 after an up-and-down year in Mesa.
The through the list you get, the more and more the emphasis was on potential. Former top prospect Mark Zagunis wound up at No. 20, while several more established Cub prospects like Trevor Clifton, Chesny Young, and Duane Underwood did not make the cut. Even the Cubs' reigning MiLB Pitcher of the Year, Jen-Ho Tseng, slid down. It is not as if Fangraphs tossed the old guard completely to the side, they simply made way for more prospects with a higher upside. For example, DJ Wilson is a young and athletic outfielder I profiled just last week who made the top 10.
In the end, this list is just going to be one of many this offseason that could each have a totally different view of the Cubs' system. Baseball Prospectus is set to release their top 10 Cubs list either late next week or the week of the 11th.
The more lists that come out, the greater the variance is going to be. It's pretty evident that the era of consensus on who the Cubs' top prospects are is over. Even though Ademan has gotten the top nod in both major lists so far, don't expect him to be there in every one. If Cubs Insider ever tried to do its own list, we probably could not agree who should be at the top, either.