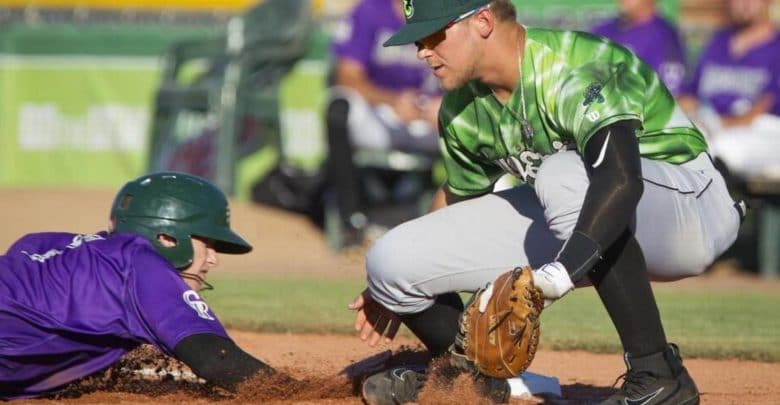 Cubs System Position-by-Position: First Base Lacks Star Power
With Anthony Rizzo entrenched at first base for a while, there's really been no need to draft or develop a first baseman. Last year, I only listed four of them in the position breakdown: Yasiel Balaguert, Matt Rose, Chris Pieters, and Gustavo Polanco. This year is slightly different.
A lot changed at the position in one year. Matt Rose was traded in the deal for Jose Quintana. Balaguert played a quarter of his season in the outfield, and Pieters was almost exclusively roaming out in the grass. But three other players began to emerge as possible bats at first base in 2017. Like their those who preceded them, these men are not exclusive to first. Although if they keep it up, some soon could be.
1. Yasiel Balaguert
He had a great second half for the second year in a row, hitting .285 with 10 home runs and 40 RBI. However, that also means that he had a poor first half for the second year in a row. If he ever gets hot early, he could be in the majors quickly. Now that he'll be at Iowa in 2018, the environs of the Pacific Coast League should play to his power game.
2. Joe Martarano
I really dig his bat and his potential, and I love the sound his bat makes when he squares up the ball. While his July was just plain horrid (.167), he had a pretty good year otherwise. He was excellent in extended spring training (.324), great at Eugene (.385), and he quietly rebounded in August at South Bend (.273). Losing a leg kick and going with a toe tap will help him in 2018, especially with curveballs. He might start out at South Bend, but Myrtle Beach will come calling soon enough if he gets off to a fast start.
3. Luis Hidalgo
This 21-year-old might be the most unheralded player on any list I have this winter. After one good season in the Venezuelan Summer League and two mediocre stints in the Dominican, the righty-hitting Hidalgo put it together last year. He hit .353/.419/.521 in the DSL before coming stateside in August, when he hit .339 with a .516 slugging percentage over 17 games in the Arizona Rookie League. He should continue to feast this year in Eugene, though he might be talented enough to skip that level if he has a good spring training and extended spring training. Watch out for him.
4. Tyler Alamo
We talk a lot about prospects experiencing adversity in their careers, but Alamo faced real tragedy as a survivor of the mass shooting in Las Vegas. Baseball seems trivial in light of that, but it could also be a way for Alamo to heal. His playing time increased last season and his place in the order moved up as he hit .306 with a .345 OBP and five home runs following Eloy Jimenez's departure. The right-handed hitter has the plate discipline, work ethic, and maturity to improve again next year at AA Tennessee.
5. Gustavo Polanco
He is a prospect of extremes right now, with a beautiful inside-out swing that takes the ball naturally to right field. Polanco hit .281 for the year but his OBP was .322 as he only walked at only a 4 percent clip to go with a 27.5 percent K-rate. He has shown the ability to hit the ball hard and has the potential for great power, but hasn't posted the numbers to prove it yet. Plate discipline is something to work on next year at South Bend; he has no trouble with a pitch that starts with an F, he just needs to recognize pitches that don't.
Other previews:
Catcher
Second base
Third base
Shortstop