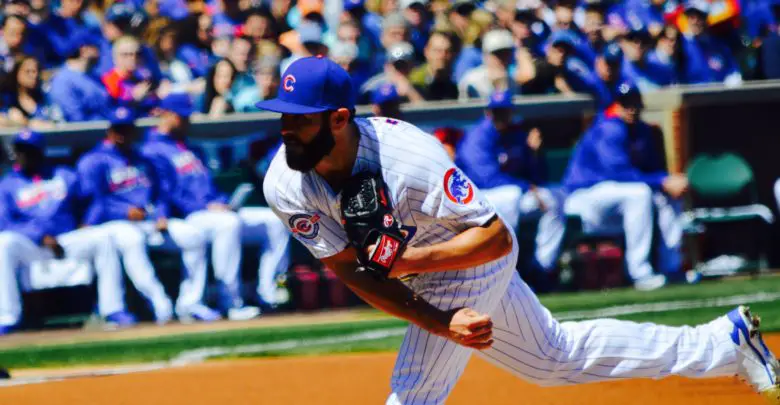 The Rundown: Arrieta Good as Gone, Cubs Tender Contracts (or Don't), Yanks Hire Boone
Serious uptick in the Stove yesterday. Let's get into it.
Evan reported yesterday that Cubs Manager Joe Maddon strongly implied that we have seen the last of Jake Arrieta as a member of the Chicago Cubs. The exact quote by the Cubs skipper was "Jake's probably gone."
So either Arrieta wants out or Theo Epstein and Jed Hoyer are prepared to move on due to downward trending peripherals by the team's one-time ace. Facts being facts, Arrieta wants to be paid as an ace in terms of years and money, and somebody probably will pay that. It just won't be the Cubs, who try to avoid paying out large contracts based on past performance.
There was a time when Arrieta's traditional stats may have have given him the potential for a record-breaking contract (see Mike Hampton, 2001). No more. 
Scott Boras will surely try to leverage the starting pitcher's overall resume to maximize a deal, and it's impressive: Cy Young Award, two no-hitters, big-game pitcher (if such a thing exists), and a 54-24 record over the past three seasons. He'll downplay Arrieta's drop in velocity during the 2017 season due to changes in velocity measurements and he'll counter a weaker walk season by the right-hander on the unbelievable increase in offense.
There's some circumstantial evidence he can point to: Arrieta gave up 23 home runs last season in what is considered a homer-happy environment after giving up a combined 26 in 2015 and 2016.  At any rate, we should consider Jake gone. I made the former Cubs pitcher a goodbye playlist (opens in Spotify), and yes, I've finally said "former Cubs pitcher."
Shohei-mania is a thing now that the future face of baseball has allegedly narrowed his list down to five teams. I see Evan took a crash course in Japanese as a Second Language yesterday to break the news stateside. Are the Cubs on the Shohei Short List? Well, the Yankees, Rangers, Dodgers and Mariners are widely seen as the favorites to land the generational talent. Does that make Chicago number 5?
I'd consider the Yankees off the list simply because they hired Aaron Boone as manager yesterday. Boone's resume?
Sorry, I just don't see a presser with Brian Cashman, Boone, and Ohtani anytime in the near future.
I also feel I should count the Dodgers out simply because I just dislike the organization. The Rangers and Mariners seem to plan perfectly to just miss the playoffs each year so why would either have a chance? That leaves the Cubs. I've felt all along that Wrigley Field will be the future home of Ohtani. 
Have you ever had a hot dog sprinkled with paper-thin seaweed toppings, a good amount of teriyaki sauce and kewpie mayo? I've had them in Seattle and I gotta be honest,  they're amazing. "Yo, I'll have a Shohei Dog and an Old Style in the Cubs commemorative cup, please." I like the sound of that.
But watch out for the Astros. If I was a young player coming to the United States to play professional baseball I'd think Houston might be a cool place to land.
Cubs News & Notes
Hector Rondon was non-tendered by the Cubs yesterday and, surprisingly, Justin Grimm was offered a contract. The Cubs also released RP Matt Carasiti so that he could sign with the Yakult Swallows of Nippon Professional Baseball. 
Last but not least, RP Dario Alvarez signed a major league deal yesterday and was placed on the team's 40-man roster. Alvarez represents a low risk/high reward signing for the team. He's 29 and has posted an 11.4/K9 rate across 48 innings over four seasons, but his walk rate is a ghastly 4.1 BB/9 in that time. The relief pitcher was recently DFA'd by the Texas Rangers.
Joe Maddon tried to devise a plan to introduce the two-way player with the Angels in the early 1990's and was denied. Maddon admitted to Matt Spiegel and Danny Parkins on 670 The Score yesterday that he's "always been intrigued by the concept" and that a player like Ohtani represents "the wave of the future, in a sense."
The headline says the Cubs are still interested in re-signing Arrieta. The body of the story offers no proof whatsoever. Read it for yourself.
The Cubs declined to tender a contract to catcher Taylor Davis. He's a serviceable player and he has those dreamy blue eyes, and Tommy Birch of he Des Moines Register fully anticipates that Davis will still re-sign with the Cubs. 
Friday Stove
The Cardinals will meet with Giancarlo Stanton's reps, per Jon Paul Morosi. I don't think that really means anything more than ascertaining as to whether or not the reigning MVP would allow a trade to St. Louis. Stanton has full no-trade rights. Despite that, the Giants are supposedly pretty close to an agreement in principle on a trade for Stanton.
The Cardinals sent SS Aledmys Diaz to Toronto in exchange for minor league outfielder J.B. Woodman.
Former Cubs catcher Wellington Castillo agreed to a two-year, $15M contract with the White Sox yesterday. 
The number of failed drug tests in MLB dropped by over 50 percent in 2017.
Former Yankees skipper Joe Girard may replace Aaron Boone in the booth for ESPN's Sunday Night baseball.
MLBTR has a complete list of yesterday's non-tendered players.
Weekend Walk Up Song
Consider Me Gone by Sting. So long, Jake.