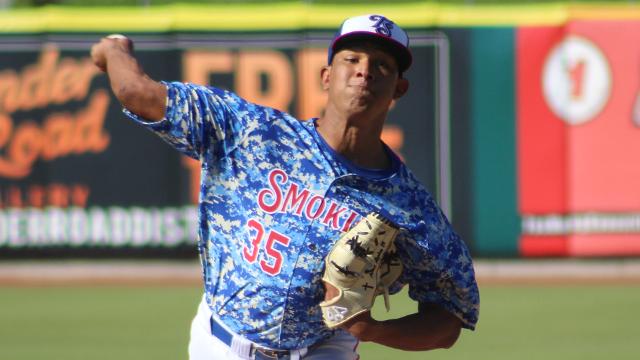 Another Day, Another Cubs Prospect List, Another Name at the Top
John Sickels Goes in a Different Direction
I was all set to begin uploading my Sunday column on my own website Saturday night when I thought I would jump onto Twitter to see if there was a trade or signing. I should have known better. Not 15 minutes later, I finished reading John Sickels' ranking of Cubs prospects and realized I would have to write a whole new column. Damn you, John Sickels!
To begin, Sickels' list has a different top prospect than other recent publications and his overall rankings are quite different from those put out by Fangraphs and Baseball America. Not surprisingly, Sickels did not give out one A grade to any Cubs prospects. In fact, he only handed out just six B's. That's quite an indictment of the Cubs' system, though only three of his top 10 prospects began their season above high-A ball last year.
Pitcher Adbert Alzolay is fittingly ranked number one after finding himself as second fiddle in the earlier lists. The top prospect for both Baseball America and Fangraphs, shortstop Aramis Ademan, came in at No. 2 and 2017 draft pick Alex Lange was listed third.
Lange's appearance so high on the list likely has to do more with his ability to move quickly through the system based on a single dominant pitch, his curveball. I love his competitiveness just as much as his curve, and I really like the placement of Lange here.
https://twitter.com/MinorLeagueBall/status/936729778895417344?ref_src=twsrc%5Etfw
Other players to make the top 10 included Jose Albertos, Victor Caratini, Oscar de la Cruz, Thomas Hatch, Brendon Little, Jen-Ho Tseng, and Mark Zagunis. Sickels' selections get a little bit more adventurous in the next 10 prospects.
Coming in at number 16 is pitcher Michael Rucker, who started out as a reliever at South Bend in 2017 and wound up replacing Oscar de la Cruz in the Pelicans' starting rotation by mid-season. Based on his summer split of a 2.51 ERA in 15 starts at Myrtle Beach, Rucker doesn't seem to be letting go of his starting role. It's a pretty meteoric rise one year after being drafted, but he throws a lot strikes, something the Cubs seem to lack.
Sickels also gives some love to pitcher Keegan Thompson out of Auburn at No. 17. Drafted in the fourth round in 2017, Thompson pitched some in relief at Eugene last summer. After missing all of 2016, he came back as a different pitcher as he relied more on command and control than a 95 mph fastball. He only threw 19 innings while striking out 23 in short-season ball, making a single start (three scoreless innings)
While I was a little surprised to see it so early in the offseason, Sickels' list bears out a few things I thought we'd see this winter. One, not every evaluator is going to agree on who the Cubs' number one prospect is. What's more, there isn't going to be anything close to a consensus on who should be ranked in the top 10 or even 20. Take DJ Wilson, who came in at number nine for Fangraphs but earned a C+ from Sickels and wasn't even ranked.
Two players who I thought might see a little love just based on their 2017 performances were Ian Rice and Zack Short. Neither been ranked by any of the major lists thus far. But as fun as offseason lists are to discuss, I tend to prefer mid-season rankings because they offer a better feel for players drafted the year before. This was true last year for Short, Rucker, and pitcher Duncan Robinson. I wonder what will be said about Little, Lange, Cory Abbott, and Keegan Thompson in the middle of next summer.
No word on when MLB Pipeline or Keith Law will publish their new lists, but Baseball Prospectus is set to drop their top 10 Cubs prospect list on December 11. Hopefully, there will be a new name on the top of that list, like…Ohtani.