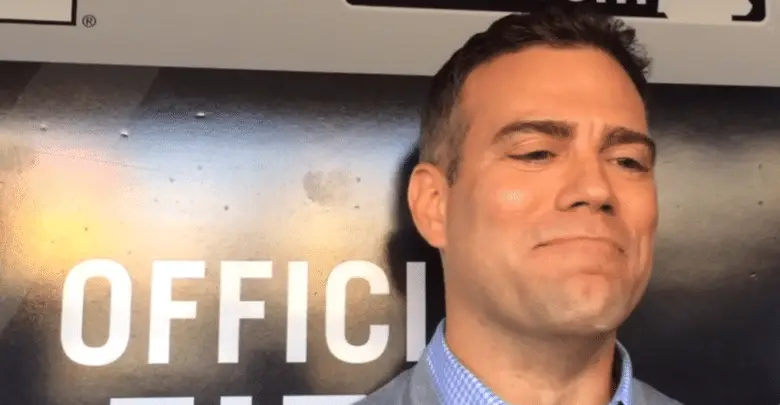 The Rundown: Bad Feeling About Winter Meetings, Cubs Show Interest in Starters, Market Starting to Move
I wish I had better news for you, but this week's meetings in Orlando have all the feel-good moments of the Soprano's episode entitled "Bust Out," with the Cardinals and Yankees representing the South Jersey mob while Derek Jeter portrays poor David Scatino. As a Cubs fan I've dropped so many F-bombs in the last 24 hours that I could shame Paulie Walnuts. To this point, the Winter Meetings haven't been the merry pre-Christmas extravaganza I had anticipated over the past week or so.
I suppose in a vacuum the Cubs can say this week has been successful because the team has shored up their rotation with the signing of Tyler Chatwood and the assumed ascension of one Michael Paul Montgomery from swingman to fifth starter, and they shored up the bullpen by signing Brandon Morrow. Even so, meh, amirite? Especially when you see what the Cardinals meetings look like thus far:
Signed Luke Gregerson
As of now (3:09 am) they are reportedly close on deals to acquire SS Manny Machado of the Orioles and closer Alex Colomé of the Rays.
Oh death, where is thy sting? The one saving grace here is that the White Sox offer to Baltimore appears to be stronger than that of the Redbirds.
The final dagger, and I saw this tweet that Evan posted in his latest column, is Theo Epstein saying it's likely nothing more gets done for the Cubs at the meetings . He added, "That can change in a minute." Sheesh.
Maybe this front office loves their guys just a little too much. That's not to say that the collection of young position players isn't the envy of almost every senior management team in baseball. They're young, still have projection, and are still a championship-contending core. And hey, the Bulls surrounded Michael Jordan and Scottie Pippen with a number of unheralded but solid role players and cruised to six championships in eight seasons in the early 1990's. But I've got a bad feeling about this offseason so far and I'd just like to see some improvement on the periphery for the local nine.
I can't be a homer and disguise my disappointment at what has been an incredibly strange week for the Cubs. In my eyes, the front office is in danger of losing the rock-star status that I've bestowed upon them across six-plus seasons. Who knows, maybe they are homing in on Wade Davis and Jake Arrieta, but those are long shots at best and massive overpays at worst.
If you find my lack of faith disturbing, I apologize. This is the anguish of a division rival jumping to a large, early lead in offseason roster maneuvering. It hurts like hell.
Cubs News & Notes
The Cubs and Indians have been talking about a potential deal for SP Danny Salazar. The right-hander brings elite velocity and a plus changeup and is coming off a 2017 season in which he pitched to a 4.28 ERA and 3.30 K/BB ratio in 19 starts and four relief appearances. For his career, he owns an ERA+ of 112 across parts of five big-league seasons.
The Cubs are also said to have shown interest in the Royals' Danny Duffy and have been linked to both the starting pitcher and relief pitcher Scott Alexander.
New Cubs pitching coach Jim Hickey preaches the religion of the offspeed pitch, schooling pitchers on the value of getting hitters swing over and tap softly to infielders. Obviously the front office sides with that philosophy and that may be why the team remains enamored of SP Alex Cobb.
Wednesday Stove
Scott Boras called the Marlins organization a pawn shop, but its worse than that. Calling it a fire sale is too generous as well. It's Armageddon in South Florida and Marlins fans are seeing their souls laid to waste by new ownership.
Miami apparently has no team strategy this offseason other than to possibly break into this list of the Top Ten Worst Major League Baseball Seasons of all time.

The Mariners and RP Juan Nicasio reached an agreement on a two-year contract.
The Rockies are reportedly close to a deal that would keep closer Greg Holland with the team.
The Angels acquired 2B Ian Kinsler from Tigers for two lower level prospects. Additionally, the Halos are reportedly close to acquiring 3B Chase Headley, who was recently traded from the Yankees to the Padres.
The Cardinals and Athletics have reportedly agreed on a trade for OF Stephen Piscotty.
RP Brandon Kintzler re-upped with the Nationals.
The Astros signed RP Joe Smith to a two-year deal.
The Rangers are strongly pursuing RP Kelvin Herrera of the Royals.
The Marlins have informed rivals that they are now willing to trade outfielder Christian Yelich, according to a report from Jeff Passan of Yahoo Sports. The team will gauge the outfielder's feelings first. Per the report, the return will need to exceed what the team achieved in deals involving Ozuna and Giancarlo Stanton.
The Nationals and OF Bryce Harper have engaged in contract extension talks. Agent Scott Boras rarely works extension deals but there is precedent in Washington with SP Stephen Strasburg. If the Nats can't agree on a long-term deal with him prior to the start of the 2018 season, the pressure will be enormous to win immediately.
The Angels, Giants, and Mets are teams that have shown interest in 3B Todd Frazier.
The Twins will be aggressive in their attempt to sign free agent SP Yu Darvish.
Thursday Walk Up Song
Dead Inside by Muse